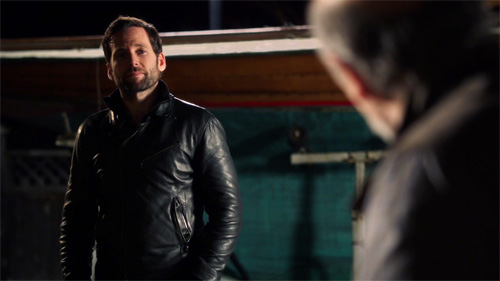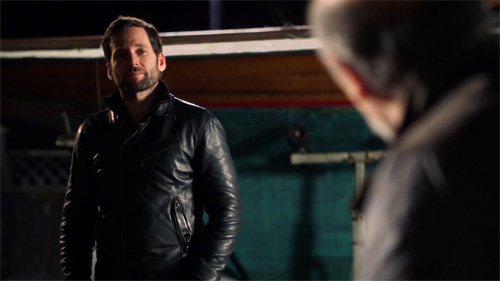 Episode: Once Upon A Time 1.20 – "The Stranger"
Original Air Date: April 29, 2012
Screencaps by Spinneresque.
If you haven't viewed the episode yet, this article will contain big spoilers.
August's true identity and purpose is revealed in "The Stranger". Were you surprised or not? This episode of Once Upon A Time should have taken us by surprise considering its revelations, but the creators didn't keep the bombshells under wraps. Everyone I know who watches the show on a regular basis had figured it out.
Now, we know for sure, August is Pinocchio. In other storylines, Regina devises a new plan to keep Mary Margaret and David apart. In the Fairy Tale World, the fairies plot to save Prince Charming and Snow White's daughter from the curse.
Emma and Mary Margaret discover August has talents other than writing. He's a skilled carpenter, too. Emma receives a "Code Red" call for Operation Cobra from Henry. August is surprised by the haste of Emma's departure. He didn't think Emma really believed in the fairy tale stuff. She doesn't, but Henry does, and she cares about her son. August wants Emma to see the "big picture" so she has a chance of beating Regina in the custody battle over Henry. It requires a leap of faith, a move Emma doesn't have time for. Henry has found a new story in his book, an unfinished story about Pinocchio.
From the picture in the book, we enter Fairy Tale Land (FTL) and the scene of Geppetto and Pinocchio escaping Monstro the Whale on a small raft in the middle of a storm. The sequence does feature a nice CGI of an animated puppet form for Pinocchio. He insists Geppetto take the only life preserver. Geppetto wakes on a beach and searches the wreckage for his beloved puppet son. When he finds him, he's lifeless. The Blue Fairy appears. Geppetto begs her to save Pinocchio. After she works her magic, Pinocchio is a real boy. She cautions him to be brave, truthful, and unselfish so he'll remain a real boy.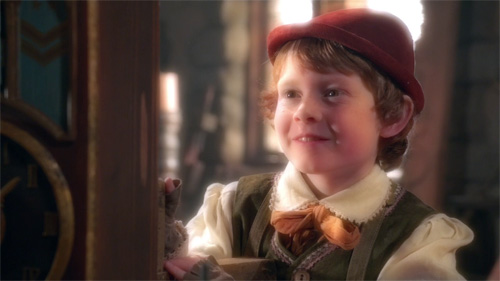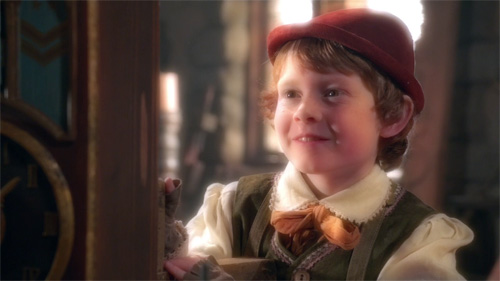 Back in Storybrooke, August, alone in his room, stares at Pinocchio's hat. He telephones Mr. Gold and sets up a meeting. As he's leaving, he's beset by the pain in his leg. He pulls up his pants. His leg has turned to wood.
Regina brings Henry's forgotten lunch to school. Mary Margaret, who has returned to her job, lets her know she knows Regina was behind her accusation, not Sidney. But she forgives Regina anyway. To her, Regina's loneliness and pain are sad. Regina gives the lunch to Henry and informs him she wants to transfer him from Mary Margaret's class. Henry doesn't want to be in a different class. He accuses Regina of framing Mary Margaret because she's Snow White and Regina is the Evil Queen.
When August arrives at Mr. Gold's shop, Marco — Geppetto in FTL — is there, trying to interest Mr. Gold in buying an antique clock. The encounter stuns August, and Gold/Rumple is pleased with that result. It confirms his suspicions that Marco/Geppetto is August's father, and August is Pinocchio.
Being Pinocchio, August claims to be the only person who can get Emma to believe in the curse; to do what she was brought there to do. Mr. Gold/Rumple seems to be in favor of the curse getting broken, yet he's the one who set it in motion. In his opinion, for a man who's dying and running out of time, August isn't in a hurry to get the task completed. The problem is Emma herself and her focus on gaining custody of Henry. August reveals Emma plans to ask Mr. Gold for legal advice. August's request to "trust me" is met by laughter from Gold/Rumple. Considering who August really is, trust is a "big ask".
The Blue Fairy brings bad news. The Evil Queen has threatened the land with a curse. She needs Geppetto's help to save Snow White's daughter from the curse. The fairies need Geppetto to carve a magic tree into a vessel, a wardrobe that will protect the child from the Queen's magic.
Mr. Gold refuses to represent Emma in the custody case against Regina. His reason is that Henry will suffer if the case proceeds. He knows to pick his battles, and he's not the man who can help her beat Regina. Out of options, Emma rushes to see August. She's ready for him to show her the "big picture".
Regina fakes car trouble to trick David into being her knight in shining armor. He drives Regina and her groceries home. Regina plays on his pity and deceives him into staying for dinner.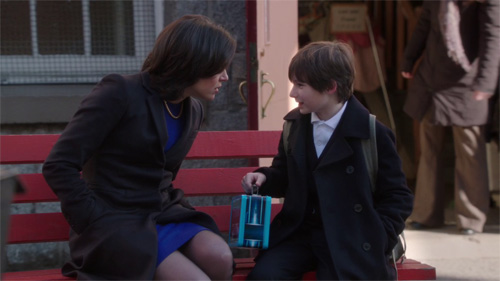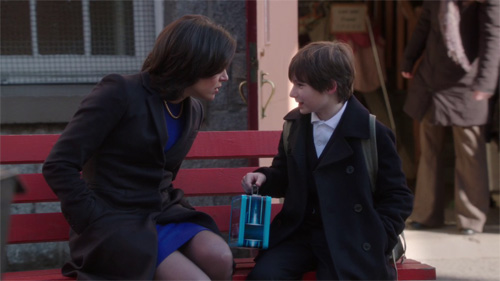 The Blue Fairy leads Geppetto and Pinocchio to the last enchanted tree in the entire realm. Geppetto promises to make a beautiful wardrobe from the wood. The tree has enough magic to protect two people. The Fairies plan to send Snow White and Prince Charming to a different land before their daughter is born. When the child turns 28, she'll begin the battle to defeat the Evil Queen. As the fairy explains the plan, Geppetto realizes the curse would mean Pinocchio would turn back to wood. He has one condition for building the wardrobe — Pinocchio gets the second spot. The Blue Fairy will tell Snow and Charming that the magic can only protect one.
August takes Emma on a trip so he can tell her someone's story — his. After dinner, Regina shares the story of how she found David, unconscious on the road one night. She tries to kiss him, but, he refuses and leaves. In rage and frustration, Regina throws her wine glass and shatters the mirror. She's having a bad day.
In the Fairy Tale World, things have changed. Snow White is giving birth early and must have the second spot in the wardrobe so she can care for her child. Geppetto is unwilling to sacrifice Pinocchio and puts him in the wardrobe. All that matters to him is saving his son. He charges Pinocchio to protect the baby and make her believe in her destiny. Pinocchio doesn't want to leave. Jiminy Cricket reminds him to be brave, truthful and unselfish. Geppetto sends Pinocchio through the wardrobe.
August drives Emma to the diner she was brought to when found as a baby by a seven-year-old boy. Emma and he are connected because August is the boy who found her. August leads Emma to the forest where they arrived from the Fairy Tale World as the seven-year-old Pinocchio and the baby daughter of Snow White and Prince Charming. Emma doesn't believe, and she's done listening. August describes the blanket she was wrapped in, a detail that was never reported in the news. Emma doesn't understand why August is asking her to believe he's a fairy tale character from the book. He tells her he's Pinocchio, and he's the one who added the unfinished story to Henry's book. The story is supposed to end with Emma believing. But Emma's response to the revelation is "it's not gonna happen". She walks away. August tries to follow, but collapses. She can't leave him lying there in pain.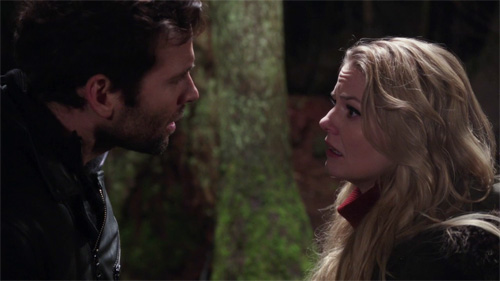 He'd abandoned his mission to protect Emma and lived life his way. But, when the clock in Storybrooke moved forward from 8:15, he got a painful reminder of how far he'd strayed — shooting pains in his legs because he was turning back to wood. He shows his leg to Emma. Since she doesn't believe, his leg looks normal to her. Her denial prevents her from seeing the truth even after everything she's experienced since arriving in Storybrooke. Everyone there needs Emma to believe so she can save them. She's fighting for Henry, but that's all she can handle right now. She's not even doing a good job of that. Emma doesn't want the responsibility for everyone's happiness. August says it doesn't change the truth that she's their only hope. Emma feels if she's their only hope, they're screwed.
A dejected August pays a visit to Marco, who is tinkering with the clock. He tells him the proper way to wind it; something he learned from his father. August offers to be his assistant. Marco is unable to pay him, but that's okay with August. He just feels like fixing things.
Emma calls Henry with a "Code Red". As they're sitting together in her car, Emma asks Henry something important: Does he want to come live with her? He wants that more than anything. She cranks her car. They're leaving Storybrooke.
"The Stranger" was a fantastic episode. But I think some of its impact was taken away by the fact that most viewers and fans above the age of 10 had already solved the puzzle. It would've been nice to encounter one or two shockers, not just confirmations in the storyline. I'm excited to see what happens in the last two episodes of Season 1, but I'm a bit saddened that the season is nearly over. It's been terrific for sci-fi/fantasy fans to have a genre show become a success on network television.