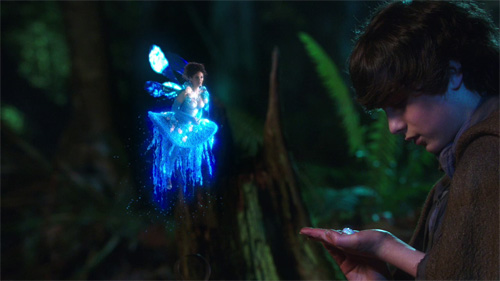 Episode: Once Upon A Time 1.19 – "The Return"
Original Air Date: April 22, 2012
Screencaps by Spinneresque.
Once Upon A Time returns from its mini-hiatus with "The Return" and the promise to unveil August's true identity. The episode has tight, tense storytelling and just when you think everything is coming together the way you knew it would, another twist is added. Emma is determined to prove Regina was the real culprit in Kathryn's kidnapping while Mary Margaret and David whine about their relationship.
August wakes in excruciating pain. We saw a bit of this problem when Emma and he searched the riverside near the Toll Bridge in "The Stable Boy", and he suffered "shin splints". He places a mysterious phone call. We don't know who he called, but there's a plan in motion — an ulterior motive for his presence in Storybrooke. Later, August enlists Henry's help to sneak into Mr. Gold's shop. Henry keeps Mr. Gold occupied selecting a present for Ms. Blanchard (Mary Margaret) so August has time to search Gold's office. But Mr. Gold walks in and finds August in his office.
The only thing Kathryn is able to tell Emma she remembers about her ordeal is she was imprisoned in a dark basement. Regina accuses Gold of breaking their deal. He's only broken one deal in his life and it wasn't the one with her. The agreement was that something tragic would happen to Kathryn, not that she would die. That may have been Regina's intent, but it wasn't what she agreed to. Put into Gold/Rumple philosophy: "You can't turn someone into a snail and step on them." Regina realizes the trail of evidence leads directly to her. When the scheme unravels, nothing will touch Gold. All this time she thought the two of them were in on everything together, from the very beginning. He even created the curse for her. However, Rumple/Gold had his own reasons for causing the curse.
Cut to the enchanted world and a group of boys playing in a village. One of them runs after a ball and is almost hit by a cart. His knee is cut. The driver is irate until he discovers the boy is the son of Rumplestiltskin, aka the Dark One. The man tries to apologize, but Rumple turns him into a snail and steps on him. The villagers are terrified of Rumple's growing power.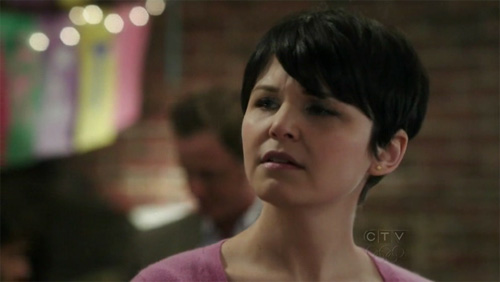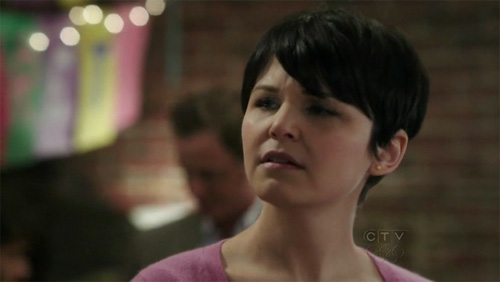 David visits Kathryn in the hospital. He's still stuck in whiney, wishy-washy land about which woman he loves more. After visiting Kathryn, he shows up for Mary Margaret's welcome home party. Mary Margaret has no wish to speak with him. To get rid of him, Emma insists David take Henry home. Emma confronts Mr. Gold about being responsible for Kathryn's timely reappearance. In turn, he questions her about what she really knows about August. One thing she does know — she trusts August much more than she trusts Gold.
Baelfire, Rumple's son, has no wish for his father to use magic to heal his cut. Rumple became a hero by using the power he took from the Dark One to stop the Ogre Wars, but the power is corrupting Rumple. Baelfire wants Rumple to give up the power. Rumple shows him the dagger and explains the only way to give up the power is if someone kills him using the knife. Baelfire makes a deal with Rumple. If he finds a way to get rid of the power, Rumple agrees to do it. They shake hands and the deal is struck — Rumple's first deal.
Gold breaks into August's room, looking for clues to his true identity. In August's papers, he finds a drawing of his dagger, complete with the name, Rumplestiltskin. Emma confronts Sidney about planting the bug in her office and wants to know why he does so much for Regina. His expression reveals he does it because he's desperately in love with her. August leaves on his motorcycle and Gold follows him.
All his friends refuse to play with Baelfire because they're scared of Rumplestiltskin. But one girl isn't afraid and is willing to be around him. She suggests he summon the "Ruel ghorm", an ancient being that rules the night and the original power. When Rumple returns from his errand, Bael notices fresh bloodstains on his boots.
Under threat of doubled rent, Gold forces the head nun (aka the Blue Fairy) to tell him what she talked about with August. He wanted advice. August has been searching for his father, and he thinks he's found him in Storybrooke. Gold starts to put the pieces of the puzzle together, but is it the right pieces?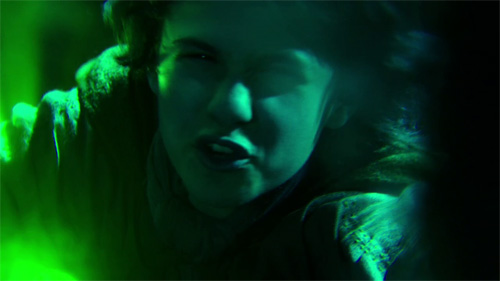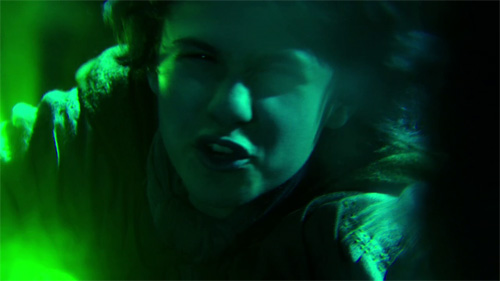 Bael summons the "Ruel ghorm". The Blue Fairy shows up in response. She can't make Rumple the man he was but she can send him to a world without magic. She gives Bael a magic bean, the last one known to her kind.
David tries to apologize to Mary Margaret. I'm having problems with the direction their characters are taking. Other characters may not remember their true identity but they are essentially the same person. For me, Mary Margaret and David are boring wimps compared to their counterparts of Snow White and Prince Charming. To get through watching their scenes, I keep reminding myself that's who they really are. I find the notions that he's too dumb to see through the set-up or that he actually believed Mary Margaret could have been guilty of killing Kathryn implausible. All their angsty-ness is getting boring.
Bael tells Rumple he's found a way to rid him of the dark power. But fairy magic doesn't mix well with what Rumple is. If he does what his son wishes, he'll be powerless and weak. Bael reminds him of his promise and their deal.
Gold confides to Dr. Hopper that he has a son, and he might be in Storybrooke. Dr. Hopper encourages him to make contact. Gold responds that he thinks his son is there to kill him. When they parted, he made a terrible mistake, one he's spent his life trying to fix. Gold finds August searching his cabin in the forest. Gold tells him that he knows who he is, and August calls him "Poppa."
Bael uses the magic bean to open a portal to the non-magical world. Rumple refuses to go through the portal. He lets go of his son, breaking the deal. Bael falls through the portal and is gone.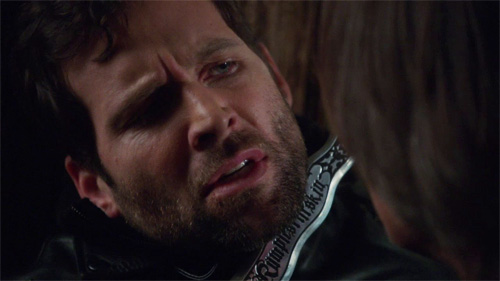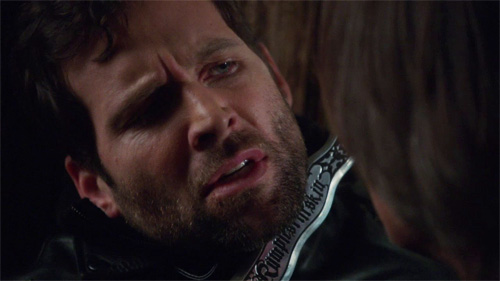 Gold/Rumple apologizes to August for letting him go that night. Gold reveals the place he hid the dagger. After they dig it up, he gives it to August. He's ready to give up the power to have his son back. But August uses it to try to command Rumple as the Dark One. Rumple knows then August isn't his son. Holding August at dagger point, Rumple/Gold demands to know who he is. He knows August is from the enchanted world; it's the only way someone could have told him about Rumple's true identity and the dagger. According to August, a little fairy told him. Why would August take such a risk, revealing he knew the truth? He's dying and can only be saved by magic.
Rumple summons the Blue Fairy and demands to know another way to reach the other world. He lists possible other paths and she reacts to the idea of a curse. But for the curse to work, the enchanted world would have to be sacrificed for the non-magical world. Rumple vows to create the curse and find his son.
Regina waits on Emma at the Sheriff's office. She offers Emma a confession, but not from her. At her bidding, Sidney confesses. Emma knows it's a lie, and she's tired of playing by Regina's rules. Emma's going to start a new game. She's taking back her son, Henry. Game on.
There have been two prevailing theories on August's true identity. "The Return" debunked the belief that he was the son of Rumplestiltskin. It was my top theory once I found out he wasn't the Big Bad Wolf. No reason for that; I just thought he would make a good one. The other one is that he is Pinocchio, and Geppetto found a way to send him in the cabinet along with Emma, since he's made of wood. There have been clues that fit this scenario, like his assertion: "I don't lie." I've heard his illness is he's turning back to wood since the Storybrooke world has no magic, or at least, very little. From the look of next week's Once Upon A Time trailer, it seems those questions will finally be answered. The trailer appears to reveal several spoilers, a trend I've noticed in promos for other shows, too. Do the networks think no one will watch if they don't know what happens? I watch the shows I do to discover what happens next. I hope there are still a few surprises left in the season. Only three more episodes till Season 1 ends.