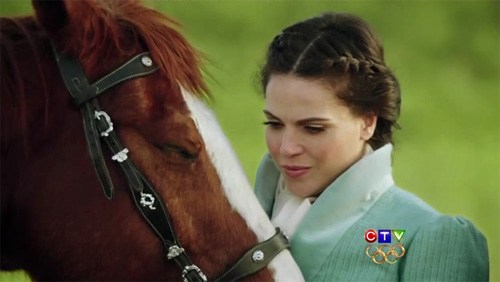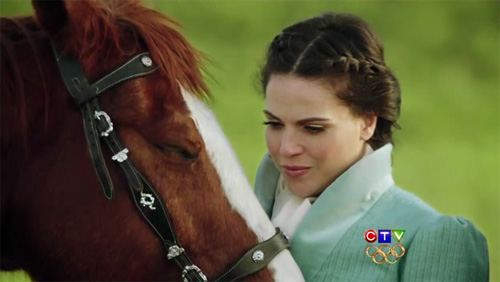 Episode: Once Upon A Time 1.18 – "The Stable Boy"
Original Air Date: April 1, 2012
Screencaps by Spinneresque.
A desperate Emma searches for last-minute evidence that will clear Mary Margaret. A young Regina must choose between marrying for true love and defying her mother or marrying for money and privilege. The reason Regina hates Snow White is revealed in this episode of Once Upon a Time, "The Stable Boy".
The episode opens with an event that happened a week previous. Mr. Gold needs a favor from Regina — to use her influence as mayor to get the pending battery charges against him dropped. He doesn't relish spending any more time locked up in a cage. Gold never succumbed to the curse and remembers his life as Rumplestiltskin. He reminds Regina he's aware of the full truth by addressing her as Your Majesty. Regina wants something in return. He offers help with her Mary Margaret problem and suggests framing Mary Margaret for something tragic happening to Kathryn. Once she's in jail, Regina plants one of her skeleton keys, Mary Margaret escapes and leaves town. We all know bad things happen when people try to leave Storybrooke. She wants a reason to trust Gold/Rumplestiltskin. One of his rules — he always honors his agreements.
A young Regina practices her horse jumping skills as her father watches proudly and praises her for her skill. But her mother doesn't like it. According to her, Regina rides like a man, and a lady should be graceful and use a saddle. No one will want to marry her if she acts like that. Her mother has high hopes to have her marry and marry well. She fears Regina is turning into an old maid because she isn't married yet. Regina feels her mother is always criticizing her, but her mother believes she's helping Regina. She stalks away, but her mother uses magic to bind her and lift her off the ground as discipline for her disobedience. Regina promises to be good so her mother will release her. She escapes to the barn. Daniel, the stable boy, is grooming her horse. They fall into each other's arms and kiss.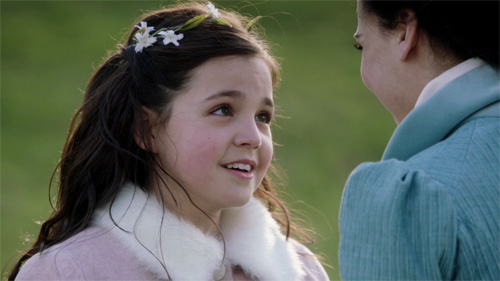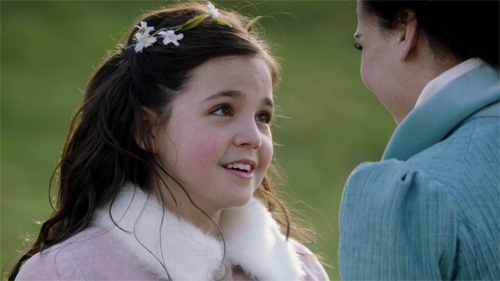 David catches up to Emma leaving the diner. He's unhappy that the last time he spoke to Mary Margaret, she misunderstood what he meant. He basically told her he thinks she might be guilty. David claims he doesn't think that; the situation is confusing and horrible. Emma thinks the last thing Mary Margaret needs is words of encouragement from David. What she does need is a miracle. Mary Margaret wakes and finds Regina sitting outside her cell, watching her. She offers Mary Margaret a chance to confess. Mary Margaret doesn't understand why no one will believe she didn't kill Kathryn. Regina lists the reasons: Murder weapon found in her apartment and her fingerprints on the box containing Kathryn's heart. Mary Margaret is confused why Regina hates her so much she'll do anything to run her out of town.
Regina meets Daniel in secret. Regina is frightened that if her mother finds out about her relationship with Daniel, she'll use her magic to do something horrible. Daniel reassures Regina that true love is the most powerful magic of all; it can overcome anything. They hear a child's shouts for help. Across the meadow, a young girl struggles to control a runaway horse. Regina rescues the girl, Snow White, safely.
Mr. Gold urges Mary Margaret to do a pre-trial interview with the DA, but Emma is opposed. Yes, I think we all know it's a bad idea! Gold considers Mary Margaret's reputation their most valuable asset — sweet, caring elementary school teacher. Not your prototype of a killer. Emma is skeptical of the flimsy plan. Sidney interrupts. He's brought a vase of flowers for Emma to brighten up the place. Sidney has found no evidence linking Regina to the case, but he promises Emma he will keep digging till he finds something. Sure, until he finds something Regina can use against Emma. Why is Emma still unable to tell Sidney is lying and why did she think it was a good idea to trust him in the first place?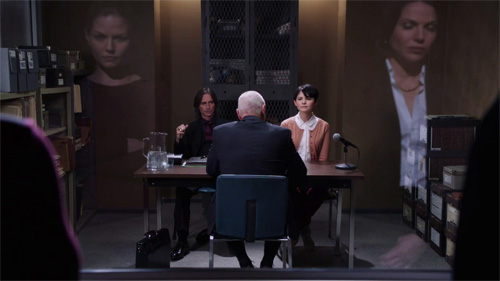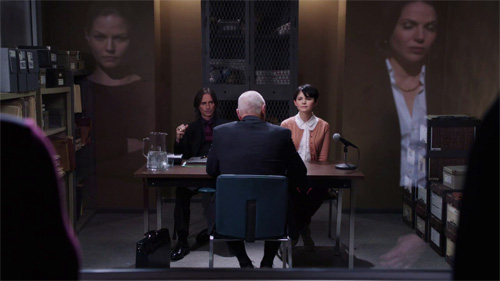 Mary Margaret decides to talk to the DA. Oh, no! Run, Mary Margaret! Don't trust him! The DA is Charles Widmore! In the Once Upon A Time world, his counterpart is King George, the "father" of Prince Charming. During the interview, the DA is able to push Mary Margaret into losing her temper and saying: "Yes, I wanted her gone. She's the only thing keeping us apart. Is that what you wanted to hear?" Mary Margaret has played into their hands and now the prosecution has a recorded "confession".
Regina's mother enters her room and fairy-godmother style changes her riding clothes to an elegant gown. A special visitor is coming to see Regina. The girl she saved is the daughter of a king. The king is grateful and honored to meet Regina. The king has been searching for a wife, but has been unable to find one who also wishes to be a mother to Snow White. On the spot, he proposes to Regina and her mother accepts on her behalf. Regina rushes to the stable to see Daniel. She wishes them to run away and marry. He pulls a ring from a saddle and places it on Regina's finger. They kiss. Snow comes into the stable and sees them.
Regina runs after Snow. Snow White can't understand why Regina was kissing another man when she's supposed to marry Snow's father and be her mother. Regina explains true love to Snow White. Daniel is her true love and makes her happy. Snow wants Regina to be happy. She makes Snow swear to keep her feeling about Daniel secret. Above all, Snow must not tell the secret to Regina's mother.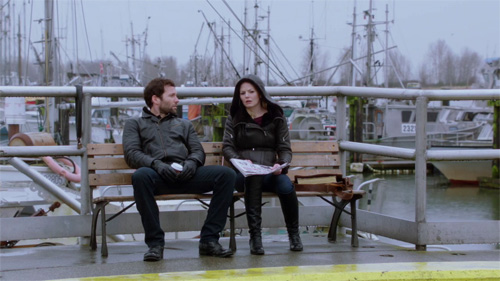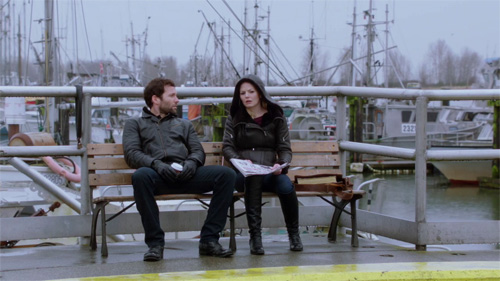 Emma sits on a bench at the dock and reads Henry's book. August walks up and joins her. Emma's worried her instincts are failing her at a time she needs them. August compares it to writer's block and suggests she needs a perspective change on the case. If she knew when she started investigating what she knows now, maybe she'd approach things differently. She rushes off, planning to return to the scene of the crime, the Toll Bridge. August insists on driving her. They search at the Toll Bridge for something that got overlooked, and Emma finds a broken piece from a shovel. August is sure Emma knows exactly whose shovel it is. We still have no inkling who August really is, but he sure is nice to watch, and we don't see him often enough. He seems to know much more than he should about what is going on in Storybrooke. Is he one of the good guys or maybe even Emma's true love? Or is his presence more sinister?
Regina checks on Henry at bedtime. When she leaves, he uses the radio to give the signal to Emma and August. He left a key under the mat. Emma locates the broken shovel in Regina's garage and she has a witness to back her up. Victory at last.
Regina's mother deceives Snow White into telling Regina's secret.
Emma presents Regina with a search warrant for her garage. Regina complies with the warrant, but inside the garage is a new, shiny shovel. Emma realizes Regina knew she was coming with the warrant. Emma knocks on a door. August answers. Emma accuses him of betraying her and Mary Margaret. He claims he would never betray Emma, and she should have enough faith to know that. Emma can't let herself trust that he's not lying. August is firm that he's not a liar. But, in Emma's world, it's what a liar would say. After all, he's the only other one who knew about Emma's discovery of the shovel.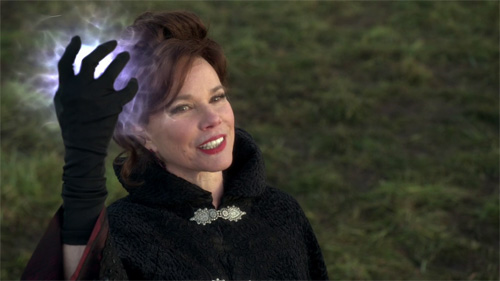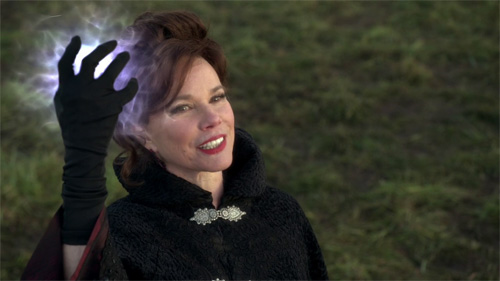 Regina visits Mary Margaret in jail. Mary Margaret is bewildered as Regina gloats over her impending conviction. She apologizes for whatever it was she did to cause Regina to hate her, but Regina refuses to accept it. Mary Margaret pleads that she's innocent and didn't kill Kathryn. Regina admits that she knows Mary Margaret didn't kill Kathryn.
Regina's mother catches her with Daniel. She refuses to allow Regina to marry a stable boy. She's determined to be a good parent and do what is best for her child. She takes Daniel's heart and crushes it, killing him and breaking Regina's heart.
Snow sees Regina in her wedding gown and is happy Regina's mother is letting her marry her true love. Snow believes Regina has a wonderful mother, one that would do anything for her happiness. Snow tells Regina she's the one who told her mother about Daniel. Regina is stunned that Snow White was the source of her betrayal. But she claims she's not mad at Snow. She explains that she's going to marry Snow's father and the three of them are going to be a family. Regina couldn't be happier. Regina's mother overhears the conversation and is proud of Regina, finally. She realizes her mother contrived the entire sequence of events that lead to Regina's rescue of Snow White.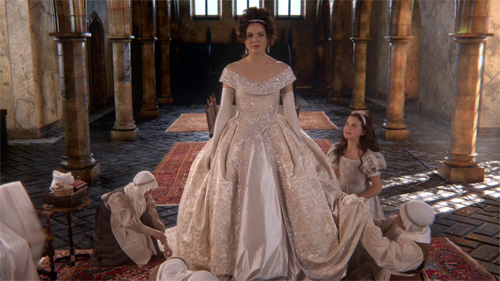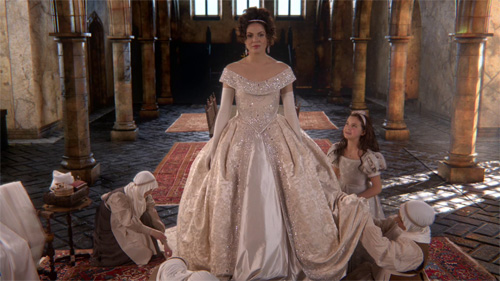 Regina stands by her window in Storybrooke, the ring Daniel gave her in her hand. She's finally repaid Snow for her betrayal. Mary Margaret is led from the Sheriff's office in handcuffs. Emma confronts Gold. She made the deal with him to make sure Regina didn't win. He urges Emma to have faith; there's still time. She wants to know time for what? Time for Gold/Rumplestiltskin to work a little magic. Frustrated, Emma knocks the vase of flowers from her desk. It shatters. Inside, she finds a hidden bug. Emma finds August and apologizes for doubting him. She's trusted the wrong people, like Sidney. They hear Ruby scream. Emma runs into the alley and finds a woman lying on the ground. It's Kathryn, and she's alive.
For several weeks, viewer numbers have been in decline. This episode hit a series low in viewers. Even though each episode is well-crafted, the overall story has grown stagnant. And these days, a season of 22 episodes is quite long. The Kathryn storyline has been drawn out way too long. Lately, a great deal of the action has been Mary Margaret whining about her innocence or David whining about his circumstances. Plus Emma's stubborn refusal to believe the right people or that anything out of the ordinary is happening. Apparently, moving to Storybrooke also killed some of her brain cells. Viewers are losing interest. I don't think the current viewer decline is enough to prevent the series from being renewed for a second season; it's still getting 8 million viewers every week. As much as I enjoy Once Upon A Time, I don't foresee the premise and storytelling style as is being sustainable for the long term (more than three or four seasons).