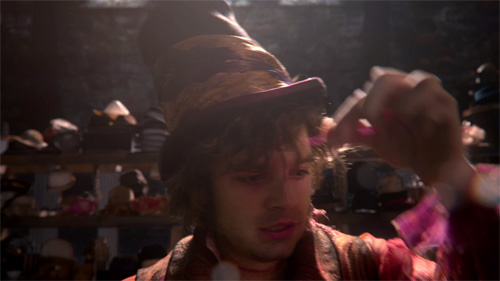 Episode: Once Upon A Time 1.17 – "Hat Trick"
Original Air Date: March 25, 2012
Screencaps by Spinneresque.
In the episode "Hat Trick", Once Upon A Time journeys through the looking glass to Wonderland for a tea party with the Mad Hatter. Emma searches for the escaped Mary Margaret before she misses her arraignment and is declared a fugitive.
Henry congratulates Emma on her genius escape plan. But she's shocked that Mary Margaret is gone. Emma is determined to locate her before she misses the hearing. Mr. Gold cautions that if she's caught helping Mary Margaret, both their futures could be in jeopardy. Emma would rather lose her job than her closest friend.
Emma drives through the forest looking for signs of Mary Margaret. Her search is complicated by rain. She nearly collides with a man walking down the road. She tells him she's looking for a lost dog. When she discovers he twisted his ankle, she insists on driving him home. He introduces himself as Jefferson.
A man in a long overcoat flees through the forest and takes refuge behind a large tree. It's a game of Hide and Seek with his young daughter. They're collecting mushrooms to sell at the market. When they reach their cottage, the queen's carriage waits outside. The man sends his daughter to hide in the woods till the queen leaves. The man, named Jefferson, once worked for Regina the Queen. She's come to him for one last job. He refuses, not wishing to abandon his daughter. The Queen needs his skills to get her to a certain location. Someone there took something of hers and she wants it back. But she understands his resolve. After all, there's nothing more important than family.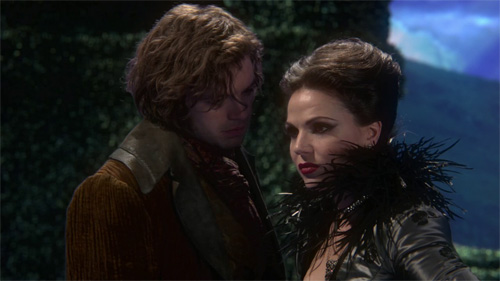 Jefferson lives alone in a large mansion at the edge of the forest. He invites Emma in for a cup of tea. He's an amateur cartographer and thinks his maps could help Emma find her "lost dog". The tea is drugged, and Emma passes out.
At the village market, Jefferson's daughter, Grace, desires a stuffed white rabbit. But he doesn't have enough money for the crone who owns the toy cart. The ugly crone is the Queen in disguise. Props have to be given for the makeup job on Lana Parilla. Until the reveal, one isn't sure it's actually the actress playing the role of the crone.
Emma wakes, tied up. She breaks the tea cup and uses the shards to cut herself loose. A telescope in the room is focused on the sheriff's office. In another room, she spies Jefferson methodically sharpening a large set of shears.
Jefferson sends his daughter to the neighbor's house while he does the job for the Queen. She doesn't want him to do the job, but he promises he'll come back in time for a tea party with her.
Emma hides in a spare room and discovers a bound, scared Mary Margaret. She tells Emma about the key in her cell. They attempt to sneak out of the mansion, but the man catches them. He forces Emma to tie-up Mary Margaret again. Emma needs to do something for him to win their freedom.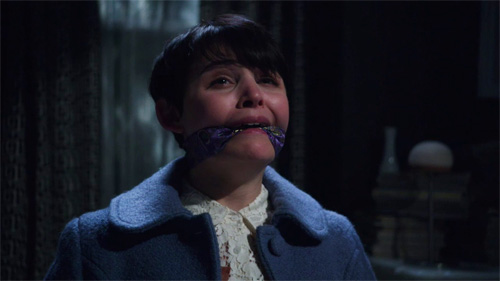 Jefferson goes to Regina. He removes a hat from the box he carries and starts it spinning like a top. It grows in size until they are able to jump inside.
The Storybrooke Jefferson knows about the curse and Henry's book. He's able to remember everything from before the time when the curse took effect. He claims Emma has magic and wants her to use it to create a new magical hat.
The hat is a portal with doors leading to different worlds. Jefferson leads the Queen through one that looks like a mirror — a looking glass. They have to stick together. The same number must go out as went in — the hat's rules, not his. In a nod to the Lewis Carroll classic story, they encounter a caterpillar smoking a pipe and sitting atop a mushroom. In a special cameo, the caterpillar is voiced by Who front man Roger Daltrey, asking the question, "Who are you?" as Jefferson mutters, "I hate Wonderland."
Emma realizes Jefferson thinks he's the Mad Hatter from Alice in Wonderland, but he prefers to be known only as Jefferson. Emma still believes the stories are just stories. He points out all stories come from some event happening in the past. He won't allow Emma and Mary Margaret to leave until Emma fashions a hat that works.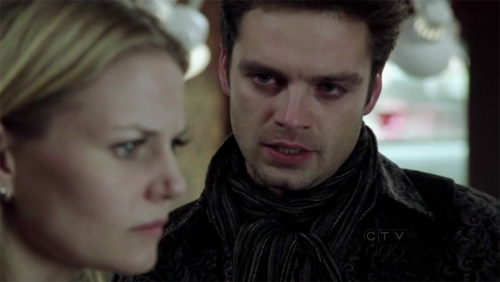 Regina and Jefferson have to travel across the Queen of Hearts's maze. The Queen of Hearts is one of her mortal enemies. Regina insists on taking the short way through and blasts a path through the hedges. They reach a vault at the center of the labyrinth. It's a heart vault. Regina takes one of the chests. As they flee back toward the door, soldiers chase them. They escape and reach the looking glass. Regina breaks off a piece of a mushroom and puts it inside the chest. Her father was trapped inside the chest, and she's freed him. Regina takes her father back through the looking glass, trapping Jefferson in Wonderland, separated from his daughter. He's captured and taken to the Queen. This sequence offers a treat for Stargate fans. Paul McGillion (Dr. Carson Beckett, Stargate: Atlantis) is featured as the vizier to the Queen of Hearts.
The Queen of Hearts demands to know how Jefferson brought Regina to Wonderland. When he's reluctant to tell, the Queen has him beheaded, but it doesn't kill him. In exchange for the information, he'll be reunited with his body. He tells them it was the hat, but Regina took it with her. Jefferson is charged by the Queen of Hearts with creating a new hat that works, a task that requires magic. He doesn't have magic. The magic was in the hat.
Emma is frustrated that she can't make the hat. Jefferson shows her his daughter, known in Storybrooke as Paige and living with another family. It's his curse to remember his history, trapped by the knowledge, while his daughter doesn't remember. He wants to take her home to his world. That's why he needs Emma to make a new hat. Emma confides she'd like Henry's stories to be true because that would mean Mary Margaret is her mother, and she wants to believe that more than anything in the world. When Jefferson turns his back, Emma conks him with the telescope. She frees Mary Margaret. Jefferson runs in and tackles Emma. They struggle, and the scar around his neck can be seen. He puts on the hat. Mary Margaret kicks him and he falls out an upper story window. But all that's on the ground is the hat.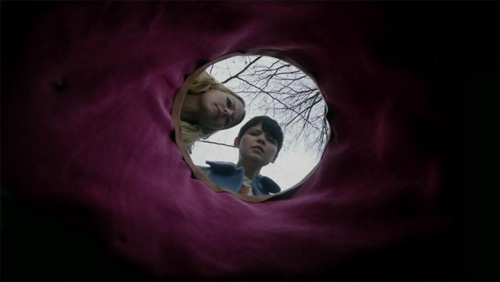 Emma gives Mary Margaret her car keys and a choice to run or to stay. She asks Mary Margaret to stay. It's the first time Emma's had anyone she considers family in her life. The church bells chime the hour. They have to beat Regina to the arraignment.
Regina breezes into the Sheriff's office and is stunned to see Mary Margaret in her cell. Mr. Gold offers to see her out; his client isn't taking visitors. Uh-oh! Mr. Gold and Regina are in cahoots setting up Mary Margaret to take the fall for Kathryn's murder. The only reason Regina made a deal with Mr. Gold was that he promised results. He assures her she'll have the results she wants.
After seeing Paige at Henry's school, Emma asks to borrow his book. She finds pictures that resemble Jefferson and his daughter and the story he claimed as his history. Henry is delighted when Emma asks if she can hold on to the book for a while. Could she be starting to believe?
Sebastian Stan gave a riveting performance as the maybe insane Jefferson/Mad Hatter. I hope we haven't seen the last of our hat-obsessed acquaintance. It was a relief to have a character introduced besides Gold or Regina who has even an inkling of their past life. Too pat that the curse worked on everyone. Nice twist at the end, also. I wasn't expecting Gold and Regina to be cooperating with the other. We've been led to believe they're enemies, each with different agendas for the future of Storybrooke. Next time, we find out why Snow White is the Evil Queen's greatest enemy.