Episode: Once Upon A Time 1.16 – "Heart of Darkness"
Original Air Date: March 18, 2012
Screencaps by Spinneresque.
Based on the evidence, Emma is forced to arrest and detain Mary Margaret for murder. On the fairy tale side, Snow White plots to murder the Evil Queen. Intrigue abounds in this week's Once Upon a Time episode, "Heart of Darkness."
Red and Charming are chased by King George's men. Red gives Charming a head start by providing a diversion for the soldiers — she turns into her wolf form.
Emma books Mary Margaret for the suspected murder of Kathryn. Mary Margaret thinks it's insane; she'd never hurt anyone.
Snow White turns from sweet to deadly in an instant as she chases a bird around the cottage, wielding a broom as a weapon. Grumpy comes to get her for dinner, and is stunned by Snow's unfriendly attitude. There's a special guest for dinner, Jiminy Cricket. The dwarves are staging an intervention. Ever since Snow drank Rumplestiltskin's potion, she's been angry, irritable, and downright mean. Snow sees the potion as a solution. The real problem is she's living in a house with dwarves rather than at her father's palace as a princess. Snow decides her best choice to solve her problems is to kill the Evil Queen. She leaves, armed with a pickaxe.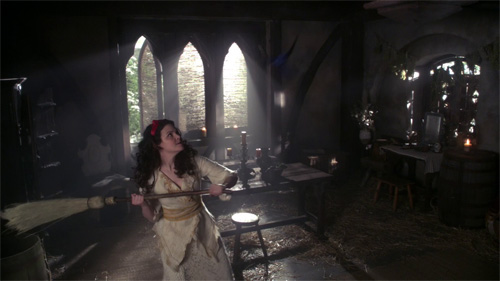 Emma agrees to allow Regina's presence when she formally interrogates Mary Margaret. Emma must prove she can be impartial to keep her job, the only method she has to clear Mary Margaret of the murder charge. Mary Margaret admits she and David met at the Toll Bridge and were having an affair, but maintains she did not kill Kathryn. Emma shows her the box. Surprised, Mary Margaret blurts out it's her jewelry box. Emma tells her it's the box they found the heart inside. Regina plants the idea with Emma that if the box was stolen, the apartment should show signs of a break-in.
Snow captures one of the Queen's bodyguards. She demands to know where the Queen is and threatens him with the pickaxe, an axe capable of cutting through diamonds. Grumpy follows Snow White in an attempt to stop her crazy plan. She doesn't need a lecture from a dwarf with a bad attitude. Grumpy intends to take her back to Rumplestiltskin. He's sure there's a way for the effects of the potion to be reversed.
Emma searches the apartment for signs of a break-in. Henry shows up and suggests the one with a motive is his adoptive mom, Regina. Since she's the Evil Queen, she hates Snow White. It's enough for Henry to believe, but Emma needs proof that will hold up in court. A strange noise is coming from the heating vent. Hidden in the duct, Emma finds a large hunting knife. More evidence that points to Mary Margaret as the culprit.
A dejected Henry drowns his sorrow with a big hot chocolate. He receives a pep talk from August, who encourages Henry to look in his book for the answers he seeks. Henry doesn't believe August could know anything about the book. He replies that it's a book full of stories that really happened. Like Henry, he also believes the book is real. He's not in Storybrooke to help Henry, but to help Emma believe.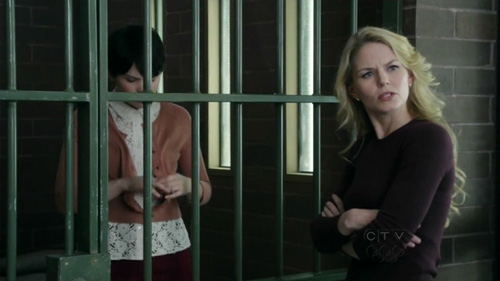 David tries to convince Regina of Mary Margaret's innocence. Regina believes everyone has a dark side and can be turned evil because evil is made, not born. She practically admits who she is to David: "Evil doesn't always look evil. Sometimes it's staring right at us and we don't even realize it."
Emma believes Mary Margaret is being framed, but evidence is piling up against her. She advises Mary Margaret to hire a lawyer. One just happens to walk in the door and agrees it's an excellent idea — Mr. Gold. Yes, he's a lawyer. How did we think he got so adept at contracts? The reason he gives for why Mary Margaret should hire him is that when Emma arrested him for nearly beating a man to death, he convinced the judge to drop the charges. Emma and Gold argue over if he could be helpful to Mary Margaret. She asks one to leave — Emma, not Mr. Gold. She knows Emma will do everything in her power to clear the charges, but until then, Mary Margaret needs some practical help. She wonders why Mr. Gold would wish to help when she's unable to pay him. His reason: "I'm invested in your future."
According to Rumple, there's no way to bring Snow White back. The potion took away her love and left a big hole in her heart. No potion can bring back true love — the most powerful magic of all. If one can bottle love, they can do anything. It's the only magic Rumple has been unable to bottle. He knows Snow White has other motives. He provides Snow with the means to kill the Queen, a magical bow and arrow that always finds its target. Snow wants to know the price. With him, there's always a price. Appearing surprised, he replies there isn't one. He's just "invested in her future."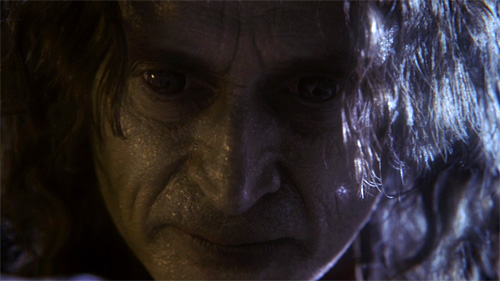 Charming's search for Snow lead's to Rumple's castle. He knows she came to Rumple for help with the Queen. Holding Rumple at sword point, Charming demands to know what he did. Rumple counters what changed Snow was the pain Charming caused when he broke her heart. Charming is convinced all magic can be broken. Rumple agrees, but gleefully informs him it can only be broken by true love. All Charming has to do is find her and kiss her. Charming tells Rumple he can name his price if he'll reveal where Snow is. He chooses the Prince's cloak. Rumple gives him a map and a warning. If Snow succeeds in killing the Evil Queen, she will become as evil as the Queen. Snow is grabbed by an unknown assailant. It's Charming. In an attempt to make her remember, he kisses her. She knocks him out cold.
Henry brings Emma the ring of old keys he found in Regina's office. He's convinced it's proof that Regina is framing Mary Margaret. He tries the keys, but none seem to fit the lock. He pleads with Emma to give it one more try. When she uses the key, it fits and opens the door.
Charming comes to, tied up to a tree. Snow has realized he's the man she drank the potion to forget. She's still determined to kill the Evil Queen. The kiss didn't break the spell.
Dr. Hopper hypnotizes David. He's able to recall the phone conversation the night Kathryn left. He also recalls seeing Mary Margaret in the woods. It triggers a flashback of Charming begging Snow not to kill "her". Dr. Hopper wakes David. He was going too deep into the hypnosis. Archie pleads with David to tell him what he saw, but David rushes out the door.
Jiminy Cricket helps Charming break free. He asks Charming how he can make Snow White remember him when she's lost sight of who she is. Snow tracks the Queen as she travels and prepares to shoot her with the arrow. Charming jumps in front of the shot. He would rather die than let Snow White fill her heart with darkness. No one's ever been willing to die for her. She kisses him and the potion's spell is broken. King George's soldiers arrive and capture James (Prince Charming). Snow vows she will always find him.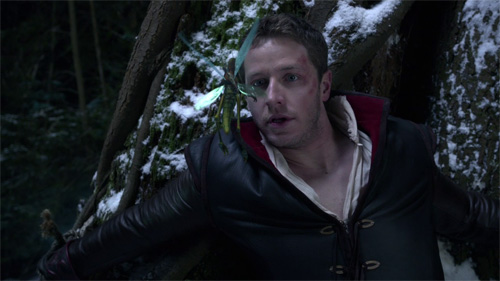 David visits Mary Margaret at the jail. He tells her about the recalled memories. David has lost faith in Mary Margaret's innocence. On the other hand, Mary Margaret stood by him when he was the suspected person. She's done and tells him to "Get out."
Snow returns to the dwarves and apologizes for her behavior. But she can't stay. She has to rescue Prince Charming from the clutches of King George. The dwarves grab their pickaxes, ready to go with her.
Mary Margaret finds a key. It fits the lock on her cell door. Emma brings her breakfast and bad tidings. The heart in Mary Margaret's jewelry box was Kathryn's. The case against Mary Margaret is going to move forward. Emma believes she's been framed, and Regina did it, but she has no proof. Desperate, Emma goes to Mr. Gold for help. She doesn't approve his methods, but he gets results. She's willing to do whatever it takes to prove Mary Margaret was framed, something Gold is happy to hear.
Rumplestiltskin discovers a hair on Charming's cloak. He places it in a bottle with the hair from Snow White. Finally, he's bottled true love.
As you (should) know by now, any episode with a lot of Robert Carlyle is a good episode to me. Joking aside, each episode of Once Upon A Time is impeccably crafted, beautifully written and shot in a way that holds a viewer's attention. What's becoming a problem for me is the pacing. Yes, I know they have 20 episodes to fill, but it's getting to the point that I'm starting to ask "What's the point?" At this point, it seems the viewers know too much and none of the characters know enough about what is truly going on in Storybrooke.
Next week brings a bit of madness to the tale with the debut of the Mad Hatter.