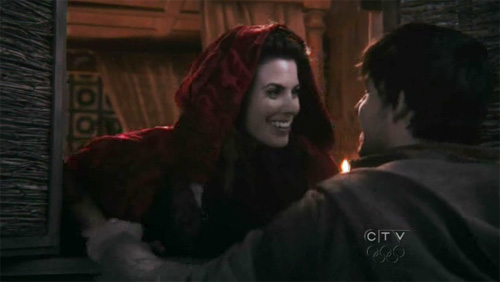 Episode: Once Upon A Time 1.15 – "Red-Handed"
Original Air Date: March 11, 2012
Screencaps by Spinneresque.
Ruby quits the diner and is hired by Emma at the Sheriff's office. The fairy tale for this week's Once Upon a Time, "Red-Handed", spins the story of Red Riding Hood.
Emma questions David at her office. The evidence looks stacked against him in Kathryn's disappearance, but Emma believes he's telling the truth. Besides her ability to tell when people are lying, most liars have "better material" than David's weak alibi. She advises him to go home, get some sleep and hire a lawyer.
Ruby chats up August at the diner. He's telling her about his adventures in Nepal and lemurs. Ruby has never been out of Storybrooke and longs for grand adventures. Granny scolds her for flirting with the customers.
Red Riding Hood has a secret visitor at her window. She has a boyfriend, Peter, but Granny disapproves and doesn't want Red seeing him. He tempts Red to come outside, but Granny calls for Red to come to her. A mob is at their door, a hunting party to track a killer wolf. It's an exciting prospect to Red, but Granny refuses to let her go. Granny bids the people to go home and stay inside. There's only a couple of days left in the "wolf time". Granny and Red argue about Peter. They put the cottage into lockdown, sealing all the entrances. Granny sends Red to sleep, then takes up watch with a wicked crossbow.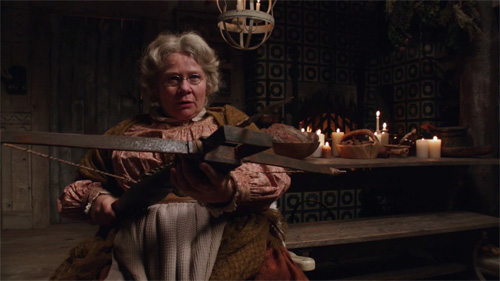 The modern-day Granny informs Ruby she wants her to start working on Saturday nights so she can train Ruby how to do the books. They've had an agreement about Ruby having Saturdays off just for her. Granny says as long as Ruby works at the diner, she's gonna listen to her. It was never Ruby's choice to work at the diner, so she quits and storms out the door.
Next morning, Granny sends Red to check on the chickens. As she collects eggs, she hears a sound. Something else is in the coop. It's a disheveled Snow White, scared and hungry, taking a couple of eggs. At first, she tells Red her name is Frosty. She's not a good liar and Red sees right through it. For a name Red can call her, she chooses Mary Margaret. Red takes her back to the cottage. On the way, they stop at the well for water, but the water is full of blood. The bloodied bodies of the hunters surround the well.
Mary Margaret asks Emma for an update on David. Emma warns that David and she are going to look bad (guilty) until Kathryn's disappearance is solved. They find Ruby standing at the bus stop with her suitcase. She plans to leave town. Emma is alarmed by Ruby's plans because no one ever leaves town successfully. Mary Margaret invites Ruby to crash with them for a few days.
The townspeople are up in arms against the wolf. Granny is the dissenting voice. Her family fought the wolf when she was a young child. It killed all her brothers and left a bite mark on her arm. She still has the scars. According to her, there's no way to defeat or kill it. Later, Red confides to Snow about her feelings for Peter. Snow thinks it's wrong for Granny to use the wolf to keep Red and Peter apart. They decide to track the wolf and kill it. Their plan is to go during daylight and kill the wolf as it sleeps.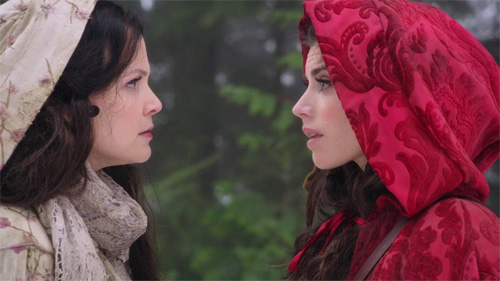 In the woods, Mary Margaret, looking for clues, encounters a disoriented David. He doesn't have any awareness of Mary Margaret's presence. It's like he's in a trance and only repeats, "I'm looking."
Red and Snow discover the wolf's prints in the snow and follow the trail. Red has a talent for tracking.
At the Sheriff's office, Henry helps Ruby look through job listings. She's annoyed by the constantly ringing phone. She answers and is able to help the person with their problem. Emma overhears and offers Ruby a job as her assistant. Mary Margaret comes to Emma, worried about David wandering in the woods.
Snow and Red follow the trail until the wolf tracks turn to boot prints — the wolf can turn into a man. The trail leads to the window of Red's bedroom. They suspect the wolf is Peter, and he has no memory of the times when he's the wolf. Red believes she can save him from his fate.
Red tells Peter her suspicions that he's the wolf. Her plan is to tie him up until the "wolf time" has passed. He urges her to use chains. He wants her to chain him, then leave. She insists on staying with him all night because she'd do anything for him. She loves him.
Henry claims Ruby is Red Riding Hood. She can't remember how cool she is or what she's capable of doing. Emma insists Ruby come with her to search the woods. Ruby hears something, but Emma doesn't. Following her instinct, Ruby locates David passed out in a ravine. He's surprised to see them and to be out in the woods. He can't remember anything since he left the Sheriff's office the night before.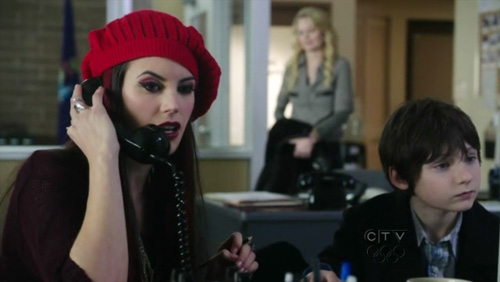 At the hospital, David wonders if he could've made the phone call or seen Kathryn before her disappearance without remembering it. Regina storms in; she's still David's emergency contact. She stops him from talking further to Emma without a lawyer.
Emma sends Ruby to search the area around the troll bridge for evidence. She tells Ruby to look for anything out of the ordinary and to follow her instincts. Ruby does and finds a small buried chest. She opens it and screams.
Snow, in the red cape, pretends to be Red to fool Granny, but she discovers the ruse. Snow tells her she and Red think Peter is the wolf. When she finds out their plan was to tie Peter up, Granny runs from the cottage. Peter, chained to a tree, is pleading with Red to stop, not to do something. He's talking to the wolf, addressing it as Red.
On the way to find Peter and Red, Granny tells Snow that Red is the wolf. Red's mother had also been a wolf. Granny paid a wizard to make Red's cloak. It was designed to keep her from changing, which is why Granny insists she wear it all the time. Granny never told her because she didn't want Red to have to live with the burden of knowing. The wolf in her story was Red's grandfather. He had marked her as a young girl, then came back when she was older and turned her. The effects had faded as Granny aged. She prepares to shoot the wolf Red with a silver tipped arrow. They approach downwind, but Snow steps on a tree branch and attracts the wolf's attention. Granny shoots the wolf, but it's too late to save Peter. They throw the red cloak over the wolf, and it turns back to Red. When Red discovers she's the wolf and killed Peter, she collapses in tears and doesn't want to leave. But hunters are closing in. Snow takes Red away with her.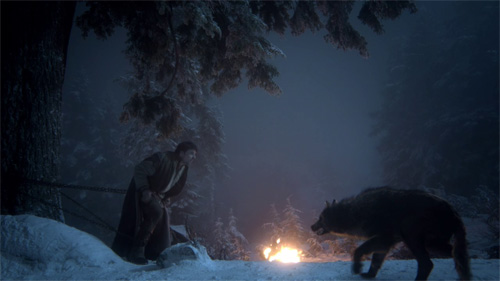 Ruby goes to see Granny. Granny's arm is paining her, same as it does every full moon. Ruby wants to come back to work at the diner. Granny's wish for her to take on extra responsibility scared Ruby. They make amends. Granny didn't intend to pile extra work on Ruby. She wants to prepare her to take over ownership of the diner when Granny retires.
David and Mary Margaret talk at the animal shelter. He worries the explanation for his memory lapses will not be good. Emma arrives with the news about finding the box. There was a human heart in it. But there's more. Emma found fingerprints inside the box. She's found a match to one of the residents of the town — not David's, but Mary Margaret's.
The Red Riding Hood is the Big Bad Wolf twist made this episode. Nothing really happened to advance the overall story arc except casting more suspicion on David and Mary Margaret. I'm sure we could all predict that would happen, so that part of the episode wasn't surprising. This episode was totally character-driven as we learned the history of Granny and Ruby/Red. One of my favorite things about Once Upon A Time is the writers' creative takes on familiar fairy tales. I'm predicting the fingerprints inside the chest are truly Snow White's. Whose heart would Snow want to take? Collecting hearts is the Evil Queen's specialty, not that of innocent Snow White. Looks like Snow may have some dark secrets in her past.