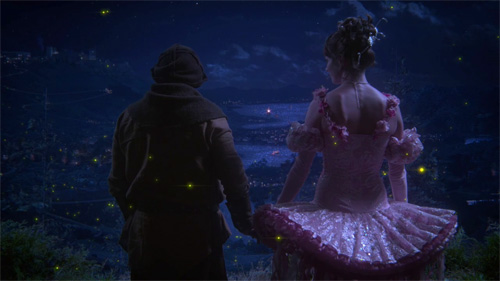 Episode: Once Upon A Time 1.14 – "Dreamy"
Original Air Date: March 4, 2012
Screencaps by Spinneresque.
Mary Margaret and Leroy become unlikely allies for a charity fundraiser, and viewers dig into the tale of Grumpy and the seven dwarves in the Once Upon A Time episode "Dreamy". The role of Leroy/Grumpy seems tailor-made for Lee Arenberg ("Pintel" from the Pirates of the Caribbean franchise). The crusty, gruff exterior comes naturally to the versatile character actor. Yet with something as simple as a smile, we see a heart of gold revealed underneath the grit. Arenberg unpeels the character's multiple emotional layers with a finesse that binds the viewer's heart to an unpopular resident of the town.
Nova the fairy dreams of becoming a fairy godmother. But because of her clumsiness and youth, she's assigned to collect fairy dust. She spills some and it floats down to be absorbed by a large egg sitting among other large eggs.
Mary Margaret requests volunteers to help the local nuns sell candles at the Miner's Day Festival, a long-standing tradition. With no immediate responses, she attempts to recruit Leroy as he's leaving the diner. He points out that right now the only person less liked in Storybrooke than him is Mary Margaret. They'd make a great team — the town drunk and the town tramp. Emma follows Mary Margaret from the diner, wishing to help her feel better, but she receives a call from the station that must be answered.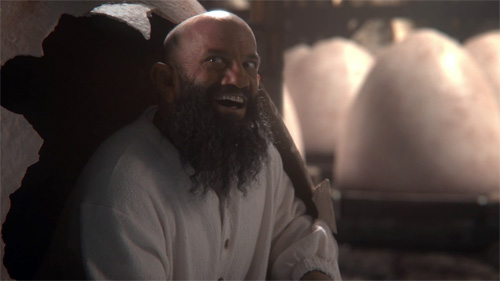 Leroy meets Astrid, one of the nuns, and is enchanted. He fixes a light display for the nuns' booth. She thinks he must be an electrician, but he lets her know he's in "custodial services". She's not repulsed by that information or him. He confides that what he really wants to do is fix up his boat and sail around the world. Astrid is confident Leroy can accomplish anything he dreams.
Emma examines Kathryn's abandoned car. Sidney shows up with his camera. They trade theories on why Kathryn might have disappeared. In the trunk, they discover her still-packed suitcase. Sidney offers the help of a "contact" he has to speed up access to Kathryn's phone records.
Dwarves hatch from the eggs. The new dwarves are cleaned, trimmed and dressed. One of the dwarves wishes to see again the beautiful woman he saw before he woke. It must've been a dream because no female dwarves exist. Dwarves don't fall in love, get married or have children. It's why they're hatched, not born. They work — mining the diamonds that are crushed into fairy dust. When they are each given their pick axe, it reveals their dwarf name. That dwarf is named Dreamy.
Leroy volunteers to help a surprised Mary Margaret sell candles. Without any other volunteers, she reluctantly agrees to work with him. Astrid ordered too many tanks of helium. It's going to take all the nuns' money; money they needed to pay their rent to Mr. Gold. To make it up, they will need to sell all the candles. Leroy promises Astrid that they will. She proclaims him "her hero". He's smitten.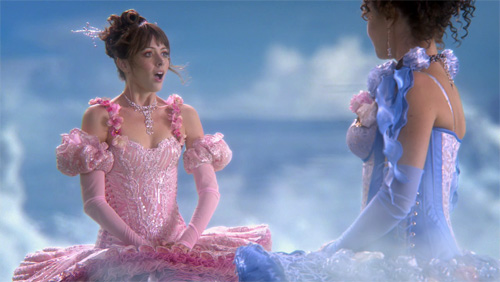 Emma breaks the news of Kathryn's disappearance to David and questions him. Emma has the ability to tell when someone isn't telling the truth. She believes David when he swears he hadn't talked to or seen Kathryn. Sidney's "contact" for the phone records is Regina.
Nova gets into a spot of trouble when she comes to pick up the fairy dust, and Dreamy helps her. He recognizes her as the woman from his dream. Nova loses her grip on the bag of fairy dust — the entire year's supply. It comes close to falling into the furnace but Dreamy rescues it just in time. Nova tells Dreamy she's planning to stop and see the fireflies on her way back to the land of the fairies. He doesn't take the hint, but before she leaves, she calls him "her hero".
Mary Margaret and Leroy have no luck selling the candles at the Miner's Day Festival. Leroy suggests going door-to-door. His theory is people will buy the candles just to get him and Mary Margaret to leave their houses. All they get for their effort is a lot of doors slammed in their faces. Sidney plants the suggestion with Emma that David should be her top suspect.
Leroy tries to tell Astrid that none of the candles sold, but can't when he realizes it would break her heart. Instead, he says they sold all of the candles. Mary Margaret overhears and realizes Leroy has fallen for Astrid, a love that is hopeless. Because of her feelings for David, at the end of the day, Mary Margaret is no better off than Leroy. She's got her reasons to help the nuns, and he has his. He's determined to get the $5,000 for Astrid.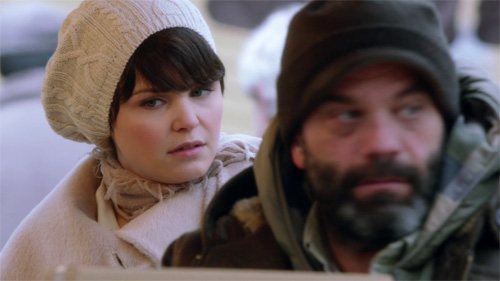 Dreamy meets up with Nova when she goes to see the fireflies. They declare their love for each other. Dreamy suggests they buy a boat and see the world together — a dream come true. Nova kisses Dreamy.
Leroy attempts to sell his boat to Mr. Gold in lieu of the nuns' rent. Mr. Gold is unwilling to make the deal. He'd rather be rid of the nuns, finding them distasteful. (In the story world, the nuns are the fairies and enemies of Rumplestiltskin.) After Mr. Gold leaves, Astrid brings a pie to Leroy as a thank you gift. She finds the unsold candles and realizes he lied to her.
Sidney delivers the phone records to Emma. They show an 8-minute call between David and Kathryn an hour before her disappearance. Sidney says people lie, but records don't. If David lied to Emma when she questioned him, why didn't her ability work? Why doesn't Emma know Sidney is lying to her? In his opinion, David is one of the biggest liars in the town.
Stealthy catches Dreamy sneaking out of the mine. The other dwarves can't believe he's leaving them to go with Dreamy claims he loves Nova, but the chief dwarf counters that dwarves are incapable of love. The blue fairy shows up and tells Dreamy if he and Nova run away together, Nova will lose her wings. To let Nova achieve her dream, Dreamy must give up the dream of their love.
Astrid was the first person to ever believe in Leroy; to tell him he could do anything. He didn't want to disappoint her. Leroy asks Mary Margaret if she regrets all the time with David. She doesn't. He advises her to stop feeling sorry for herself and hold on to the good memories. Mary Margaret finds Leroy standing on the edge of the roof. She thinks he's going to jump, but he has a plan to sell the candles. He causes a transformer to blow, shutting down the electric power.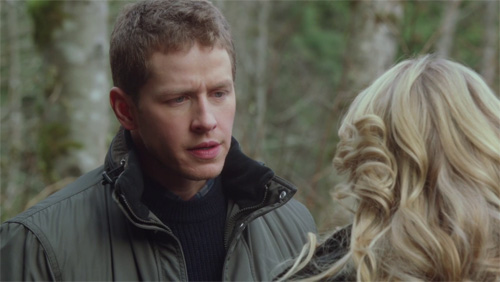 Dreamy says goodbye to Nova. The only way to get her to return to the fairies is to break her heart by telling her he doesn't love her, which also breaks his. He returns to the mine. In a moment of rage, he breaks his axe. When he's given a new axe, the name changes from Dreamy to Grumpy.
Leroy and Mary Margaret sell all the candles. He's able to give Astrid the $5,000. He pledges to fix up his boat in pursuit of his dream and Astrid will be his first passenger.
Regina demands to know if Emma's found any information about Kathryn's disappearance. As Mary Margaret leaves the festival, Granny stops her and lights her candle. Emma finds David and requests he come with her to the station. The people of Storybrooke watch as Emma places him in her cruiser.
Much ado has been made of Emilie de Ravin's return as Belle, but she was only featured in one short scene — where she encourages Dreamy to pursue his love for Nova. Nothing new was revealed about her story. While I enjoyed the episode and learning the story of how Dreamy became Grumpy, I kept thinking this isn't the same story he told Snow White about his true love when they met. Is there more story or are viewers going to get the same kind of storytelling red herrings and dead ends that many Lost story threads became? I'm almost skeptical to let myself be drawn in by the many mysteries of Storybrooke after the way Lost ended. It ruined the enjoyment of the entire series for me.
Next week, we face the old question: Who's afraid of the Big, Bad Wolf?
Apparently, not Granny.