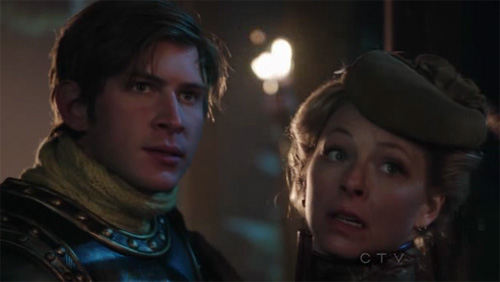 Episode: Once Upon A Time 1.13 – "What Happened to Frederick?"
Original Air Date: February 19, 2012
Screencaps by Spinneresque.
David promises he will tell Kathryn about his relationship with Mary Margaret and Prince Charming risks his life on a mission for Abigail in this week's Once Upon A Time episode, "What Happened to Frederick".
Prince Charming, on the run from the king's men and his wedding to the daughter of King Midas, is captured by unknown assailants. The Prince's captors are Abigail's men. She doesn't want to marry him either, and is willing to aid his escape.
Kathryn has good news to share with David. She's applied to law school in Boston and been accepted. She wishes them to start a new life away from Storybrooke. David meets up with Mary Margaret. She wants David to tell Kathryn the truth about them. David's not sure he can because he doesn't want to hurt Kathryn. Mary Margaret tells David to choose between her and Kathryn.
Emma encounters the Stranger outside the diner. He's ready to have the drink she's promised. Emma won't go unless he tells her his name, which he claims is August W. Booth, with the W for Wayne. Emma goes in the diner to meet Mary Margaret. The latter confides she's been seeing David secretly. Emma already knows. She's the Sheriff and trained to notice the clues. Mary Margaret believes David is telling Kathryn "everything". David tells Kathryn he's not willing to go to Boston, but doesn't tell her about Mary Margaret. She wonders if something's going on, but he lies and says no. He agrees a fresh start would be good for her, just not with him.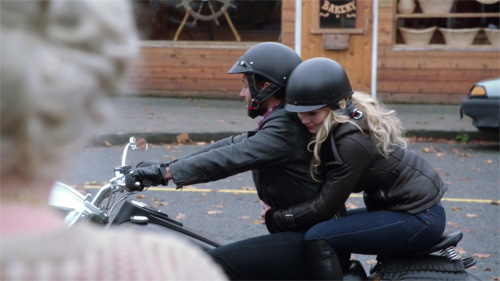 Abigail is in love with someone else — a man named Frederick, but the romance ended in tragic circumstances. Prince Charming reveals his own tragic circumstance is that his true love doesn't share his feelings. Abigail guides him to a gazebo where a golden knight stands. Frederick tried to save King Midas from bandits, but when he touched the king, he was changed into gold.
Abigail knows of a magical lake whose waters can restore something that has been lost. It's guarded by a ghastly creature that drowns its victims. No one has been able to defeat it. Prince Charming vows to get the water for Abigail. He's determined at least one of them will have a happy ending.
August restores and rebinds Henry's lost fairy tale book. Regina gives Henry a present to replace the book — a handheld video game. Henry wants to see Emma. Kathryn arrives to see Regina. Tearful, she tells Regina David is leaving her. Regina spills the secret that Mary Margaret and David are having an affair. She has pictures of the two of them taken by Sidney. Regina assures Kathryn she wants her and David to be together, and she's Kathryn's true friend.
Prince Charming prepares to face the creature at the lake for Abigail's benefit. In Storybrooke, David calls Mary Margaret, and lies to her, saying he's told Kathryn the truth about them.
Kathryn confronts Mary Margaret in the school hallway. In her haste, she runs into the gym teacher. She slaps Mary Margaret in front of everyone and accuses her of breaking up Kathryn and David's marriage. Mary Margaret realizes David just lied to her about telling Kathryn.
Prince Charming confronts the beast. Unexpectedly, the creature is a beautiful siren, not a monster.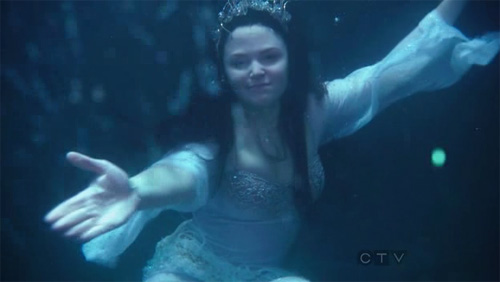 August takes Emma to a special location for their "drink", a place he calls a good watering hole. It's an old wishing well beside a huge, ancient tree. It has a legend — the well is fed by an underground lake with magical properties. If you drink the water, something lost will return to you. Emma accuses him of knowing a lot about Storybrooke for a stranger. He counters that she knows very little about the town for being the Sheriff. Actually, he read the plaque about the well. Their "drink" is water August draws from the well.
The siren offers to become whatever Prince Charming desires. He claims he's immune to her power so she transforms herself to the likeness of Snow White. The Prince tries to resist the attraction but is unable. He keeps resisting; he wants the reality, not an illusion. He can feel it's not true love. The siren pulls him under the water in an attempt to drown him. He tries to escape but plants capture him. He spots a knife on the lake bed and uses it to kill the siren.
On the street, people stare and call rude names at Mary Margaret. David is trying to wash the word "Tramp" off her car. She confronts him about lying to not only Kathryn but also her. He pleads with her to pick up the pieces with him. He was afraid of hurting either one. Mary Margaret declares they shouldn't be together if people are getting hurt.
While cleaning leaves from her car, Emma discovers the box with Henry's book inside caught against one of the tires.
Kathryn plans to leave Storybrooke for Boston. She says good-bye to Regina. She's realized she and David were never truly in love because he never looked at her the way he looks at Mary Margaret. She's determined to go out in the world and find her true love.
Prince Charming delivers the water to Abigail. She pours it over Frederick, breaking the golden curse. They're happily reunited. Frederick's counterpart from Storybrooke is the gym teacher. Charming is off to find and fight for Snow White. Abigail warns him the king will come after him for breaking the alliance with Midas.
Regina uses one of the keys from the old set she keeps in her office drawer to enter Kathryn's house. She steals the letter Kathryn left for David. Emma returns the book to Henry. He sees it as a sign things are changing for the better.
Prince Charming comes looking for Snow White and finds Red, who tells him Snow never returned. Red affirms Snow still loves the Prince. He realizes the king must have found a way to get to Snow. King George and his soldiers show up, pursuing him. Red and Prince Charming flee.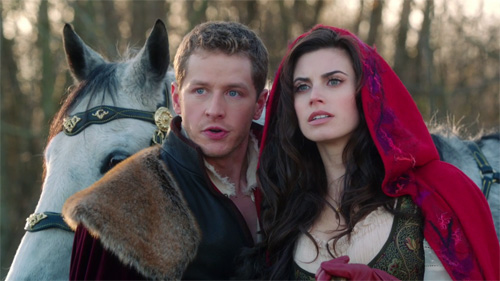 Emma tries to console a broken-hearted Mary Margaret. Regina burns the letter. Kathryn drives out of town. The gym teacher discovers Kathryn's car off the road just past the sign for Storybrooke. The airbag has deployed, but there's no sign of Kathryn. Next week, the search for Kathryn begins.
Snow and Charming fans will enjoy this installment of Once Upon A Time, "What Happened to Frederick". For me, it was all right but nothing special. There were several pieces of information to the overall storyline revealed. I enjoyed Abigail's transformation from the seemingly arrogant, cold-hearted princess to a warm, caring person seeking her true love. Prince Charming is growing on me. Josh Dallas's portrayal is everything a storybook prince should be — dashing and gallant, courageous and good with a sword. About David, I just feel "Meh". If as a viewer, I wasn't in on the secret that he's really Prince Charming, I would have no idea why Mary Margaret is in love with him. Most of the characters exhibit traits from their fairy tale counterparts in their modern personas, but for me, he's coming across as a wishy-washy wimp. I wish he would have more chances to show he's the Prince Charming of Snow White's dreams.