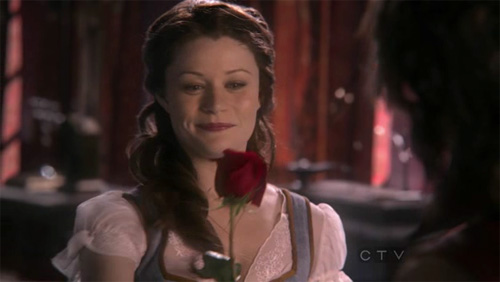 Episode: Once Upon A Time 1.12 – "Skin Deep"
Original Air Date: February 12, 2012
Screencaps by Spinneresque.
Emma investigates the robbery of Mr. Gold's house while the other "princesses", Mary Margaret, Ruby, and Ashley, hold a "Girls Night Out" in an effort to forget their relationship troubles. The fairy tale world tackles the classic story Beauty and the Beast with a Once Upon a Time twist in the episode "Skin Deep". Lost alum Emilie de Ravin (Claire) plays the role of Belle.
The kingdom ruled by Belle's father is being threatened by the ogre army. There is pounding on the door, but no one can be seen. However, Rumplestiltskin is now sitting on the throne. He's heard their plea and has come to help. His price to protect the town is Belle, as his caretaker. Against her family and fiancé's wishes, Belle agrees to the deal.
Mr. Gold oversees the repossession of a flower delivery van on the eve of Valentine's Day. As he leaves the scene, he encounters Regina. She wants to talk, but he's not willing to talk to her. At the diner, Mary Margaret and David are sitting at separate tables to prove they're not together. When Emma arrives, Mary Margaret delivers an update on what's going on with him. Ashley (Cinderella) comes in with her young baby. No one is happy with the way their lives are going, so Ruby suggests a "Girls Night Out" for all of them. Emma bows out after getting a call from the sheriff's office.
Mr. Gold returns to his house and discovers an intruder has broken in. Armed, he's searching the house when Emma shows up and surprises him at gunpoint.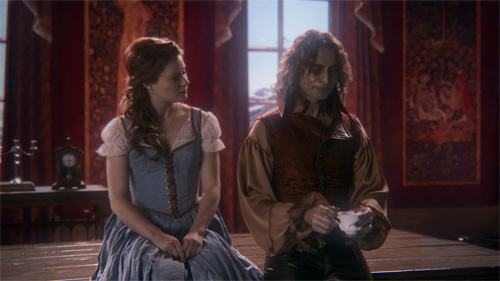 Rumplestiltskin brings Belle to "her room", the dungeon, and locks her in. Later, he gives her instructions on the tasks she is expected to perform as his caretaker. In her anxiety, Belle drops a teacup and it gets chipped. She's worried he'll be angry, but his calm reaction surprises her.
Mr. Gold is reluctant to give Emma any details about the robbery. She threatens to arrest him on obstruction of justice if he doesn't tell her what he knows. He believes the perpetrator was the man whose van he repossessed.
Belle cleans as Rumple spins his straw to gold. She attempts to open the nailed-down curtains. She falls from the ladder and into Rumple's arms.
Emma recovers Mr. Gold's stolen property and points out it took her less than half a day. But he says she's recovered nothing — the most important item, the only one he cares about getting back, is still missing. Gold is intent on locating it, even if he has to act before Emma has a chance.
Belle's presence brightens the Dark Castle and makes Rumple's life less lonely. One day, she asks him about a room where she found items for a child. Rumple once had a son, but he lost him. Belle sees through the mask of Rumple's monster to the man beneath. Gaston shows up at the door to rescue Belle. Rumple turns him into a rose and presents it as a gift to Belle. He wonders why Belle chose to come with him. It gave her a chance to be brave and escape marriage to Gaston. Rumple makes a deal with Belle. She'll go to town to fetch straw. When she returns, he'll tell her the story of his son. Belle is confused that he trusts her to come back. He expects never to see her again. He's giving her a chance to be free.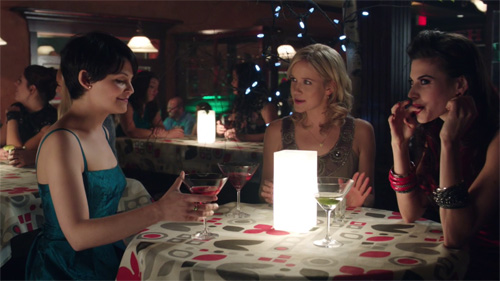 At the girls' night out, neither Mary Margaret nor Ashley can get their minds off the guys they care about. Each thought love would be very different. Meanwhile, Mr. Gold kidnaps the van driver and takes him to the log cabin.
On the road to town, Belle encounters the Queen. She ferrets out the information that Belle is in love with her employer. The Queen convinces her that her employer is suffering from a curse. The remedy, according to the Queen, is a kiss born of true love. True love's kiss will break any curse.
Belle returns to the castle with the straw. Rumple wants to know why she's returned. She kisses him, and he starts turning back into an ordinary man. Belle tells him she knows about the kiss having the power to break the curse. He demands to know who told her. He pulls the covering from a mirror and begins to rant to the reflection. In answer to Belle's urging, he informs her he's talking to her friend, the Queen. He believes she's working for the Queen because no one could truly love him. He tosses her back into the dungeon.
Gold is determined to get his information, no matter what it takes. This sequence is an interesting mingling of shots between the modern and fairy tale worlds as Mr. Gold beats and tortures the van driver as Rumplestiltskin destroys his possessions.
Sean shows up at the nightclub, bearing roses, and proposes to Ashley. Mary Margaret leaves and runs into David. He gives her the Valentine's card, but it's the wrong one. Mary Margaret thinks they need to find a better way to be together and sends him home to Kathryn. Emma is forced to arrest Mr. Gold for his assault on the van driver.
Rumple forces Belle to leave the castle. He attempts to break her love by telling her his power means more to him than she does. She won't believe him, but he's made his choice —one he'll regret. All he has is an empty heart and a chipped cup.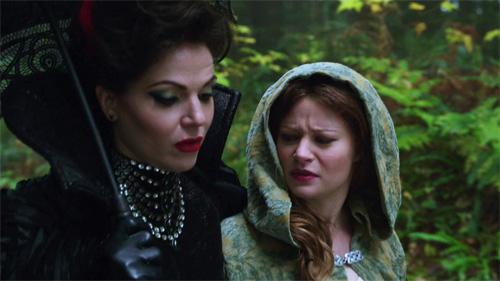 Regina arrives at the Sheriff's office with Henry in tow and offers Emma 30 minutes with him in exchange for leaving her alone with Mr. Gold. Regina has what Mr. Gold wants. In return, he must answer a question: What is his true name? So he tells her: Rumplestiltskin. She pulls the chipped teacup from her purse. As he takes it, he addresses her as "Your Majesty". Now they're being honest with each other. Gold/Rumple reminds her that he was always the one with the power, not her.
Rumple receives a visit from the Queen. Her ruse failed; he still has his power. She'll never defeat him. She takes pleasure in telling him Belle died and taunts him about his role in the girl's demise. To honor Belle, Rumplestiltskin gives the chipped cup a special place.
Regina visits a secret, off-limits section of the hospital. Looks like Regina/Evil Queen might have something that's worth more than his power to Mr. Gold/Rumplestiltskin in her possession.
"Skin Deep" is a visual treat for Robert Carlyle fans. For other viewers, the range of acting Mr. Carlyle displays in his various guises should still provide a delicious morsel. The confirmation of what many have suspected concerning Regina and Mr. Gold at the end of the episode was a great reveal moment. I found this installment of Once Upon a Time one of the most enjoyable so far and believe it will stand as one of the classic episodes of the series. I seldom re-watch episodes repeatedly, even of the shows I consider my favorites, but this is one I will watch again many times.
If you liked this Once Upon A Time version of Beauty and the Beast, de Ravin will reprise the role of Belle in the episode, "Dreamy" scheduled to air March 4.