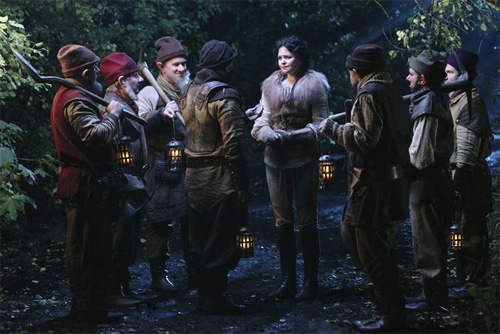 Episode: Once Upon A Time 1.10 – "7:15 A.M."
Original Air Date: January 22, 2012
A stranger in town arouses suspicions from Regina and Emma, and Mary Margaret and David struggle with their feelings for one another. Snow White's heart breaks as Prince Charming's wedding approaches in this installment of Once Upon A Time, "7:15 A.M."
The stranger works on his bike in front of Regina's house. Strapped to his motorcycle is a mysterious old case, and the man refuses to tell anyone what's inside or why he's in Storybrooke. Regina is disturbed when she finds Henry chatting to the stranger.
Mary Margaret is frantic to get out of the house so she won't be late for work. At least, that's what she tells Emma. Her real destination is Granny's diner. She's desperate to arrive by 7:15 a.m. That's when David shows up to buy coffee. This morning, Emma catches her. Mary Margaret confesses she can't get thoughts of him out of her head or feelings for him out of her heart.
Red Riding Hood delivers a basket of food to Snow White along with the news the wedding of the Prince is only two days away. Snow wishes for a way to rid thoughts of him from her mind. Red knows of a man who can do what she asks. At night, Snow White rows a boat to a location to meet this man.
It's Rumplestiltskin, and Robert Carlyle is at his finest in this scene. Rumple describes the boat as "exquisite craftsmanship". The same phrase could be applied to Carlyle for his own artistry. He gives 100 percent to every role, and he inspires the performance level of those acting with him. Plus, by all the comments I've read or heard from his peers, he's just a really nice guy. Research his life story sometime — what he has overcome in his past is an amazing story of its own.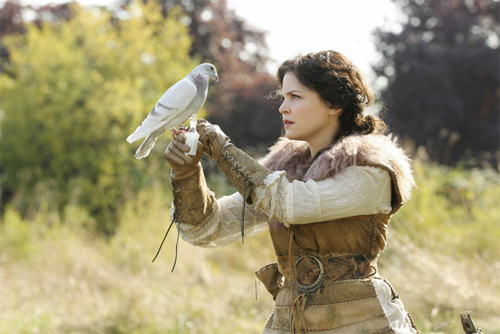 Rumplestiltskin doesn't have the power to make the Prince love her; no magic can do that. Snow's problem is different — they can't be together — and Rumple can certainly help fix that. He casts a spell on a small bottle of water using a strand of hair he plucks from Snow White's head.
At the local market, Mary Margaret literally runs into Kathryn, David's wife. She's buying a pregnancy test.
The king presents Prince James with a gift from King Midas, a golden crown. They discuss the wedding. The king knows the Prince has met and fallen in love with another woman. He tells James to forget her and reminds him of his own lowly beginnings, and that he's not the true Prince. The king is determined nothing will stop the wedding. Prince James sends a pigeon with a message in search of Snow White.
Walking in the woods, Mary Margaret finds a trapped, injured bird and takes it to the animal shelter for care — the one where David works. Mary Margaret is on a mission to return the rare bird to her flock. David cautions her not to go alone in the forest; a storm is coming.
As mayor to sheriff, Regina asks Emma to check out the stranger in town. He's taking a particular interest in Henry, the one thing they both care about.
Snow receives the message from James, asking her to meet him at the castle if she still loves him.
The road into the forest is closed due to the storm. Mary Margaret goes on foot to look for the bird's flock.
Snow slips into the castle. She hears someone approach and hides. It's James on his way to meet her. Before she can let him know she's there, she is grabbed by guards and imprisoned. In the dungeons, she meets Grumpy. He's also in prison because of someone he loved. He came up with a plan to win her, but it only caused him to end up in the dungeon, trapped with no way out and not having committed an actual crime. Another dwarf, Stealthy, sneaks in and frees Grumpy, who is unable to leave Snow behind.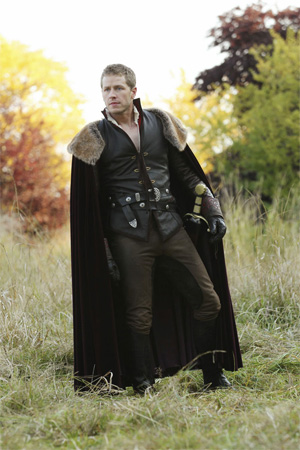 Mary Margaret slips and falls over the edge of a cliff. As she struggles to hang on, David arrives and pulls her to safety. The storm breaks over her and David, forcing them to search for shelter.
Snow and the two dwarves disagree on the best escape route and they part ways. As they dash across the courtyard, Stealthy is shot dead and Grumpy is recaptured. Snow comes to Grumpy's rescue, threatening to burn the castle if the king doesn't let him go.
David and Mary Margaret discover an empty log cabin and take refuge from the storm. Mary Margaret confesses she still has feelings for him, and the reason she's at the diner every morning is to see him. The reason David goes to Granny's every morning is to see her. They almost kiss, but Mary Margaret pulls away. She can't give in to her feelings knowing Kathryn might be pregnant. David is surprised to hear this news.
A cold, wet Emma arrives at the diner. The stranger is there. She approaches him, wanting to talk to him because he's suspicious. He's amused that his sitting in a diner, drinking coffee, is suspicious behavior. She questions him about why he was talking to Henry. Henry was the one who started the conversation with him after his motorcycle broke down in front of Regina's house, a coincidence. Emma wants to know what's in the box he takes everywhere. He threatens not to tell her; to let her watch him wandering around town every day, guessing what the box contains and becoming more curious. He offers a trade — he'll show her what's in the box if she'll have a drink with him sometime. He opens the box and reveals an old typewriter. He's a writer, and Storybrooke provides inspiration.
The storm clears. Mary Margaret frees the bird. As they watch it fly away, David takes her hand, but Mary Margaret breaks the hold. He can't have it both ways — staying with Kathryn and expressing feelings for Mary Margaret. Also, she can't forget that he chose his duty of staying with Kathryn over his feelings for her.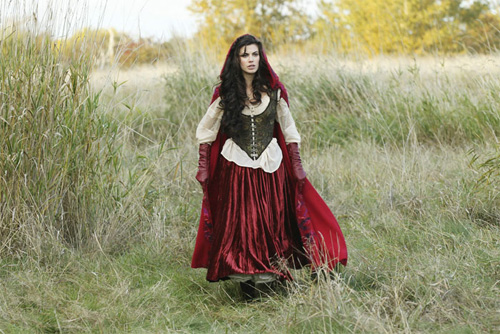 The king forces Snow White to tell Prince James she doesn't love him, so it will break his heart and his love for her. Snow believes the king will kill her if she refuses, but he promises to kill the Prince instead. Snow is shocked he could do that to his own son. The king admits James is not his son. To save her Prince, Snow White does the king's bidding, although breaking James's heart also breaks her own.
Snow is freed from the castle. As she leaves, the dwarves gather around and invite her to come home with them. She considers taking Rumplestiltskin's potion to ease the pain of her broken heart. Grumpy convinces her to wait and promises she's not alone anymore. The Prince comes looking for Snow White, but Red tells him she never returned after going to find him. He vows to find her.
At the dwarves' house, Grumpy has good news for Snow White. The Prince has called off the wedding. With a smile, she asks, "Who?" She drank Rumplestiltskin's cure and no longer remembers her Prince Charming.
Mary Margaret waits until 7:45 to buy coffee, but still runs into David. They're trying to avoid one another, but these encounters keep happening. He tells her Kathryn isn't pregnant. They kiss, but no flashbacks occur for either, as Regina watches.
I'm intrigued by the twists and turns in each episode, and the layers given to each character, which are slowly being peeled away. The realistic treatment of the fairy tale world adds to the believability and complexity of each character. The creative fusion of fairy tale characters from unrelated stories into a coherent and absorbing tale is an element that keeps me interested in the show week after week. The crafters of Once Upon A Time are masters of building story, but viewers are ready for a real payoff, even if it's small, to occur. One where the person it happens to doesn't end up dead. It's one of the issues that needs to be addressed if they want the current trend of viewer shrinkage to stop.