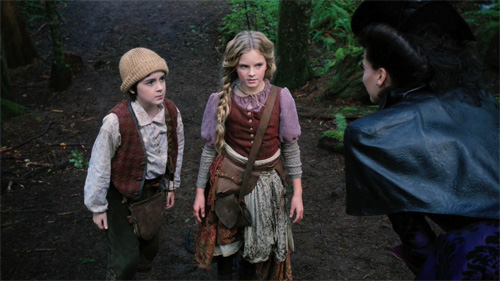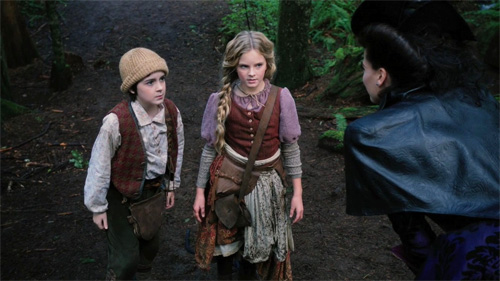 Episode: Once Upon A Time 1.09 – "True North"
Original Air Date: January 15, 2012
Screencaps by rawr_caps.
Emma vows to locate the father of two homeless orphans, and the Evil Queen enlists Hansel and Gretel to steal something for her. The Once Upon A Time episode "True North" is an interesting retelling of Hansel and Gretel and delves into Emma Swann's not-so-happy childhood.
(Have you noticed that in the title for Once Upon A Time the image in the bottom corner changes each week depending on the episode?)
Henry is checking out the comics at the store when a girl comes up and starts talking to him. She asks him to hang out with her and her brother. The owner stops them and accuses Henry of shoplifting.
Hansel and Gretel help their father in the forest. Her father gives Gretel a compass so the children won't get lost. When they complete a task and return to the place they left their father, he's gone. Instead of finding their father, they encounter the Evil Queen who demands to know why they are in her forest.
The phone number the two children gave the store owner is disconnected. According to them, it's because their parents couldn't afford to pay the bill. Because of her own background, their story touches Emma.
The Evil Queen listens with sympathy as Hansel and Gretel tell her of the search for their father, then commands her guards to seize the children. They run, but the Queen uses her magic to tie them up with tree roots. She's impressed by their bravery and promises she'll find their missing father. In return, they have to do something for her.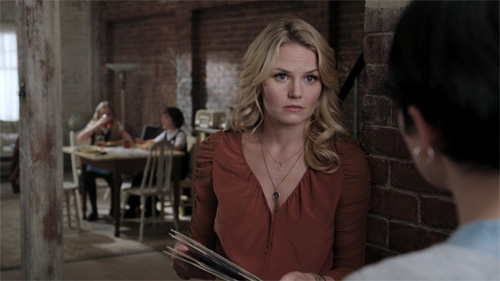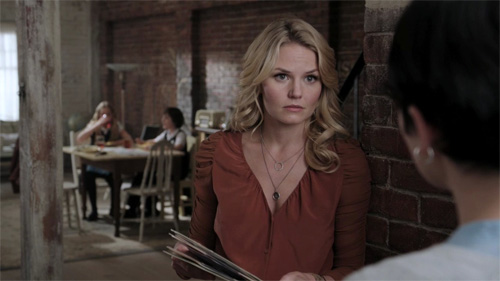 Emma drives the children home. They assure her everything is okay with their parents. When Emma leaves, they take off to the place they actually live — an old, abandoned house. Emma, aware they lied, is waiting for them. They don't have parents and are on their own. Emma takes the children to Mary Margaret's, determined to keep them from suffering the same fate she did. Their mother has died and they never had a father. Mary Margaret learns Emma hasn't called social services. She wants to do everything possible to keep them out of the foster system — a system Emma spent 16 years in, shifted from place to place. She vows to find their father.
Emma searches for their birth records with no success. Regina found the records and has already contacted social services. The father is listed as unknown. She has arranged for them to be taken to Boston, each to a different group home. Emma, as sheriff, is the one who must take them, but she's torn between her duty and her promise not to separate the children.
The Evil Queen leads Gretel and Hansel to the home of the Blind Witch. She wants them to retrieve an item the witch took from her, something that will help her defeat a wicked and powerful enemy. The Queen can't get it herself because a powerful magic spell protects the house. But the spell doesn't work on children. She instructs them to wait until night when the witch is asleep and then they can sneak in. The witch's house is unique and they have to take a special precaution — no matter how much they're tempted, they're not to eat anything, not even a lick or taste. The Queen pulls back a branch and reveals the house — a gingerbread cottage covered in sweet treats.
Henry claims the father has to live in Storybrooke because no one leaves or comes there. Emma's the first stranger ever to arrive. Henry asks Emma about his own father. She concocts a story that will make his father a hero in Henry's mind, claiming he was a fireman. Henry asks Emma if she has anything of his father's to remember him by. She doesn't, but it gives her an idea for how to find the children's father.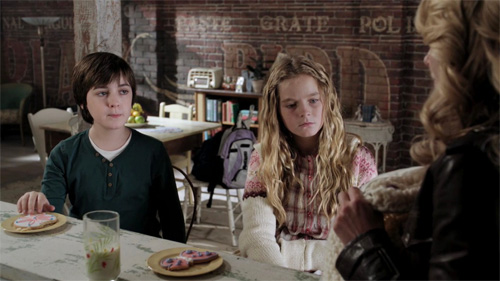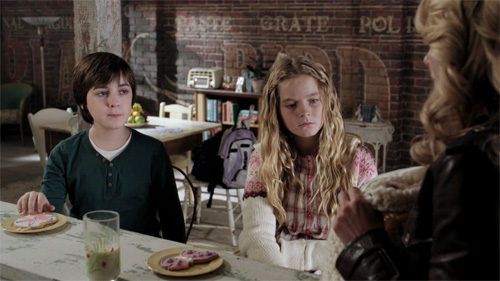 At Mary Margaret's, Emma shows the children her baby blanket. It's the only connection she has to her parents. The girl gives her an old compass, which her mom claimed belonged to the father.
Inside the gingerbread cottage, a table laden with delicious goodies awaits. The witch is sleeping in a chair by the fireplace. While Gretel retrieves the item, Hansel takes a bite from a cupcake. The witch awakens. In front of her chair lies a pile of human bones. She locks the door and windows, trapping them in the cottage.
Emma consults Mr. Gold about the compass. It was bought at his shop. He looks up the name of the buyer, but withholds it. She asks the price; he replies, "Forgiveness." They compromise on tolerance. Gold gives her the name and wishes her good luck. As she leaves, the shot pans to Gold's information card — it's blank.
Emma locates the father, a local mechanic. He never knew about the children, and he's not interested in instant fatherhood. She shows him the compass and tells him how Henry found her.
Mary Margaret encourages Emma to tell the children the truth about their father, like she told Henry. Emma confesses she lied to Henry about what kind of person his father was. Regina walks up to inform Emma the children are supposed to arrive at the group home that night.
The Blind Witch plans to cook one of the children for her dinner. Gretel devises a plan to get the keys while the witch is distracted choosing between basting them with butter or gravy. They overcome the witch and imprison her in the oven. The Evil Queen watches it all through her Magic Mirror. She throws a fireball and roasts the rival witch. Hansel and Gretel deliver the package to the Queen. It contains a large, perfect red apple. She tells them their father has abandoned them and offers them the chance to live in the castle with her. All they want is to be with their father. She casts a spell and a dark whirlwind envelopes the children.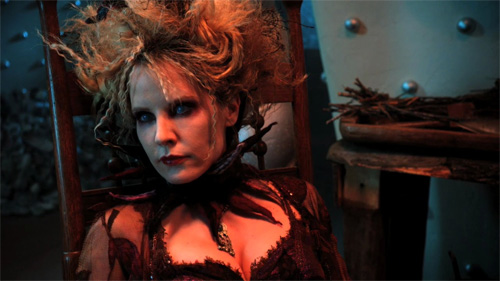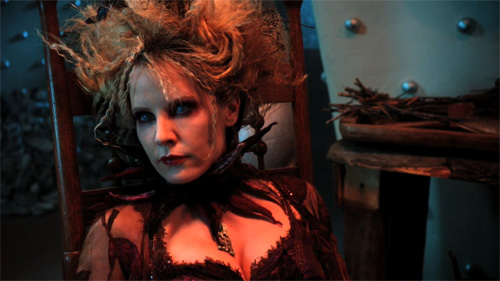 Henry begs Emma not to leave Storybrooke with the children. He's convinced if anyone leaves the town, something bad will happen. Emma's cruiser stalls on the way out of town.
The Queen's guards bring a prisoner to her — Hansel and Gretel's father. She asks him why the children chose him over her offer. She can't accept his reply: "Because we're a family" and vows they won't reunite. Gretel and Hansel wake in the forest and set off to search for their father.
The mechanic answers Emma's call for a tow truck. When he sees and meets his children, he wants them to stay. Mary Margaret and Emma have a heart-to-heart about the search for her own parents. Henry's theory is that she's the daughter of Snow White, which means she'd be Mary Margaret's daughter. Mary Margaret picks up Emma's baby blanket, but it doesn't trigger any immediate memories.
Henry brings Emma a slice of pumpkin pie, an element of the story she told about his father. She can't bring herself to tell him it was a lie. They hear the sound of a motorcycle and a stranger rides into town. He asks if he's in Storybrooke and if they know a place he can stay. As the man drives away, Emma reminds Henry he said strangers don't come to Storybrooke. Henry replies with an ominous tone, "They don't."
"True North" was a clever retelling of Hansel and Gretel in both the modern and fairytale worlds. The episode was lower-key than previous ones but it revealed much of Emma's childhood history in an interesting way. From the previews of the next episode, events of "True North" were set-up for future storylines with lots of promise. Will Snow White and Prince Charming remember and who is the handsome, mysterious stranger?