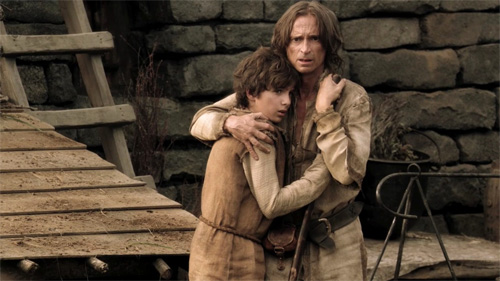 Episode: Once Upon A Time 1.08 – "Desperate Souls"
Original Air Date: January 8, 2012
Screencaps by rawr_caps.
Emma Swan runs for public office, backed by Mr. Gold and opposed by Regina. In the fairy tale world, Rumplestiltskin is desperate to find a way to keep his son from being taken by soldiers. Episode 8 of Once Upon A Time, "Desperate Souls", begins the back story of Rumplestiltskin. If you haven't seen this episode, spoilers beyond this point.
At the age of 14, children from Rumplestiltskin's village are taken by force to serve in the army. His son turns 14 in three days, and he's desperate to keep him from being taken. The power of the soldiers lies in the help they receive from the Dark One, a powerful sorcerer.
In Storybrooke, two weeks have passed since the death of Sheriff Graham, and all the residents still mourn him. Emma comes to Mr. Gold's shop because he called her. He informs Emma that she has been Acting Sheriff long enough to be automatically promoted to Sheriff. Also, he wanted to offer her Graham's belongings, but she doesn't want the reminders. Gold convinces her to take a set of radios so she can communicate any time with Henry. He remembers his own son.
Emma finds Henry at the "castle". He blames the Sheriff's death on his quest to prove the evil curse real. Emma reminds him the autopsy ruled his death "natural causes", but Henry's convinced Regina caused it. He's worried she'll kill Emma next: "Good loses cause it has to play fair, evil doesn't."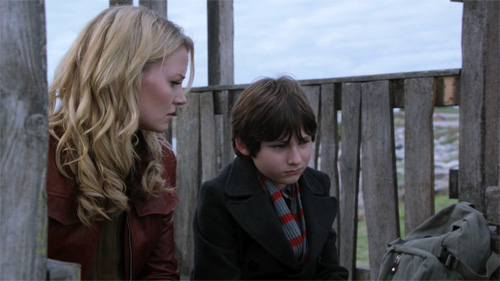 Emma decides to take up the mantle of Sheriff but Regina intends to appoint a replacement who is not Emma — the local newspaper editor, Sidney Glass. She fires Emma.
Mr. Gold shows up at Mary Margaret's to talk with Emma, bearing a copy of the town charter. He offers his services as her benefactor in the election.
Rumplestiltskin runs away with his son. They're caught by soldiers who ridicule and humiliate him in front of the boy. Rumplestiltskin had been a soldier in the Ogre Wars, but had fled in the middle of battle, earning the reputation as the town coward. The soldier forces Rumplestiltskin to kiss his boot as fealty. An old man, a beggar they had given money to — played by guest star, Brad Dourif (Wormtongue, Lord of the Rings) — comes to their rescue and offers to become Rumplestiltskin's benefactor.
Emma interrupts Regina's press conference to announce Sidney's appointment as the new Sheriff and announces her own candidacy for Sheriff. The town charter states there has to be a vote for Sheriff. A showdown is set between Emma and Regina; the outcome will be decided by the people of Storybrooke.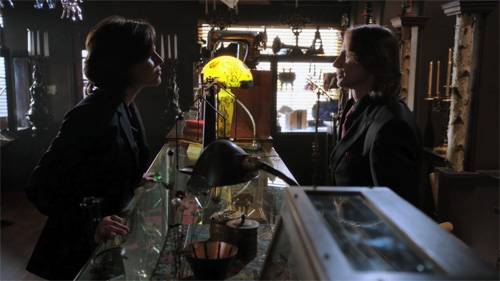 The old man convinces Rumplestiltskin of the importance of having power. He instructs Rumplestiltskin how to enslave the Dark One and take his power for his own use.
Regina pays Mr. Gold a visit. She can't believe he's opposing her. This scene wonderfully captures the tension between the two characters. Gold/Rumplestiltskin is the only being in Storybrooke/Enchanted World that Regina/Evil Queen is unable to control, and they're the only two who know the truth about the curse. Gold counters they're both invested in the "common good", but they're just picking different sides. He tells her not to underestimate someone acting for their child. The issue of Henry's parentage is infuriating for Regina, and Mr. Gold knows it.
Henry shows Emma an article in the newspaper that reveals she gave birth to him while in jail. When he wants to know if it's true, she confesses that it is. He warns Emma against owing favors to Mr. Gold, reminding her she already owes him one. Emma realizes Regina is going to play dirty and goes to confront her at City Hall. They argue over the newspaper article and its effect on Henry. Regina informs her there's to be a debate between her and Sidney. As they move toward the front exit, the doors explode inward, on fire. Regina is trapped. Emma faces the decision to leave her or save her.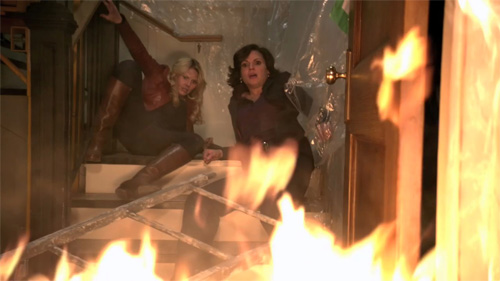 Rumplestiltskin plans to break into the castle and steal the dagger that controls the Dark One. He desires to use the power for good and save the children of his village. His plan includes setting the castle on fire.
Due to her quick thinking, Emma rescues Regina. The town considers her a hero. After finding evidence that the fire was set, Emma realizes Mr. Gold is responsible. He says he did it because she needed something big to win. She refuses to go along with the plan, but he counters that she already has. To him, it's just business, the price of election.
Rumplestiltskin successfully retrieves the dagger from the castle. The true name of the Dark One is written on it, just as the beggar said.
Mary Margaret encounters David while hanging campaign posters supporting Emma. He's doing the same, but for Sidney. Another wedge driven between them. Before the debate, Emma tells Mary Margaret she wants to win the election to show Henry that good can win. If she's not his hero, his savior, what part does she have in his life?
Rumplestiltskin uses the dagger to summon the Dark One. He advises Rumplestiltskin to wield the power wisely when he takes it. The Dark One taunts Rumplestiltskin about his son until Rumplestiltskin stabs him. His face is revealed — it's the old beggar who offered to be Rumplestiltskin's benefactor and told him of the dagger. With his last words, he says he chose Rumplestiltskin because he knows how to recognize a desperate soul. The dagger now bears the name "Rumplestiltskin". He has become the new Dark One.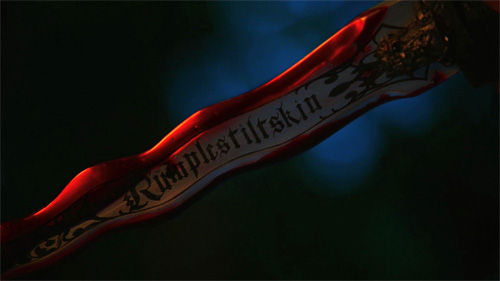 Emma comes clean at the debate and confesses Mr. Gold set the fire to help her win the election. Henry follows Emma to the diner and gives her one of the radios. Operation Cobra is back in business. Seeing her stand up to Mr. Gold turned her into a hero for Henry. Regina and Sidney arrive. Emma won the election because she was brave enough to stand up to Mr. Gold — the most feared person in the town. Emma is now the Sheriff of Storybrooke, a sheriff free of Regina's control and the curse.
The soldiers come to take Rumplestiltskin's son. At first, they mistake him for the Dark One. He reveals his identity, shows them the dagger with his name, and then kills them all. He's protected what belongs to him. He's no longer scared of anything, but his son is now frightened of him.
Emma arrives at the sheriff's office. Graham's jacket hangs on the hook. Mr. Gold has brought it for her, and he tells her forcing her to defy him had been his true plan all along. He knows the people are afraid of Regina, but they're more afraid of him. It was the only way to win over the support of the residents. After all, he knows how to recognize a desperate soul. He reminds her they struck a previous deal and she owes him a favor. Now that she's Sheriff, he's sure there will be a way for her to pay back what she owes. Emma knows she's caught in his trap.
I enjoyed this episode, with the beginning of the back story of Rumplestiltskin and Robert Carlyle headlining both the Storybrooke and fairy tale stories. The episode was emotion- and character-driven, with less action than previous ones. The low-key, but intense nature of "Desperate Souls" may have caused some viewers to zone out. To get the gems in this one, you did have to pay attention and follow the dialogue closely. Many viewers don't want to work that hard for their entertainment.