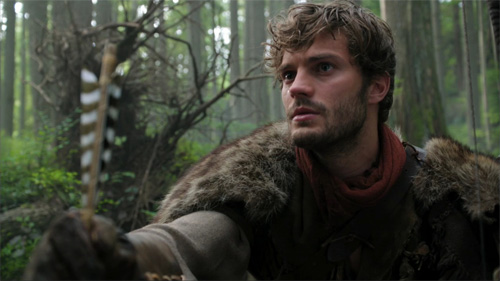 Episode: Once Upon A Time 1.07 – "The Heart is a Lonely Hunter"
Original Air Date: December 11, 2011
Screencaps by rawr_caps.
In this week's visit to Storybrooke, one of the the residents begins to have memories of the fairy tale past, and the Evil Queen hires an assassin to kill Snow White, in the Once Upon A Time episode "The Heart is a Lonely Hunter".
Sheriff Graham, after his fight with Emma, drowns his sorrows drinking shots and shooting darts. A customer in the diner bets he can't hit the bulls-eye (a deer) for the third time in a row. But he does. Emma enters but heads for the door as soon as she sees him. He throws the last dart into the door frame beside her. He knew he wouldn't hit her; he never misses his target. He claims she's avoiding him since she caught him sneaking out of the Mayor's house. He follows her down the street, trying to reason with her, but she's in no mood to listen. He kisses Emma and gets images of a forest and a wolf. He tells her he can't feel anything and he wants to feel something.
Cut to a castle in the fairy tale world. The Queen offers Snow comfort and support after her father's death, claiming she also loved him. Later, in her own rooms, the Mirror congratulates her on achieving part of her revenge — the death of the king. She decides to hire an assassin to kill Snow White — someone who doesn't mind killing. The Mirror suggests she find a huntsman.
Graham wakes up next to Regina. He's dreamed he was a skilled hunter killing a deer in the forest. Then a wolf approached and he greeted it. Regina tells him it was only a dream, but he says it felt like a memory. He gets dressed and leaves. He drops his keys next to his car. When he rises up, the wolf is standing there.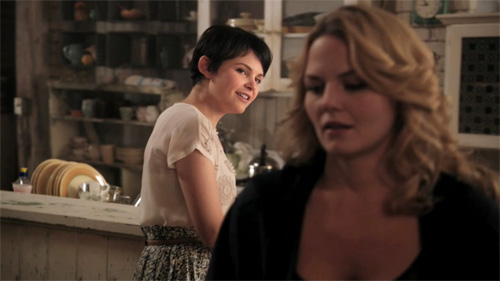 Emma finds flowers on the counter. Thinking they're from Graham, she tosses them. They're actually Mary Margaret's, sent by her doctor friend. Mary Margaret accuses Emma of not allowing any man to get close, especially one she might have feelings for, like Graham.
Sheriff Graham searches the forest for the wolf, but finds Mr. Gold, an apron over his immaculate suit, a large shovel in hand and wearing knee-high galoshes. On anyone else, the outfit would have looked ridiculous, but for him, it was menacing in a creepy clown sort of way. Mr. Gold claims he was engaged in a spot of gardening. But was he planting something or burying it? Graham asks if he saw the wolf. Gold says he doesn't know of any wolves in Storybrooke — not the literal kind, anyway. The Sheriff tells him about seeing the wolf in his dream. With an enigmatic smile, Mr. Gold replies that he's always heard "dreams are memories of another life." It's become obvious throughout the episodes that Mr. Gold remembers everything about the past and probably knows how to unlock the curse.
The huntsman and the wolf stop by a tavern for food and drink. He gets into a fight with another hunter and kills him as the Queen watches through her mirror.
Sheriff Graham comes face to face with the wolf. It comes to him, unafraid, and nuzzles him. He rubs its head and has more flashes including one of Snow White. He goes to see Mary Margaret at the school.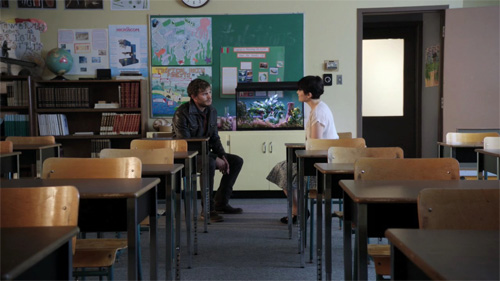 The huntsman is brought to the Queen. As reward for killing a certain person, she offers him riches and a place at her court. He responds that he has no interest in being a pet. She needs someone who has no qualms about carving someone's heart out and bringing it back for her "collection" — a vault of captured human hearts.
Graham asks Mary Margaret if she remembers how they met and confides that he doesn't remember when he met any of the residents of Storybrooke. Mary Margaret thinks it's just a part of life — things get hazy over time. He wants to know if he's ever hurt her, or if she believes in past lives. She tells him about Henry and his idea that the people of Storybrooke are characters from his fairy tale book. Graham goes to see Henry.
The huntsman, disguised as a knight, escorts Snow into the woods. She realizes he's not one of her father's men and the Queen has sent him to kill her. She knocks him down and runs. The huntsman catches up to Snow White, sitting under a tree and writing a letter. She asks him to give it to the Queen when he returns, after he's killed her. He reads it. The huntsman draws his knife, but cuts a reed instead of killing Snow and marks it. He tells her to send it to him if she ever needs help. Then he tells her to run away.
Henry asks Graham when the flashes began. When he tells him, Henry is disgusted that the Sheriff kissed his mom. He tells about the flash of holding a knife over Mary Margaret. Henry says that makes him the huntsman because Mary Margaret is Snow White. He further tells him the wolf is his friend and Emma is Snow White's daughter. Since she's the one who can break the curse, he started remembering after he kissed her.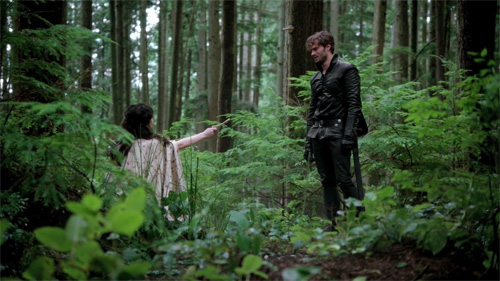 Graham asks what happened after the huntsman didn't kill Snow White. According to Henry, the Queen took his heart and put it in her collection so he wouldn't be able to feel again. Graham recognizes a picture in the book from his dream. It's the vault where the Queen keeps her collection of hearts.
Emma encounters Graham after he visits Henry. She wants to know why he's acting so crazy. After he tells her, she tries to convince him he does have a heart. She puts his hand over his chest so he can feel it beating. He tells her it's only a result of the curse. Emma gets a weird look. The wolf has returned. They follow it to the old graveyard. A mausoleum has the same emblem from the book carved over the door. They break in.
The huntsman returns to the Queen. He gives the letter to the Queen and claims to have cut out Snow White's heart. She makes him read the letter to her, then burns it. She takes the heart to place it in her collection, but the vault doesn't open. It only opens for human hearts, so she knows he's lied.
Emma and Sheriff Graham search for hidden doors or compartments but cannot find anything. Regina shows up, surprised to see them there. It's her father's mausoleum. Graham tells Regina they're through, that he doesn't feel anything for her. Regina blames Emma, accusing her of stealing Graham's affections. Cat fight! Graham pulls Emma away and they leave. Regina goes into the vault. She opens the coffin; it hides a stairway.
The Queen insists on having a heart. She takes the huntsman's. He's still alive but now under her control. If he disobeys or runs, all she has to do is squeeze his heart and he'll die. His life is in her hands, forever.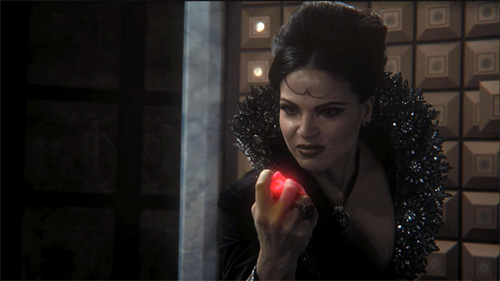 Under the mausoleum, it's the Queen's vault! Regina does have full knowledge that she's the Evil Queen who cursed everyone. But how is her happy ending working out for her as she twists and turns the lives of Storybrooke's residents? She removes a heart from one of the chests in the vault.
Back at the station, Graham uses a first aid kit to treat Emma's bruises. Emma and Graham kiss and he remembers his past. Regina begins to squeeze the heart. She squeezes till it turns to dust. Graham collapses, unconscious, and Emma is unable to rouse him.
The previews of this episode claimed a character would die. The actual scene was a bit ambiguous, so I have to wonder — is he dead-dead or just sort of dead? They do that on TV. If he is dead-dead, did the creators just shoot themselves in the foot? I know killing a liked character is considered a good way to raise stakes in a storyline and filming took place before the episodes ever aired. However, OUAT has been a big draw for the mother/teen daughter audience à la the Twilight series, and I know from my own daughter, part of the attraction for the teen audience has been the handsome and charming Jamie Dornan (Sheriff Graham) and whether the Sheriff and Emma would fall in love. I don't think it was too soon to have a major character remember the past, but it may have been too soon to kill off a popular major character, especially one a good portion of your audience has become invested in.
Kitsis and Horowitz know how to craft a good story, but we should also keep in mind they're part of the team that was responsible for Lost, including the way it ended. Ratings have been taking a dip for OUAT, even though it is still ABC's highest-rated Sunday night show. It will be interesting to see the numbers for the next new episode, which doesn't air till January. This Sunday is a rerun of the episode "Snow Falls" and the two Sundays after that are, respectively, Christmas and New Year's Day.