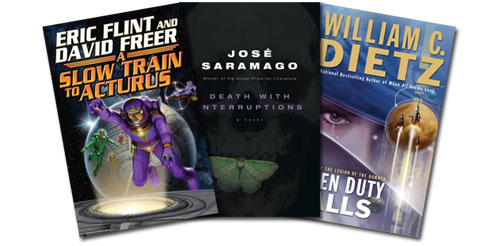 Second verse same as the first!  Just like last month I'm going to be keeping you informed of the latest releases, and October is absolutely full of them.  Same as last month I'll be splitting the October list into three parts so that one list won't be completely overwhelming.  Without further ado, I give you the books coming out the first week of October!
1) Death with Interruptions by Jose Saramago and translated by Margaret Jull Costa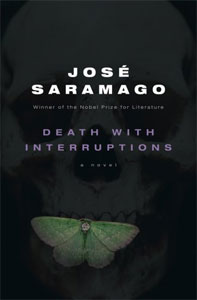 Death with Interruptions is coming out as a Harcourt first edition and will be released October 6th.  On the first day of the new year, no one dies. This of course causes consternation among politicians, religious leaders, morticians, and doctors. Among the general public, on the other hand, there is initially celebration—flags are hung out on balconies, people dance in the streets. They have achieved the great goal of humanity: eternal life. Then reality hits home—families are left to care for the permanently dying, life-insurance policies become meaningless, and funeral parlors are reduced to arranging burials for pet dogs, cats, hamsters, and parrots. Death sits in her chilly apartment, where she lives alone with scythe and filing cabinets, and contemplates her experiment: What if no one ever died again? What if she, death with a small d, became human and were to fall in love?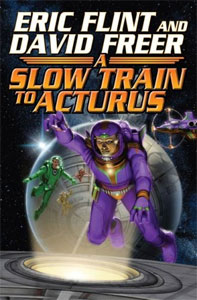 Slow Train to Arcturus is coming out October 7th and will be released by Baen.  The planet Miran had sent a spaceship to rendezvous with the enormous vessel that was approaching their star system. The vessel's design was odd—a multitude of separate globular habitats in a framework—and most of the alien team that entered one of the habitats were slaughtered by savage creatures called "humans." One alien had barely managed to escape to another habitat where the humans were more friendly, if rather technologically backward. But he needed to get back to his spaceship, and he would need one human's help to do that. They would have to travel through several more habitats, each one isolated from the other, each with its own bizarre dangers and customs. And friendliness toward strangers was not one of those customs.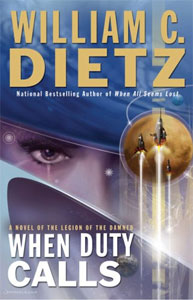 When Duty Calls: A Novel of the Legion of the Damned is also coming out October 7th through Ace Hardcover.  As the war with the Ramanthian continues, Captain Antonio Santana and his force of biobods and cyborgs find themselves surrounded by enemy forces, faced with annihilation at every turn. On the home front, Santana's love—diplomat Christine Vanderveen—copes with growing shortages, treacherous allies, and her own emotions. Yet when she meets the charismatic newly elected president of the Clone Republic, she finds herself torn between old love and new loyalty. As Christine fights her own divided heart, light years away, Santana is in a battle for his life. And this battle may be his last
Books being released:
October 1st:
4) The Better Mousetrap
by Tom Holt
5) Gerry Anderson's UFO: The Technical Manual
by  Nick Foreman and Chris Bentley
6) The Last Quest: Song of Montsegur
by Derek Armstrong
October 7:
7) The Pirate King: Transitions, Book II (Transitions)
by R.A. Salvatore
8)Foundation (Valdemar: Collegium Chronicles, Book 1)
by Mercedes Lackey
9) Wolfsbane and Mistletoe
edited by Charlaine Harris and Toni L. P. Kelner
10) Crusade: Destroyermen, Book II (Destroyermen)
by Taylor Anderson
11) The Serrano Connection (Serrano/ Suiza Series)
by Elizabeth Moon
12) City of Jade: A Novel of Mithgar
by Dennis L. McKiernan
13) Gentleman Takes a Chance
by Sarah A Hoyt
14) Night Falls Darkly: A Novel of the Shadow Guard (Signet Eclipse)
by Kim Lenox
15) Devil's Brood
by Sharon Kay Penman
If there is a format for getting these to you that you would like best, let me know!  I'm always open to suggestions.  Comment or email me at kelly@fandomania.com.
book releases
,
books-
,
Charlaine Harris
,
Chris Bentley
,
Dave Freer
,
Dennis L. McKiernan
,
Derek Armstrong
,
Elizabeth Moon
,
Eric Flint
,
Jose Saramago
,
Kim Lenox
,
Mercedes Lackey
,
Nick Foreman
,
R.A. Salvatore
,
Sarah A Hoyt
,
Sharon Kay Penman
,
Taylor Anderson
,
Tom Holt
,
Toni L.P. Kelner
,
William C. Dietz