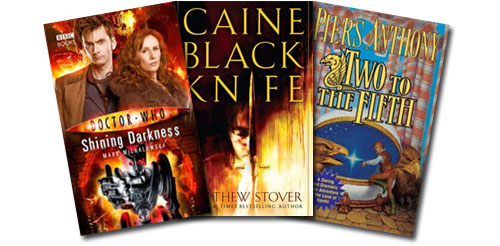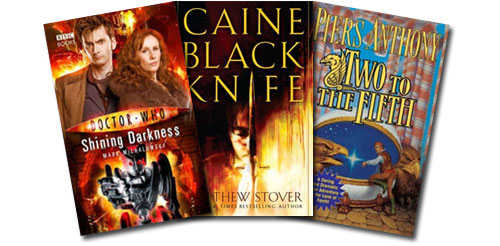 Sometime between the first installment of October book releases and now I realized (ready for a huge head slapping duh moment?) that not all books are released for the first time in hardcover; many are released straight to paperback.  With this information in hand and a slight red mark from where I slapped myself in the forehead, here is the second group of October book releases you have to look forward to.  This time, they really are all the new releases I could find.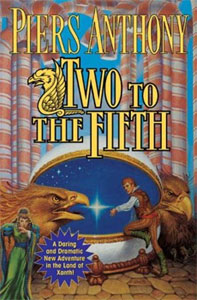 Two to the Fifth, published by Tor Books, will be coming out October 14th.  The future of Xanth is in frightful peril. A powerful magical bird named Ragna Roc has embarked on a campaign to become absolute ruler of that mystical realm. Those who swear loyalty to him are spared. The rest are simply disappeared. So powerful are Ragna's sorceries that even the Good Magician Humfrey dares not confront him directly. Instead he enlists Cyrus the Cyborg, a handsome half-human playwright with little knowledge of the world, in a stealthy subterfuge. Cyrus must assemble a troupe of traveling players to attract Ragna's interest. And hidden in disguise among the bevy of beautiful young actresses are the young princesses, Melody, Harmony, and Rhythm, whose magics might just be a match for the evil bird. But Ragna has planted a spy in the midst of the troupe, one who knows their deepest secrets, including the true nature of Cyrus's forbidden love for one of the young princesses. Only a mysterious child called Kadence, and a cryptic clue — "Two to the Fifth" — may give the companions the edge they need to defeat Ragna's dictatorial dreams.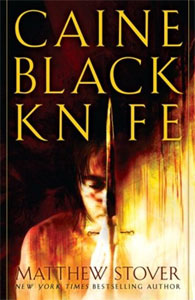 Caine Black Knife is being released by Del Rey on October 14th as well.  In Heroes Die and Blade of Tyshalle, Matthew Stover created a new kind of fantasy novel, and a new kind of hero to go with it: Caine, a street thug turned superstar, battling in a future where reality shows take place in another dimension, on a world where magic exists and gods are up close and personal. In that beautiful, savage land, Caine is an assassin without peer, a living legend born from one of the highest-rated reality shows ever made. That season, Caine almost single-handedly defeated–and all but exterminated–the fiercest of all tribes: the Black Knives. But the shocking truth of what really took place during that blood-drenched adventure has never been revealed . . . until now. Thirty years later, Caine returns to the scene of his greatest triumph–some would say greatest crime–at the request of his adopted brother Orbek, the last of the true Black Knives. But where Caine goes, danger follows, and he soon finds himself back in familiar territory: fighting for his life against impossible odds, with the fate of two worlds hanging in the balance.  Just the way Caine likes it.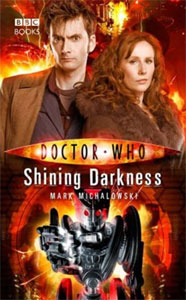 This original Doctor Who novel is being released by Random House UK on October 23.  For Donna Noble, the Andromeda galaxy is a long, long way from home. But even two-and-a-half-million light years from Earth, danger lurks around every corner… A visit to an art gallery turns into a race across space to uncover the secret behind a shadowy organization. From the desert world of Karris to the interplanetary scrapyard of Junk, the Doctor and Donna discover that appearances can be deceptive, that enemies are lurking around every corner, and that the centuries-long peace between humans and machines may be about to come to an end… because waiting in the wings to bring chaos to the galaxy is The Cult of Shining Darkness!
October 14th through the 17th:
4) A Lion Among Men: Volume Three in the Wicked Years (The Wicked Years)
by Gregory Maguire
5) The January Dancer
by Michael Flynn
6) The Hero of Ages: Book Three of Mistborn
by Brandon Sanderson
7) The Dresden Files: Welcome to the Jungle
by Jim Butcher and Ardian Syaf
8) The Brownie of Bodsbeck and Other Tales (Collected Works of James Hogg)
by James Hogg and edited by Bold Valentina and Suzanne Gilbert
9) Predator: South China Sea
by Jeff VanderMeer
10) Fast Ships, Black Sails
with stories by by Naomi Novik, Garth Nix, Elizabeth Bear, Kage Baker, Michael Moorcock and edited by Jeff Vandermeer
11) New Battlestar Galactica Origins: Baltar (New Battlestar Galactica Origins)
by Seamus Kevin Fahey and Jonathan Lau
12) Highlander: Way of the Sword (Highlander)
by J. T. Krul and Carlos Rafael
13) Moontown
by Peter Atkins
14) The Quiet War (Gollancz)
by Paul J. McAuley
15) The Red Country (Five Star Science Fiction and Fantasy Series)
by Sylvia Kelso
Ardian Syaf
,
book releases
,
books-
,
Brandon Sanderson
,
Elizabeth Bear
,
fantasy
,
Garth Nix
,
Gregory Maguire
,
J.T. Krul and Carlos Rafael
,
James Hogg
,
Jeff VanderMeer
,
Jim Butcher
,
Jonathan Lau
,
Kage Baker
,
Mark Michalowski
,
Matthew Stover
,
Michael Flynn
,
Michael Moorcock
,
Naomi Novik
,
Paul J. McAuley
,
Peter Atkins
,
Piers Anthony
,
science fiction
,
Seamus Kevin Fahey
,
Sylvia Kelso