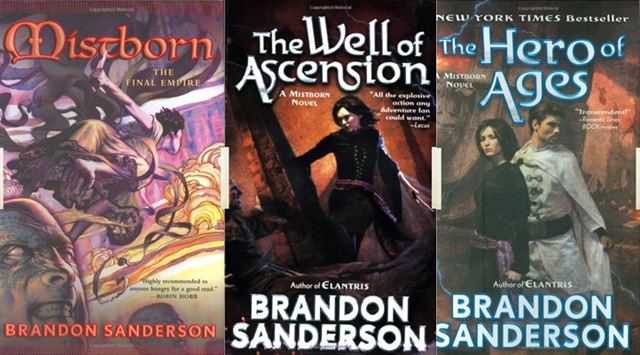 Books : Mistborn, The Well of Ascension, The Hero of Ages
Author : Brandon Sanderson
Synopsis : Part fantasy epic, part heist story, the Mistborn trilogy follows a group of thieves hell-bent on changing the world by killing the all powerful Dark Lord.  As Sanderson himself puts it, "I wanted to take the standard fantasy story I'd read a dozen times–that of a young peasant hero who went on a quest to defeat a Dark Lord–and turn it on its head. What if the Dark Lord won? What if, in the final climactic moments, he killed the hero and took over the world?" (via brandonsanderson.com) More specifically, it is the story of a young girl named Vin who finds a power that she doesn't understand within herself and her attempts to use it to free herself from the life of a sewer rat and thief to become something more. As it progresses, however, it also becomes the story of a young idealistic noble who wants to change the world in his own way and two outcasts who change the outcome of an entire world.
Review : I stumbled onto this series using my Kindle's recommendation feature, so I came into it with no real expectations. Roughly half way through Mistborn, however, I knew that I would be reading all three. Simply put, this is good storytelling. It starts as a small heist story and builds until by the end of The Hero of Ages we are dealing with Gods and all of creation. It is a wonderful ride in between, mostly due to well formed characters that you grow to love (and hate) and root for (and against).  Just when you think you have the story pinned down, it flips you on your head and you're off in another direction. The characters keep the constant movement from becoming overwhelming with their steadiness. You know and trust these people to do what they will.
The trilogy takes on the world in steps, first from the masses, then to the leaders, then to the very Gods themselves. It is a nice transition that I didn't notice as it was playing out but I saw very clearly looking back. Sanderson is not a flowery writer, he's more the "get to the point, let the story tell the story rather than these fancy words and phrasings" type of writer. He is also the author that has been chosen to conclude A Memory of Light, the final volume in Robert Jordan's "Wheel of Time" series. This is a short review for an entire trilogy, but I don't want to spoil anything for anyone. I highly suggest it to anyone that likes a good fantasy story with great characters.