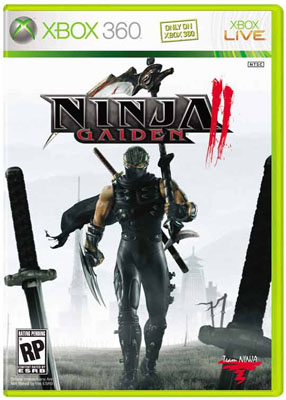 I got my copy of Ninja Gaiden II last week and dropped it into my XBox 360 with every intention of playing through the game and writing up a thorough review. I played the original Ninja Gaiden games way back on the NES, but I never got around to playing the first XBox version. So this would be my first foray into the 3D world of Itagaki's slice and dice hero, aside from Ryu's appearances in Dead or Alive, and I was looking forward to it. My non-review follows after the jump.
Everything started swimmingly. I was hacking, chopping, and dicing my enemies with wild abandon. I even managed to get some good blocks in and learned to run across walls and slide to dodge attacks. The scroll system and save system were working splendidly, and I was having a great time. And then I ran into the first frakking enormous spider dude. He killed me pretty quickly, but I wasn't worried. I'd heard stories passed down through the annals of geekdom about how crazily difficult Ninja Gaiden bosses could be, so I figured it would just take me a few tries to bypass this one. That turned out to be mostly true, as I eventually used my ninpo magic to deep fry his multilegged ass, and I was on to level two.
The achievements were coming pretty easily as I mastered all the various moves and attacks that were presented to me, and the pace picked up again as I barreled through the next level full of wicked ninja weaklings. I cackled with menace (silently, I promise) as I chopped off arms, legs, and heads, and was back in the groove of things. Then I found a bow and arrow and got all excited about the prospect of ninja-sniping later in the level.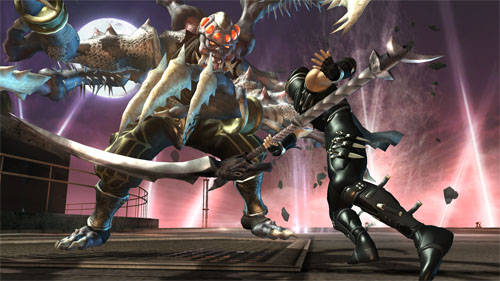 And then I fell into the big round room with not only the second boss but a whole mess of underlings as well.
No sweat, thinks I, as I try my ninpo awesomeness again. But wait, what's this? I'm dying! Oh no, I'm dead! The big spider dude (wait, didn't I already kill him?) has trounced me again. Fortified by my previous experience, I nevertheless was becoming a little frustrated with the boss fights. I persevered, though, and I eventually made it through and on to the rest of level two. That's when disaster struck.
I made it to the end of the level and to the showdown with big boss. Before I could even think about taking a swing, he unleashed an unholy combo on me that I can only compare to the butt-whipping I got from the utterly unfair cyber-Katsumi in Itagaki's other big 360 release, Dead or Alive 4. When I say I got trounced, I mean I was on the floor with "GAME OVER" across the screen in my vented ninja blood within ten seconds of the start of the fight. He stopped my progress as surely as a ninja-fied Gandalf with claws telling me, "You shall not pass!"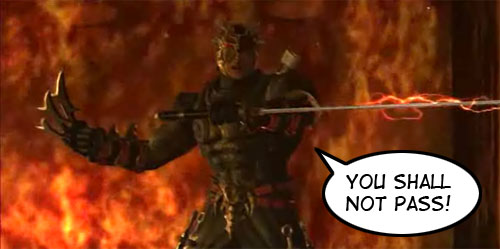 Not one to give up, I tried again. And again. And again. I actually managed to get the boss down to about half of his life before he killed me the last time. But when I fell that time, the tell-tale sign of gamer frustration struck. I watched in horror as my $50 wireless controller sailed out of my hands to bounce across my thankfully carpeted floor. I'm normally a level headed gamer, so when I get to the point of throwing my controller, I know I've met my match. I calmly made sure my controller was intact (it was) and extracted the disc from the 360, quickly and safely packing it back into the Gamefly sleeve for its trip back to the distribution center.
So this, gentle reader, is why I have no real review of Ninja Gaiden II for you. It will have to suffice for me to say that the game is fun–a LOT of fun, in fact. The mechanics all work very well, and the controls are awesome for pulling off those insanely fast moves ninjas like to pull when they flip out and kill people. I did have some issues with the camera getting blocked and occasionally swinging around wildly, as I've read some other people have had as well. The levels I got to play were well paced and structured, and the run-of-the-mill enemies were just about the right level of difficulty to provide a challenge without utterly crippling me. The bosses, though… Let's just say they're an entirely different experience than the rest of the levels.
There you have it: I suck at Ninja Gaiden, which looks like it would be a fantastic game if I could make it past level two.