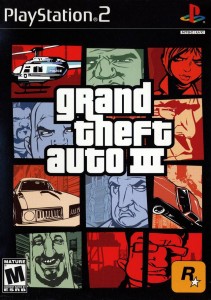 We all have those particular franchises that we would love to see gracing the silver screen. Recently many of us got our wish when movies like Transformers got made. Much to the studio's surprise, the movie became one of the biggest hits of the year, making now a great time to be a fan. Now we're seeing the studios pointing their devil eyes our way and seeing what else they could make into a movie. Well just in case they're paying attention, we present a brand new feature at Fandomania, "My Dream Movies." We'll be featuring our staff members' picks for what we'd like to see be made into a movie, who we'd like to see act in it, and who we'd like to write and direct it.
For our first feature we turn to the video game that started Rockstar's controversial phenomenon. Here's how John would make a Grand Theft Auto film.
SYNOPSIS: Claude Speed, a petty thug, has been betrayed by his girlfriend Catalina and left to the mercy of the Liberty City Police. Fate intervenes when Claude's prison transport is attacked on the Callahan Bridge in a prison break. Now Claude is back on the streets of Liberty City. He's forced to fend for himself in a city ruled by paranoid mobsters, crooked cops, sadistic Yakuza, and morally questionable executives. So how can you focus on revenge when you're preoccupied with trying to survive in Liberty City, where the law is an illusion and loyalty is determined by how much you get paid?
DIRECTORS THAT SHOULD HELM / WRITE THE FILM:
Martin Scorsese
Who better to do a film that satirizes the crime drama than the man who refined the crime drama? After all, you've got to respect a man who's willing to have a sense of humor about his work, and one thing film enthusiasts know about Scorsese is that he's got a sense of humor.
Quentin Tarantino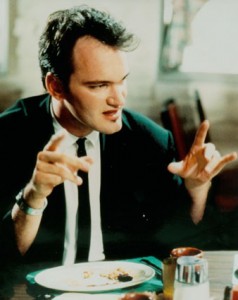 Rockstar was able to bring countless hours of joy from playing horrible people doing horrible things. The filmography of QT has accomplished the same feat. He was able to make horrible things like mob executions and bodily dismemberment funny and enjoyable. The sensibilities of GTA and QT's movies like Pulp Fiction and Reservoir Dogs are a perfect match, so who better to translate GTA to the screen?
Edgar Wright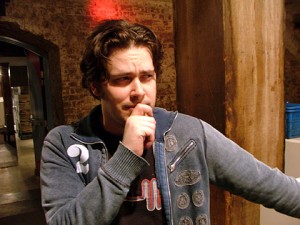 Hot Fuzz showed us that aside from the fact that Wright was able to mount yet another comedy with pop culture sensibility, he also knows hows to balance the plot development with the humor and the action. It's the right kind of approach which would be ideal to elevate the project beyond being just a video game based movie.
CAST:
Stephen Dorff as Claude Speed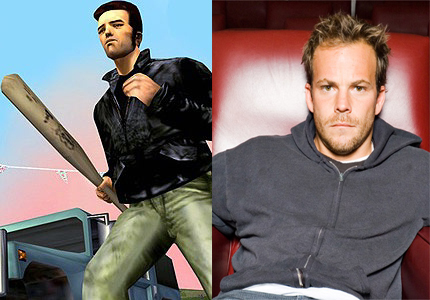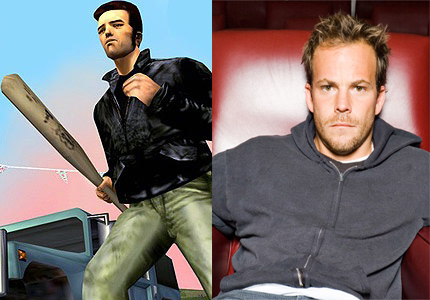 In Blade, he showed that he can be a hardcore villain. In Cecil B. Demented he displayed that he could be a hardcore anti-hero while being outrageously funny. What would seriously make this film different from practically every other movie out there is that this film adheres to the tradition of the character of Claude. Specifically, the fact that the character is a mute. Wouldn't it be unique to have a film where the protagonist never talks? Dorff's exceptional subtlety in his expressions make him an outstanding candidtate for the role.
Ray Winstone as Salvatore Leone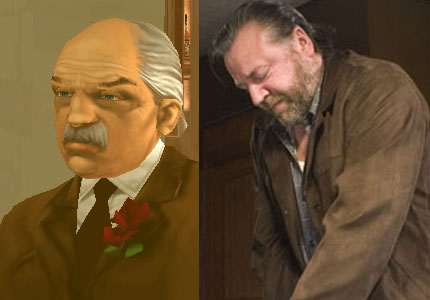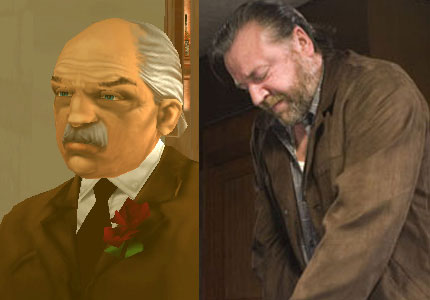 Winstone proved that he could pull off being a Irish mobster in The Departed. So let's really test Winstone's range by aging him up a bit more and seeing what kind of magic he can deliver as "The Capo de Tutti Capo" of Liberty City.
Eva Mendes as Catalina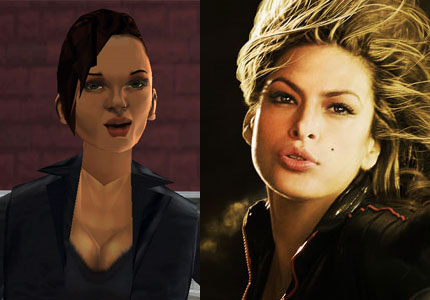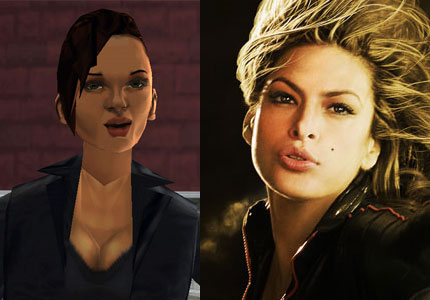 When it comes to the many femme fatales of the GTA mythos, there are none more lethal or more unhinged than the conniving vixen Catalina. A role like this demands an actress who can encompass the erratic behavior that Catalina displays. For Eva Mendes, She can play seductive, she can play backstabbing, she can do humor, and judging from The Spirit, she can also be badass. So let's see if she can be psychotic.
Gia Carides as Maria La Torre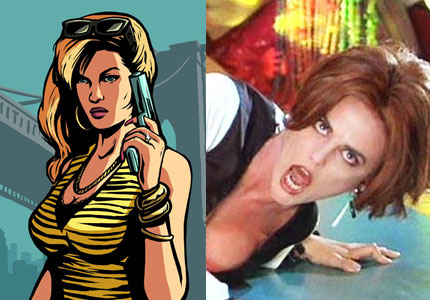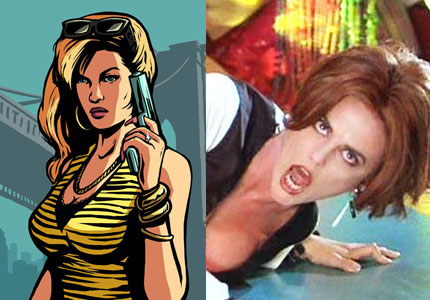 When you compare her brief yet memorable performance in Austin Powers: The Spy Who Shagged Me and her bravura performance as the obnoxious sister in My Big, Fat Greek Wedding, there screams an actress who demands a meaty role which will put her in the spotlight. Maria La Torre is the mob wife from hell, and Miss Carides would be more than qualified to raise that hell.
Michelle Yeoh as Asuka Kasen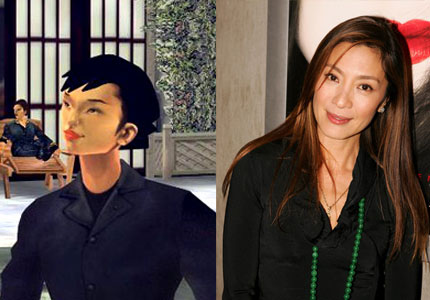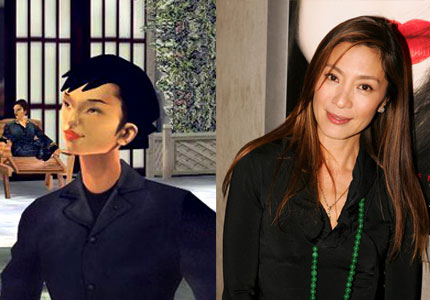 Why? Why Not? it is safe to conclude from her extremely broad range of characters that Michelle Yeoh can pretty much do anything. So why not a sophisticated Yakuza boss / S&M Addict?
Louis Mandylor as Joey Leone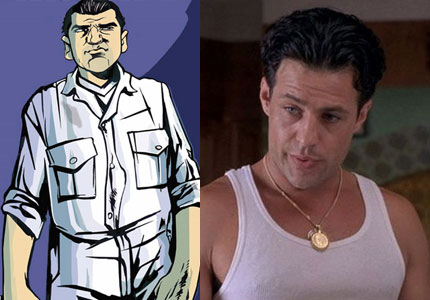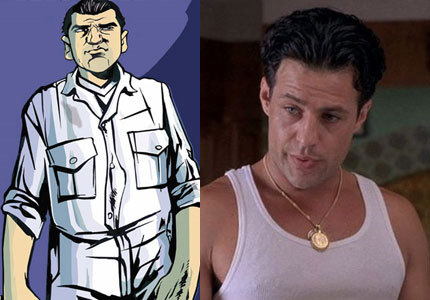 Joey Leone is Salvatore's son. He leads a double life as a mobster and as an auto mechanic. Though Mandylor's claim to fame is when he playing the protective brother in My Big, Fat Greek Wedding, you can wager that somewhere in his career he has played a mob thug. If so, then he'll have some fun with this one. If Not, then isn't it about time he did?
Joe Mantegna as Toni Cipriani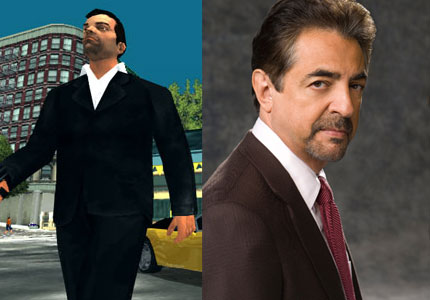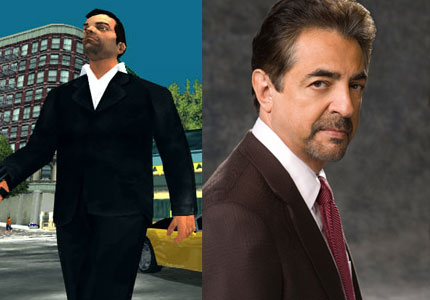 Mantegna may a bit older than Toni Cipriani is supposed to be, considering GTA: III only takes place a few years after GTA: Liberty City Stories, but do we really forsee a movie being made of LCS? So we might as well go the full nine and cast one of the truly great mob actors of all time.
Rob Lowe as Donald Love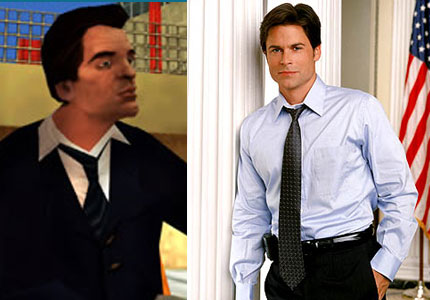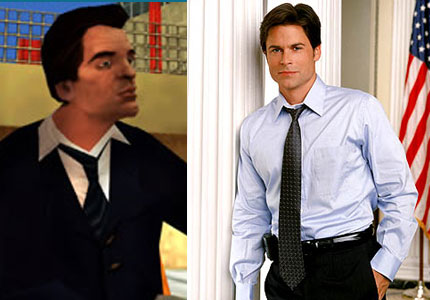 Had I not seen The West Wing a few months ago I would never have made this casting decision. Since I have, It's clear that Rob Lowe is more than a pretty face. It would indeed be intriguing to see him play a psychotic billionaire industrialist who hides his true nature behind a veil of intelligence and integrity. The whole trick behind Donald Love is that he is a trusted public figure, so he needs to have a face and personality that disguise the truth.
Phillip Baker Hall as Ray Machowski
Machowski is a crooked cop with a lot of mileage on his face. Hall is a seasoned veteran actor with a lot of different character archetypes under his belt. It seems only fitting that "paranoid dirty cop" should be added to the list.
Dule Hill as 8-Ball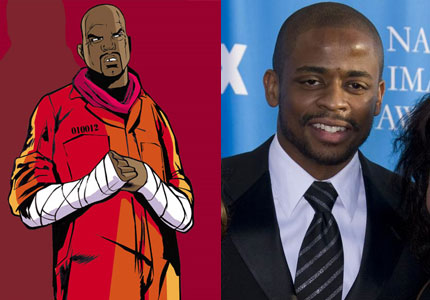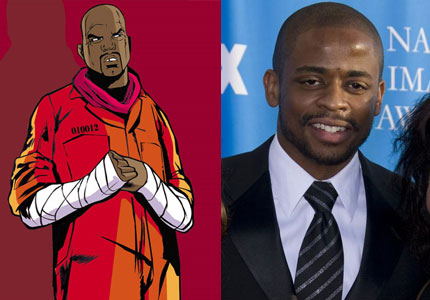 It's clear the Dule Hill has had a lot of fun playing the good guys on The West Wing and Psych. After playing goodie two-shoes all those years, wouldn't it be a nice change of pace to see him play a morally deprived explosive expert and friend to Claude?
Jack Black as Phil Cassidy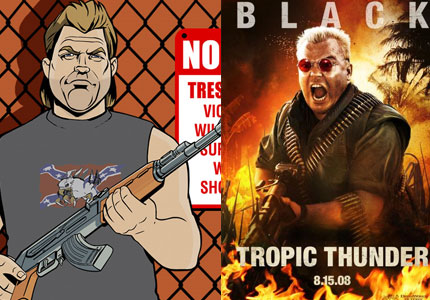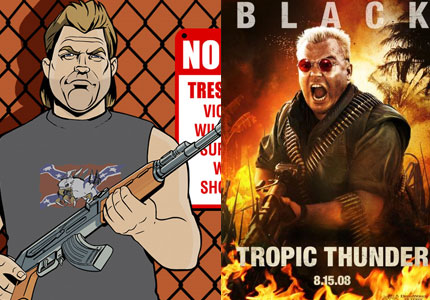 Considering the substantial role Cassidy played in GTA: Vice City, the casting of Black would be more apropos for that. Since Black is no stranger to acting under massive amounts of makeup, we might as well set him up in GTA: III as a cameo.
WHY SHOULD THIS MOVIE BE MADE?
Because studios have worked tirelessly to crack the formula of turning a great video game into a great film. Nowadays, video games have become extremely cinematic in their own way, and if ever there was a game series that emulates the cinema it would have to be Rockstar's flagship franchise. Grand Theft Auto III very clearly emulates the many superlative works of Martin Scorsese, with a little touch of Quentin Tarantino. A great mistake would be to try and make this a dramatic crime drama. The games always had a sense of satirical humor underneath. Not only were the games satirizing different aspects of the urban crime drama, but they were also satirizing society in general. This is evident when you listen to the radio in each car or when you look on the billboards to see exaggerated versions of adverts we see emblazoned on our own streets. Making a film of the Grand Theft Auto series would mean giving the urban crime drama the same kind of treatment given to the zombie genre with Shaun of the Dead or to the buddy-cop genre with Hot Fuzz, specifically to tell a legitmate story and use humor to pay tribute to said genre as opposed to heckling it like the ill-concieved spoof movies of recent years.
This movie would be a triumph if you could get the critics to budge on it. They seem naturally repulsed by movies based on video games, while video game fans seem to be occasionally pleased with the results of some of them. I myself am intrigued by what Mike Newell is going to do with The Prince of Persia. If any filmmaker wants to tackle this particular franchise they need to treat like a movie and not like a video game when it comes to the story progression.
Maybe the time is now for critics to loosen up. Hell, they're campaigning for a film with a guy who dresses like a bat to be considered for best picture. Anything is possible.