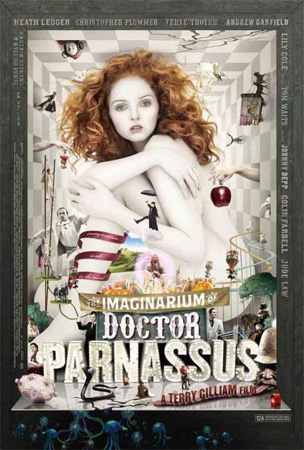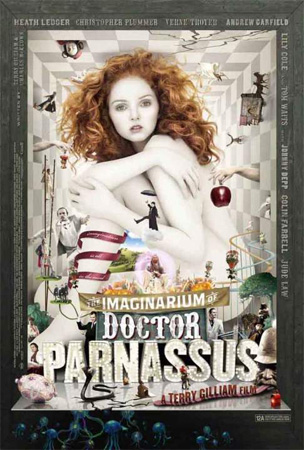 Directors: Terry Gilliam
Screenplay: Terry Gilliam & Charles McKeown
Cast: Heath Ledger, Christopher Plummer, Lily Cole, Tom Waits, Andrew Garfield, Verne Troyer, Johnny Depp, Jude Law, Colin Farrell
Rating: PG-13
There is a certain macabre sense of voyeurism throughout The Imaginarium of Doctor Parnassus, partly because the movie lays bare the inner workings of the imagination, but largely due to the fact that this film serves as the final film from Heath Ledger. We are confronted with his death immediately: the first image we see of Ledger is him hanging by the neck under a bridge, which serves as an eerie reminder of his passing. More than anything it left a bad taste in my mouth.
The Imaginarium of Doctor Parnassus follows the titular Doctor, an ancient man who travels London with a motley crew of actors (including his daughter and Verne Troyer), staging elaborate tableaux to lure visitors into the Imaginarium, which is accessed through a fake mirror and exists only in Doctor Parnassus's mind. Parnassus (Plummer) has lived forever as a shaman, sage, mystic, holy man, con artist, and beggar. He and his crew live on the fringes of society, camping in an abandoned park, purposefully chasing a vagabond existence. They encounter Tony (Ledger), a slick con artist in his own right, hanging from his neck under a bridge. Parnassus's daughter Valentina (Cole) takes a special shine to Tony; she insists on rescuing and adopting him.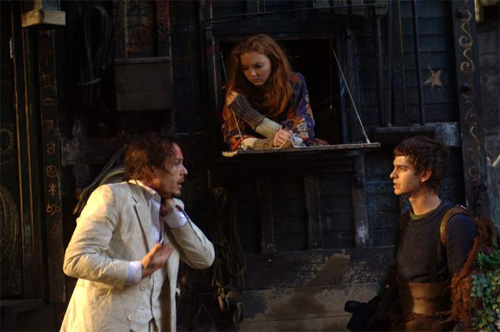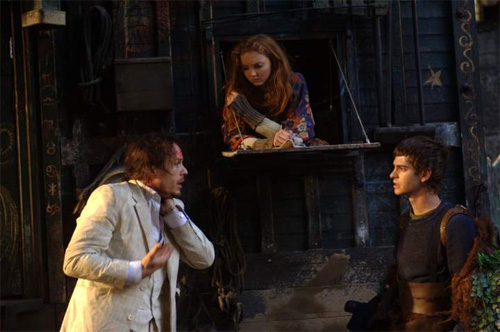 Coincidentally, Parnassus has a millenia-old habit of making deals with the Devil, aptly and appropriately played by Tom Waits. Parnassus and Mr. Nick (as he's called) often wager for souls, betting they either choose the Imaginarium's Paradise or Mr. Nick's Hell. Valentina was one of the wagers Parnassus lost to Mr. Nick, and we are on the eve of her 16th birthday where she is slated to become his. Parnassus and Mr. Nick make one last deal to win her back, and with the help of Tony, they just might succeed.
To be perfectly honest, I'm not quite sure how to review this movie. I am always game for a good dreamy fantasy world, some non-linear plots, and even a good twist. This movie was trying to be a Möbius strip and just ended up a mess. Trying to track down a showtime for this film was hard enough; I can't even begin to try and unravel the plot. I think this movie was about God and the Devil. Or maybe the value of a soul. Or maybe the soul of money. Maybe it's about love. Or tarot cards. Or the circus.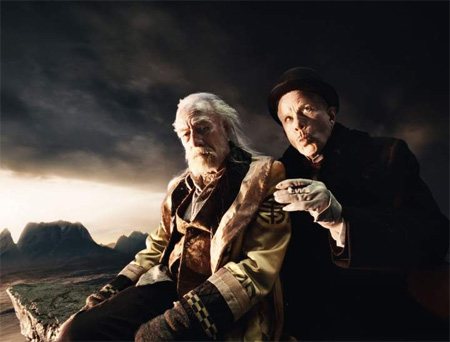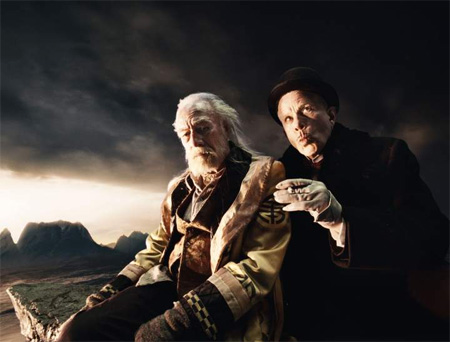 I was excited to see it ever since I saw the first film stills; I am a fan of Terry Gilliam and Heath Ledger, and the latter's death shook me to the core. I wanted this movie to both pay tribute to Ledger and to let him shine, and I was interested to see how Johnny Depp, Jude Law, and Colin Farrell would complete his performance.
They fill in admirably, and the change of actors filling Tony's white suit works within the rules of the Imaginarium. Since the Imaginarium and its inhabitants take on the look of the user, it works, but is jarring, and you never forget why they're there. One of the best (and most logical) moments takes place in the Imaginarium as it is occupied by a middle-aged woman who imagines Ledger (who is dreamy) as Johnny Depp, who is undeniably dreamier. While Ledger's performance does not disappoint, Gilliam never allows the audience to connect (let alone like) Tony, nor does he create a space where Ledger can use the inherent intensity that made him so extraordinary.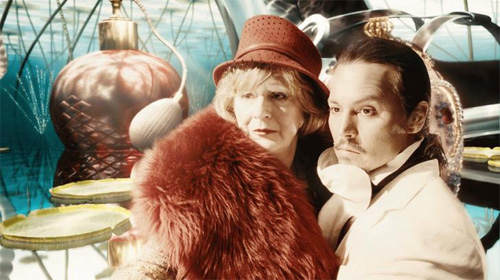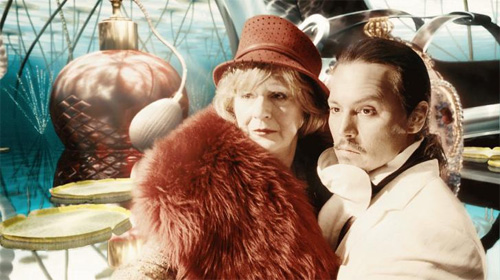 Where Gilliam does not fail are the world he creates, both real and fantasy. Parnassus's crew inhabits a decaying world lost in time, somewhere between the twentieth and the twenty-first century. Both London and the world of the Imaginarium are sumptuous, but Amanda Palmer has created better worlds with fewer resources in her music videos; Gilliam leans too heavily on his production design to convey the story.
Ultimately, The Imaginarium of Doctor Parnassus is just plain confusing, and beyond the normal head trip you expect with Gilliam. He constantly changes the rules he wants the audience to play by, to the point where the Imaginarium makes more sense than the real world. I could no longer distinguish what sort of movie I was watching, and any message or commentary Gilliam might have had was lost in the din of a thousand plotlines struggling to be told. Gilliam doesn't trust his audience, and he underestimates our intelligence by creating something completely inaccessible and calling it "high art." The greatest disappointment of The Imaginarium of Doctor Parnassus isn't that it's a mediocre Terry Gilliam film. What's sad is that this will serve as the underwhelming epilogue to the otherwise extraordinary and all-too-brief career of one of the greatest actors my generation will ever know.
Rating: 2 / 5 Stars