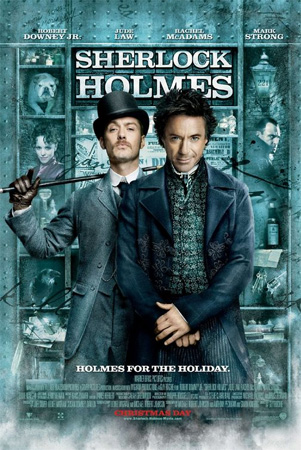 Director: Guy Ritchie
Screenplay: Michael Robert Johnson, Anthony Peckham, Simon Kinberg
Based On: Sherlock Holmes series by Sir Arthur Conan Doyle
Cast: Robert Downey, Jr., Jude Law, Rachel McAdams, Mark Strong
Rating: PG-13
Ladies and gentlemen, allow me to posit a query: Is it possible for a contemporary director, best known for edge-of-your-seat action movies with a deep black humor streak to actually do justice to the famed detective, making the legend accessible to a new generation of fans without alienating the original audience?
Yes, my friends, it is. This latest incarnation of the great Victorian detective Sherlock Holmes (Robert Downey, Jr.) and his colleague and dearest friend Dr. John Watson (Jude Law), as directed by Guy Ritchie, is a fun, dark, and wild ride into the mind of one of the most stalwart characters in literary and film history. Gone is the fussy, prissy, condescending genius — Downey Jr.'s Holmes is a mad dandy, a man brave enough to stare into the dark heart of the human condition, a man who flamboyantly flaunts rigid Victorian convention to use all his powers of cool logic, deduction, and observation to find the truth.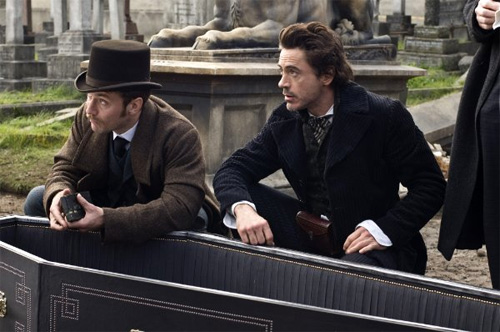 Diehard Holmesians and Baker Street Irregulars are sure to be alienated, as are those who want a conventional Holmes and Watson. Ritchie's incarnations exist in the dark underbelly of Victorian London, the same world where Sweeney Todd and Dracula exist. This is the London that inspires so many steampunk fantasies, the Victoriana that your humble reviewer happens to spend lots of free time researching.
While I'm sure that by and large the majority of what was depicted or discussed was grossly inaccurate, I couldn't help but feel slightly smarter and more well-rounded in my understanding of Victorian London. This is a world where science, industry, and the supernatural intersect. In this world, Holmes can believably be a bare-knuckle brawler, recreational drug user, cunning intellectual, brilliant detective, scientist, deeply codependent, and more than a little crazy.
Sherlock Holmes gives us the man as a super hero for a time where we had to rely on our intellect, knowledge, skills, and available tools to save the day; this Holmes is a rogue intellectual who just happens to be closely related to Iron Man.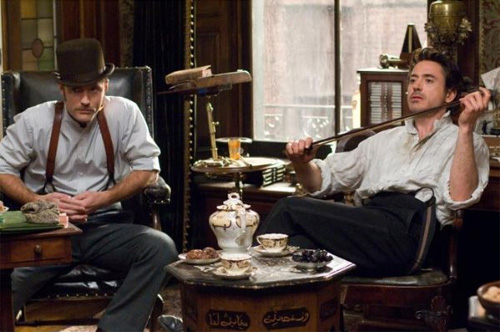 At the beginning of the movie, we find our hero not-so-fresh off of a case involving Lord Blackwood (Mark Strong), a wealthy scion of one of the most powerful families in England. Holmes caught Blackwood in the attempted murder of what would have been the sixth young girl in recent weeks. To make matters worse, Blackwood is clearly a part of a secret society, an order of macabre ritual, black magic, and superstition. Blackwood is hanged, only to return from the dead to continue his nefarious plan. It takes all of Holmes and Watson's considerable talents to untangle Blackwood's tangled web; a plan, which successful, could change the balance of power across London, the Empire, and the World.
To further complicate matters, Holmes has to contend with his former flame Irene Adler (adeptly played by Rachel McAdams), who happens to be a con artist and grifter with a mysterious benefactor, a shady Professor, a French giant, a lovesick best friend, and a ginger midget. While the addition of a love interest will alienate many diehard Holmes fans (I for one can't imagine the man taking a shower let a lone maintaining a healthy adult relationship), I love seeing a girl up on screen playing with the big boys and holding her own. Luckily for McAdams, her character has Great Sequel Potential.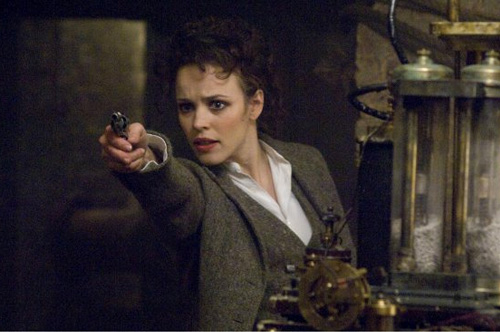 Ritchie calls upon his considerable talents to pull off a movie that is one part character study, one part buddy comedy, and one part mad caper; he creates a Victorian Action Movie that is high on thrills and low on explosions without once being underwhelming or boring. Robert Downey, Jr. and Jude Law both wear their roles a little too comfortably, each relishing the chance to explore their famous characters to the limit.
While the pacing of the film is at sometimes quite Victorian, Downey and Law never fail in exposition, which is what makes Holmes and Watson so interesting. I also appreciate that as someone who knows very little of Holmes the Legend, I was able to instantly recognize references to the Holmes-verse that explained the character without being condescending or cluttering up the plot. This is also the first Guy Ritchie film that I really liked; I can appreciate his body of work, but I don't connect with it.
Holmes is an action film, a superhero story for us intellectuals, literary types, science nerds, and history buffs. This film is shattering the stereotype of the stuffy detective, and showing its audience that smart can be way cool.