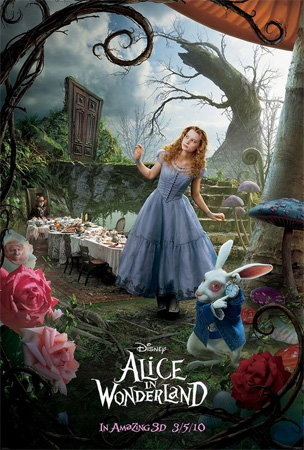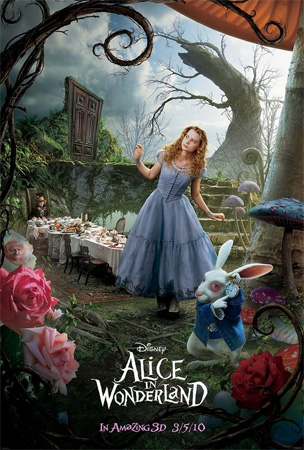 Director: Tim Burton
Screenplay: Linda Woolverton
Based On: Alice's Adventures in Wonderland and Through the Looking-Glass by Lewis Carroll
Cast: Mia Wasikowska, Johnny Depp, Anne Hathaway, Helena Bonham Carter, Crispin Glover, Michael Sheen, Stephen Fry
Rated: PG
More dresses and less CGI, please.
With Burton at the helm, I was hoping for a ramped-up, psychedelic trip sprinkled with some familiar characters. Yet, in the theater with my plastic glasses on, I was so underwhelmed. This bizarre retelling and merging of texts is too hard-to-follow and creepy for kids, but takes too many cheap shots for adults to take it seriously.
Spoiler warning: there will be no discussion of the movie's ending, but I will discuss lots of details that would dampen the experience if you haven't yet been.
Everyone keeps talking about how "visual" the film is, so shall we? Alice herself is spot on. I loved the look of the film's live actors: costumes, make-up, hair, styling. But the mystical world of Underland itself? Ho-hum at best. Its just a bunch of gnarled tree roots and weird colored skies. I didn't find it fantastically original, and all the sepia filtering makes it feel musty and old, like seeing a familiar place in a 19th century photograph.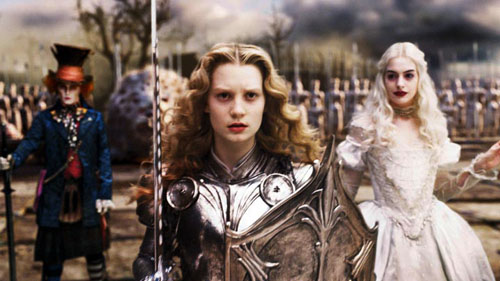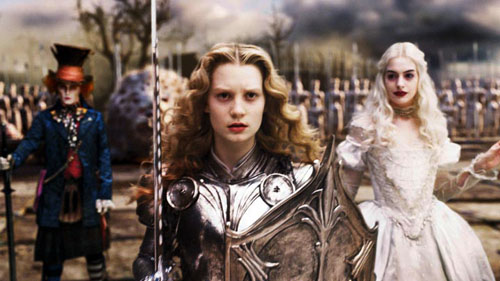 The effects of Alice's shrinking and stretching body were awesome, creepy and realistic. I personally think the idea is scary, the tonics and cakes that totally change you like that. Her initial fall into the rabbit hole is also a bit scary too, but once random objects are spinning around with her (a piano and a bed), it becomes silly.
As computerized effects were introduced into the movie, the whole tone started to change for me, and not for the better.
The intention of the film feels like it wants to re-interpret the classic Alice story, and go back to the trippy bizarreness of the book version and away from the cartoony kids story. I am assuming the use of CGI was to use technology to create a world that a soundstage cannot, and to breathe life into characters previous versions have been unable to depict realistically. It's the blurring of reality and dream, and it should be haunting.
Sadly, the result was just the marring an epic fantasy with a handful of Jar-Jar Binks.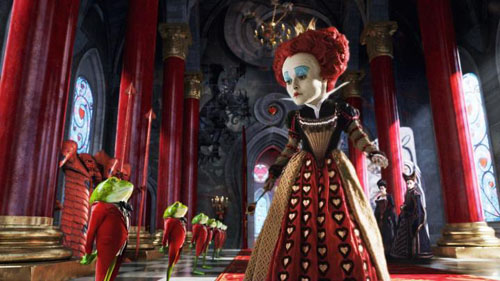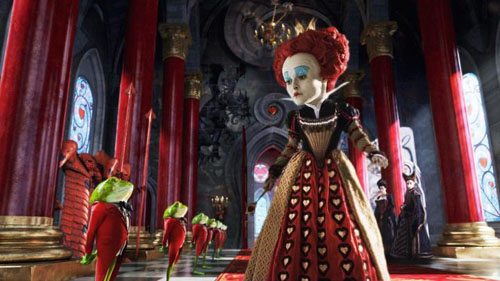 I don't even want to comment on the Cheshire Cat (called Chessur, I believe), the Caterpillar who smokes, Tweedle-Dee and -Dum, and the Red Queen's animals. The faces in Toy Story look more sophisticated than those in Burton's Wonderland. The quality of the effects and the artwork itself was so disappointing.
The Red Queen's Castle is a tricked out Hogwarts with heart shapes cut into the stone and spires, and in her court everything is red, red, red. HBC's gigantor fake noggin was strange and I didn't like looking at it. I couldn't tell that her all-red foot soldiers were supposed to be playing cards, and that was a let down. Her court was too over-the-top for me. HBC knows how to play evil antagonist, so I'd rather just see her do her thing without a talking pixelated fish.
Yeah, there's a CGI fish that sloshes around on his tail. Sigh.
Is this movie really a creative and modern re-interpretation, or a spoof? It was hard to tell at times. And can someone please tell me, what on earth did the 3-D add to this film? How did floating dust particles and the swoosh of hemline coming towards me really make this film better? This just in: buzzing dragonflies or birds that zoom out over the audience's head are lame, worn out gimmicks that only take away from a movie. There is absolutely no point to making this film in 3-D. None, whatsoever.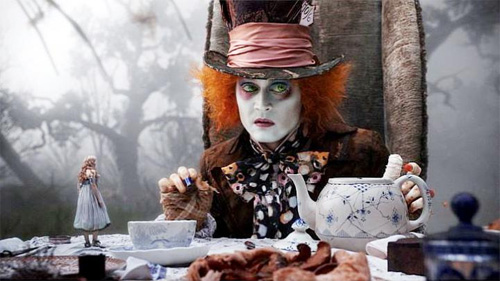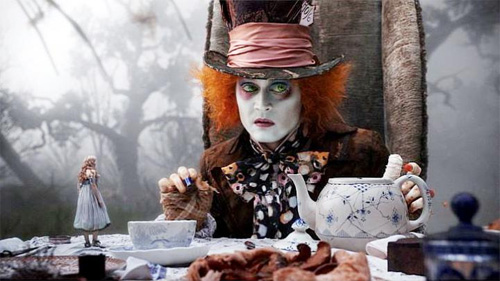 Now, there were some things I did like about this movie. The Mad Hatter played by Johnny Depp was interesting. I interpret the Mad Hatter as more disturbed and conflicted than the aloof and silly caricature Disney gave us. Depp, of course, does a great job with this mix of literal insanity and pureness of heart.
Fresh face Mia Wasikowka really pleased me as Alice. I loved her, and everything about how she played Alice. She's genuinely innocent with her platinum ringlets and blue day dress. Her soft voice questions the status quo and she proves to be the heroine all doubted her capable of.
Hathaway as the White Queen was also good, and I loved that cold and creepy look of her court all in white.
The plot felt hurried and in places, jagged. I was sad to see less focus on the adventures Alice has on her way to the Red Castle and so much obsession on the "Jabberwocky." After seeing the movie I had to go do some reading and double check myself. I know the "Jabberwocky," and I know Alice, and I know Carroll wrote both, but I never remembered one being the driving force of the other's storyline. The constant referencing and recitation was inane to me. Much of Carroll's transcendental allegory was lost in this literal quest to slay the beast. The main theme I came away with was "look at me, I'm a really unique interpretation of Alice in Wonderland with special effects, isn't this crazy?!?!"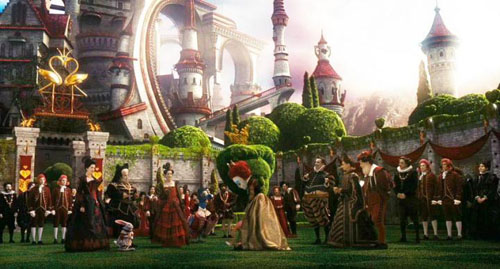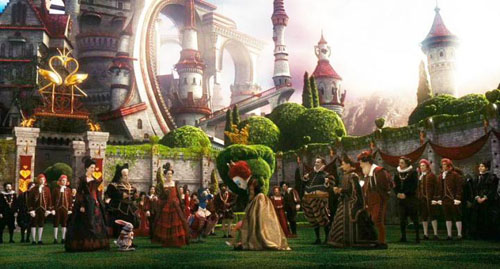 One aspect of this film I passionately loved was the wardrobe. Ensemble scenes in particular were impeccably styled. I would kill for the party frock Alice wears in the Red Queen's court, this little masterpiece of asymmetrical draping, funky piping, red tulle, and animal print. That was the visual highlight of this movie for me!
So after all the hype and hope, I think Burton's Alice was a big ole letdown. It really had all the potential of being creeptastic and well-done, but gave in to social pressures of cheesy 3-D and sloppy CGI. And maybe it's the English major in me, but I just didn't jive with Burton's mashup of Carroll's works, especially at the expense of the original main idea.
Rating: 2 / 5 Stars