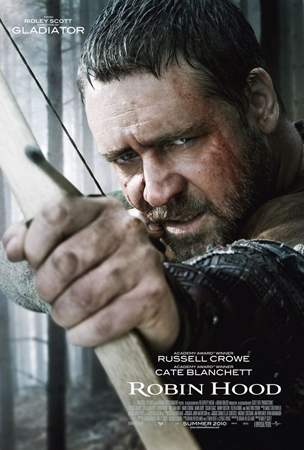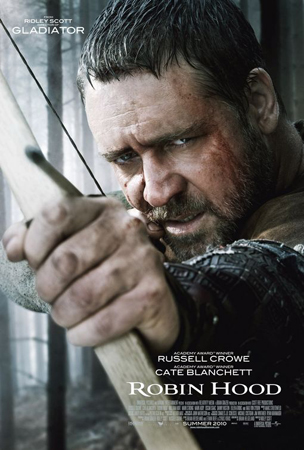 Director: Ridley Scott
Screenplay: Brian Helgeland
Cast: Russell Crowe, Cate Blanchett, Mark Strong, Kevin Durand, William Hurt, Mark Addy, Max von Sydow, Oscar Isaac, Matthew Macfadyen
Rated: PG-13
Iron Man 2 or Robin Hood? Is it really that much of a surprise that the demographic that pushes movies released during the summer months to blockbuster status — namely, younger audiences looking for some entertainment as school winds down and summer break begins — is more enticed by Jon Favreau's superhero action sequel than another dark Russell Crowe / Ridley Scott collaboration that reinvents the origins of the infamous character of Robin Hood? Robin Hood is, after all, the fifth time that Crowe and Scott have worked together since the 2000 release of Gladiator, which initially saw low box office numbers but now stands as a classic Oscar-winning picture, and none of the films that the two have released since were anywhere near the same caliber. Similarly, Robin Hood took only second place at the box office this weekend, falling to Favreau's Iron Man 2 in its second weekend at the box office.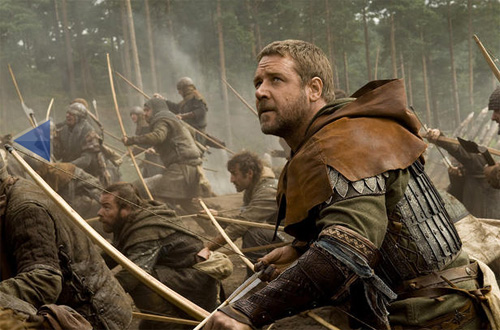 Aside from a failure to appeal to the summer blockbuster audience, the main problem with Robin Hood is audience expectations. Gladiator won five Oscars for a reason, and the fact that moviegoers expected Robin Hood to be the next Gladiator inevitably left a number of people sorely disappointed. Gladiator is a perfect storm of cinematography, acting, editing, and directing nearly impossible to replicate, even for Crowe and Scott. Unfortunately, these are not the only failures of the Robin Hood film.
Audiences who expect a new take on the traditional tale of Robin Hood will be disappointed for several reasons, including 1) the fact that Crowe's character is not actually called "Robin Hood," which begs the question of why the film was titled such; 2) Crowe's character doesn't steal from the rich to give to the poor; 3) he does not live in Sherwood Forest; and 4) he doesn't fight with the Sheriff of Nottingham. Rather than incorporating elements of the Robin Hood story that viewers know and love, Robin Hood tells a rather boring account of the First Baron's War.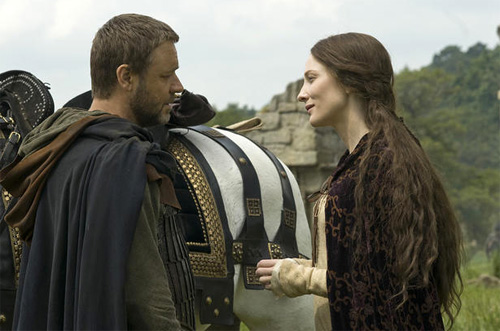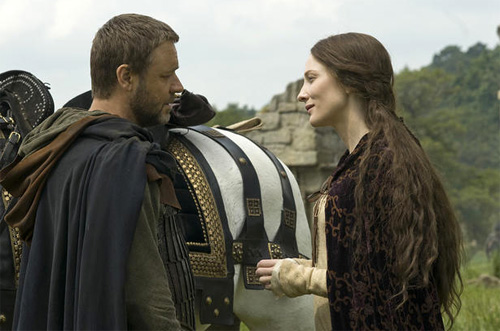 Although popular overseas, American audiences aren't warming up to Scott's version of the Robin Hood tale. Personally, I also have to agree with the assessment that Crowe's accent, which is meant to be English, sounds a tad bit more Irish than anything else, as was pointed out in a recent interview with the actor (true to form, Crowe pitched a fit and walked out of the interview). Fortunately the film's supporting actors/characters, including Mark Strong as Godfrey, Kevin Durand as Little John, and Cate Blanchett as Marion Loxley, are not only likable, but rather impressive. Given the ease with which Russell Crowe can overshadow lesser actors, the performances of his fellow cast members are one of the film's saving graces.
As far as action goes, the deviation from the traditional Robin Hood story actually serves the film well, climaxing in an epic final battle scene rather than an archery contest between two skilled bowmen. Although the carnage is mild in this PG-13 film, the beach skirmish and cliff-side arrow assault are expertly constructed and fit beautifully with the film's visual effects and overall cinematography. Aside from its cast, Robin Hood's visuals are the movie's greatest asset, reminiscent of the style that Scott achieved in Gladiator.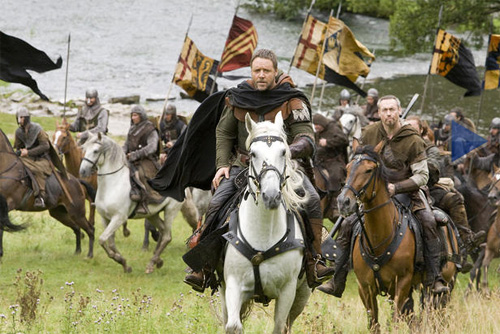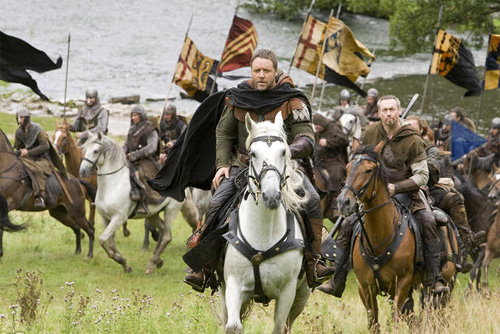 So what is my overall assessment of Robin Hood? The film provides great acting and beautiful cinematography grounded on an original story, and for viewers able to get past their expectations and focus on the film as a stand-alone entity very loosely based on the Robin Hood tale it will provide a solid viewing experience. If you get caught up with the character's inability to incite empathy or the strong moral foundation that the film tries to establish by depicting the democratic ideals flourishing in feudal England, then this film may not be for you. I wouldn't waste my money at the box office (although, unfortunately for me, I already did), but recommend that Russell Crowe fans rent the DVD when it's released.
Rating: 2.5 / 5 Stars