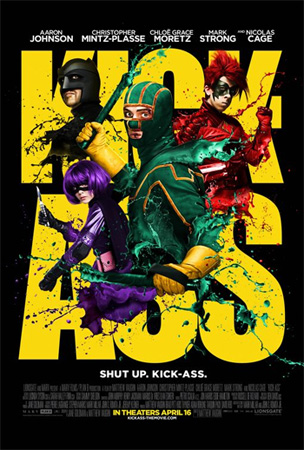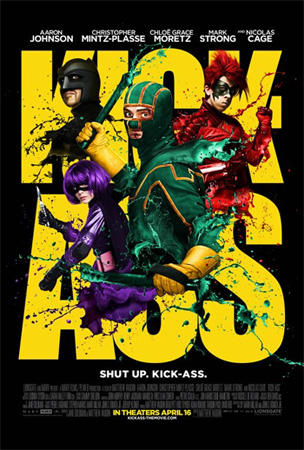 Review: Kick-Ass
Director: Matthew Vaughn
Screenplay: Matthew Vaughn & Jane Goldman
Based On: Kick-Ass written by Mark Millar and illustrated by John Romita, Jr.
Cast: Aaron Johnson, Chloë Grace Moretz, Nicolas Cage, Mark Strong, Christopher Mintz-Plasse, Lyndsy Fonseca, Clark Duke, Evan Peters
Rated: R
When I first saw the trailers for Matthew Vaughn's Kick-Ass, released this past weekend, I had not yet read the comic book series that spawned the film. The trailers that appeared on television made the film out to be a fun, upbeat action-comedy about a geeky superhero-wannabe named Dave (Aaron Johnson) who dons a wetsuit and attempts to fight crime. Knowing that I would see the film on opening weekend, I decided to read the comic books in order to pick up any background information that might have been cut during the editing process — after all, movies generally can't encompass everything in that appears in their source material.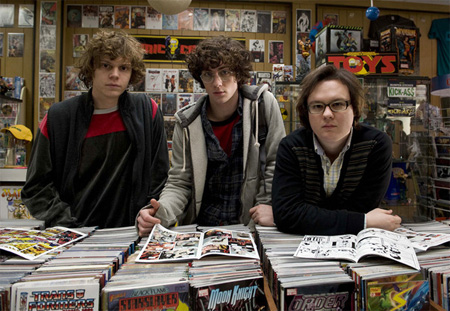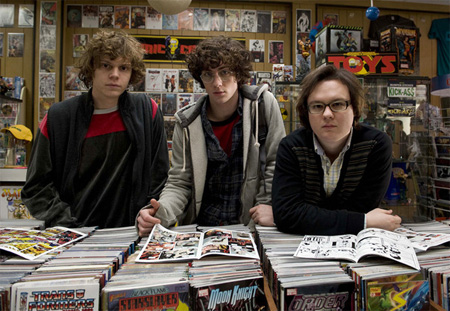 The characters that I discovered in writers Mark Millar and John Romita, Jr.'s comic series were far more vulgar and violent than anything I expected based on the movie previews I saw, but rather than turning me off of the film, I became increasingly intrigued with the casting choices made and whether or not the Kick-Ass movie would do justice to the more controversial aspects of the comics. Would Nicolas Cage be able to pull off the tough demeanor and intimidating presence of the Kick-Ass character Big Daddy? Did Matthew Vaughn choose to tone down the dead-pan humor and utter ruthlessness displayed by Big Daddy's 11-year-old superhero daughter, Hit-Girl (Chloë Grace Moretz)? Fortunately for movie-goers and comic fans alike, I can assure you that Vaughn's version of Kick-Ass does, indeed, do Millar's work justice, as the various protests and condemnations of the film would suggest.
Granted, the film's production team took a certain degree of poetic license with Kick-Ass — the Batman-like suit that Big Daddy (Nicolas Cage) wears, the film's resolution, the relationship between the protagonist, Dave, and his dream girl, Katie (Lyndsy Fonseca) — but the small differences between the comics and the movie don't detract from the underlying story, and the character development in the film might even surpass that of the comic series. Unlike the comic book series, the Hit-Girl character played by 13-year-old Chloë Moretz (11 at the time of filming) receives a great deal of character development and screen time, and as a result the young actress's portrayal of Hit-Girl and her alter ego, sweet little Mindy Macready, steal the spotlight time and time again throughout the film.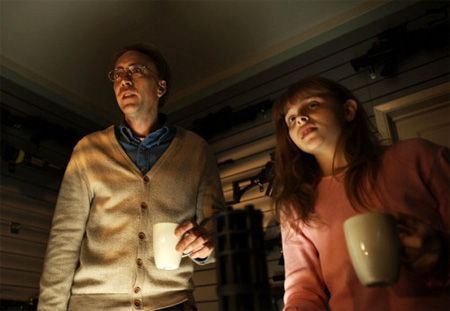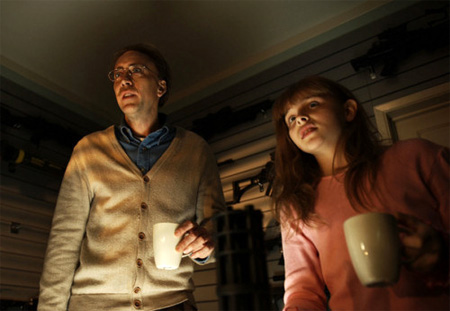 While Aaron Johnson's, Evan Peters's, and Clark Duke's respective portrayals of high school students Dave Lizewski (Kick-Ass), and his friends, Todd and Marty, bring a certain degree of comedic relief to violent and somewhat serious subject matter, their performances are overshadowed by the stellar acting of Chloë Moretz. Faced with the challenge of bringing two very distinct characters to life, Moretz nailed both aspects of her role right on the head. Decked in pigtails and holding a mug of hot chocolate, Mindy Macready might be any other 11-year-old girl spending time with her father, but once she dons the kilt, mask and purple wig of her alter ego, Hit-Girl, she becomes a deadly, foul-mouthed fighting machine that can make grown men tremble.
The distinction between Mindy and Hit-Girl is overlooked by the various groups and individuals incensed by the ruthlessness and violence displayed by Moretz's character — although the decision that Mindy's father, Damon Macready (Big Daddy), made to train his daughter in the ways of knife and gun fighting and comic book violence may be deemed morally reprehensible by some, I suggest that we focus on the degree of restraint and discipline that Mr. Macready also taught his daughter in order for her to properly wield such skills and knowledge. Unlike many of the brats we run into on airplanes and in restaurants, Mindy Macready is an icon of female intelligence and self-empowerment, even if she is only eleven.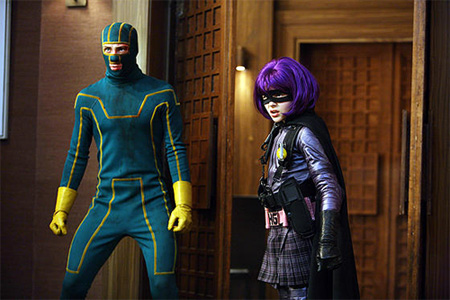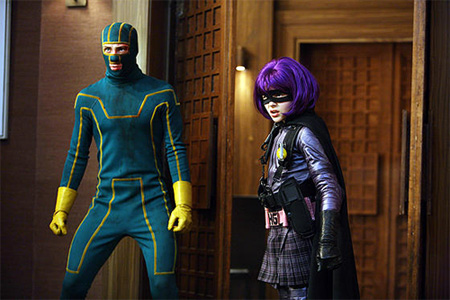 The moral of this story? The easily offended shouldn't attend Kick-Ass in the theaters; instead, wait until you can take a copy home on DVD and decide when to skip ahead or shut it off. Another pointer for those interested in seeing Kick-Ass: this film is rated R for a reason. Kick-Ass is perfect for fanboys (and fangirls), comic book fanatics, action movie fans, and teenagers that are mature and intelligent enough not to try to replicate some of the characters' more dangerous undertakings as soon as they get home. It's not intended for your 10-year-old son or daughter who is going to go to school and call their teacher the c-word the next day.
In addition to sticking to the majority of its source material, Kick-Ass provides Nicolas Cage with the opportunity to give an unexpectedly fantastic performance, which he does, and Chloë Moretz establishes herself as an actress that we should be keeping our eye on over the next few years. I highly recommend checking out this film, either while it's in theaters or once it hits DVD. It will be an immediate addition to my movie collection, and undoubtedly will become a lasting cult classic superhero film.
Rating: 4 / 5 Stars