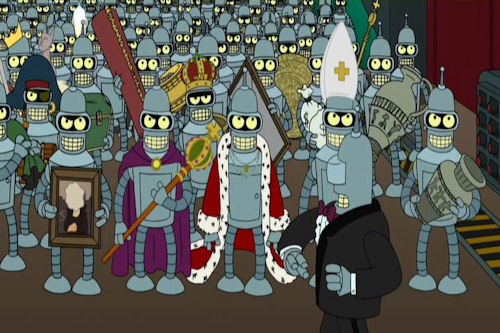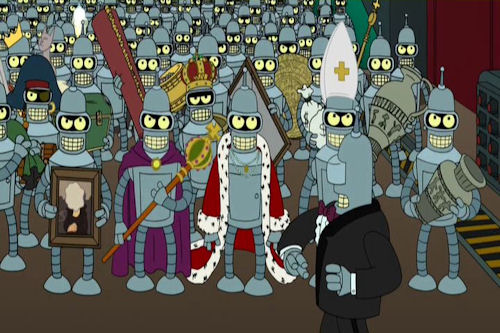 After Futurama was canceled in 2003, four movies were made, the first of which is Bender's Big Score. The beginning is absolutely hilarious, with Professor Farnsworth firing everyone, telling them they were fired two years ago when they were shut down by the delivery network. Box Network (whose sign blinks, sometimes saying Fox Network) canceled their license.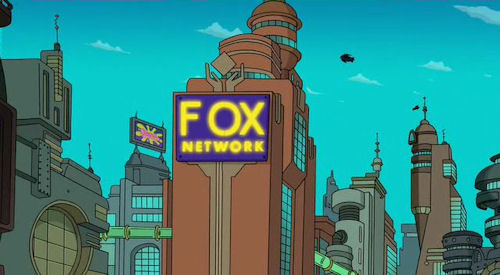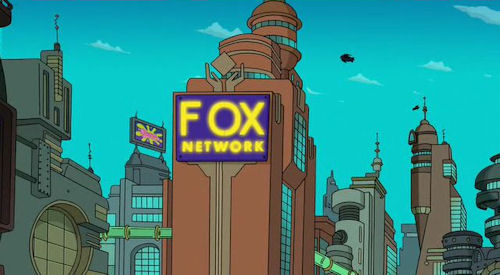 Right as everyone is set to leave, the phone rings and he then announces that the people who fired them were then fired for incompetence, among other punishments for their stupidity, including being ground up into Torgo's Executive Powder. Leela, standing in front of a bunch of fans — the air moving kind — says "So what does this mean for us and our many fans?" The professor replies "It means we're back on the air…" and Bender announces "We're back, Baby!"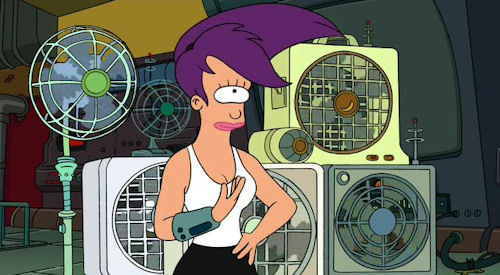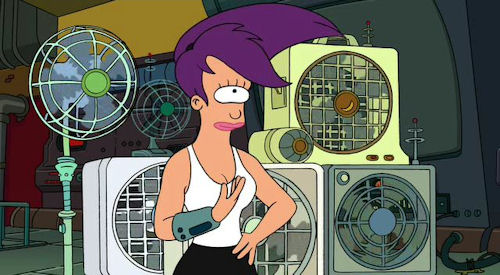 During their celebration, Hermes finds his head disconnected from his body and his body then crushed by the ship. They are taken to the head museum to see if he can be saved. This is where they meet Lars, who Leela is immediately attracted to and Fry instantly hates.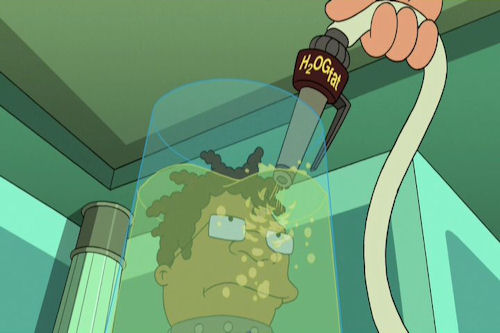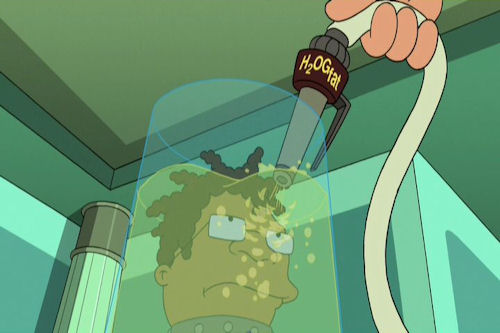 The crew goes to a nude beach and Leela spots a tattoo of Bender on Fry's butt, which he has no recollection of getting. This is also where they cross paths with three creepy looking pink saggy things that are collecting signatures for petitions, along with email addresses. The crew is suddenly drowning in spam emails and one by one they fall prey to scams. Even the professor, during a spontaneous seminar about fake messages, is tricked into giving away his personal information.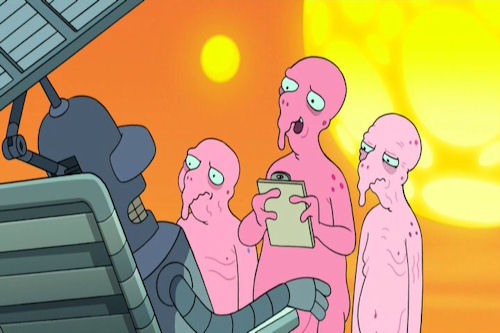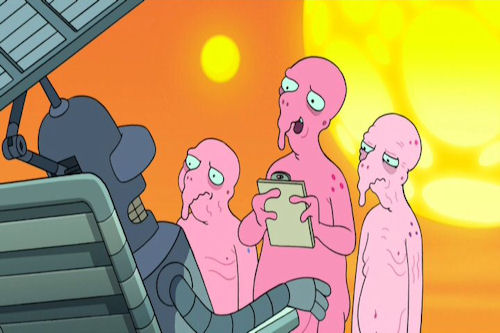 Suddenly Planet Express is owned by those same creepy pink dudes referred to as the scammers. We also find out that Bender downloaded an obedience virus, which makes him follow their every whim and makes everyone unable to fight back.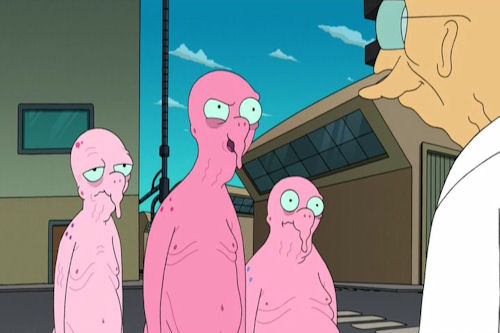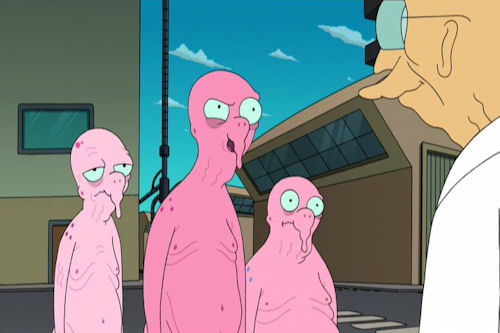 Lars shows up with the info that the head museum was also scammed and it could be weeks or even years until Hermes's body is fixed. Poor Hermes. His wife isn't happy with a head in a jar and once again leaves him for Barbados Slim. Lars then asks Leela on a date and she accepts. I feel so bad for Fry. The poor guy has loved Leela forever and never seems to catch a break. Then Lars waltzes in and she falls for him in an instant. It's just not fair.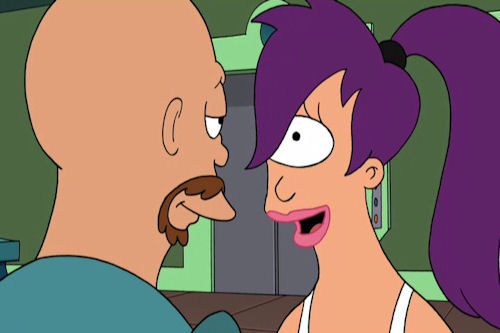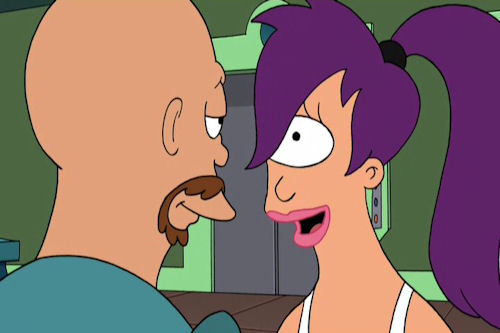 The scammers, while sprunging for information using their sprunger (a special organ their species has that that engorges when in the presence of information), find a hidden safe. They then surround Fry, sniffing him like mad until they find the tattoo on his butt. They have it magnified until it reveals a code of ones and zeros that, when read by Bender, opens up a time sphere. Fry's butt tattoo contains the code for time travel!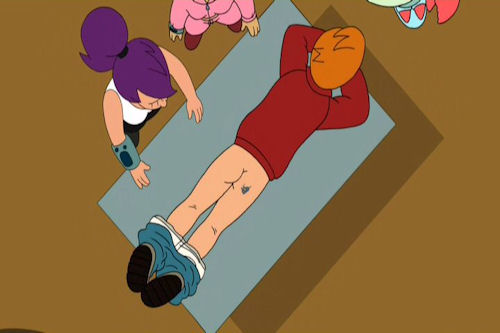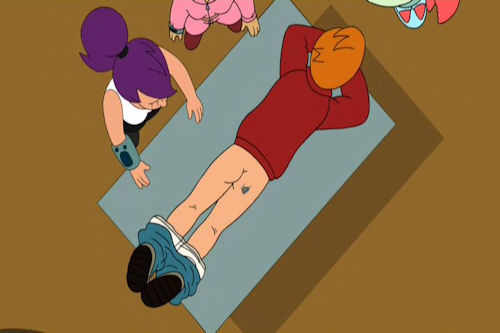 Nibbler tries to stop them, telling them that using the code risks tearing the universe apart. The scammers decide that they'll only use it a few times. Not satisfied, Nibbler calls in his army, which is easily defeated by the scammers and a couple of folding chairs. The universe is doomed! I just love Nibbler's voice. Such a serious, intelligent tone in such a cute and cuddly little guy is too funny.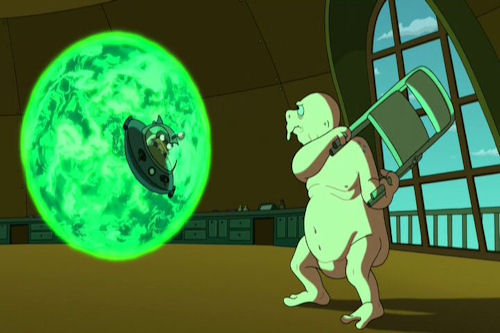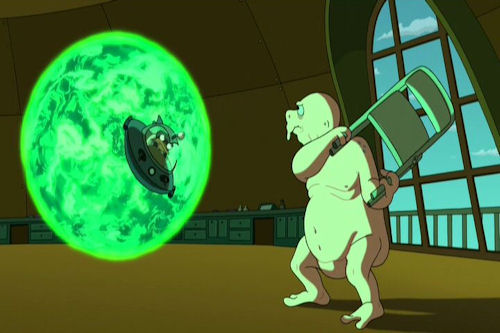 Bender volunteers to go back in time to steal history's treasures and then hiding beneath the building until the present over and over again and begins collecting.  We learn that the time code is a paradox correcting code, which is very important information. It is also confirmed that Hermes's wife has hooked up with Barbados, making one very sad bureaucrat. He breaks down and asks Zoidberg to connect his head to a body he procures with Bender's help, but of course Zoidberg messes it up and puts his head on backwards! With the help of the Harlem Globetrotters, the professor learns that a duplicate body is always doomed. Hermes had better hurry up and get his girl back!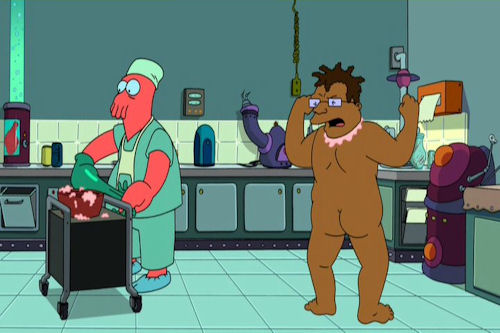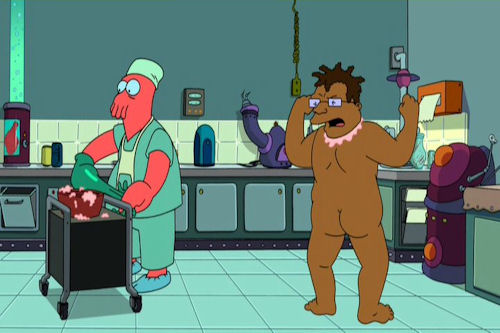 Lars and Leela have the most romantic date, and it's hard to make myself hate him. Of course, I've seen the end of the movie and know his secret, a secret which I shall not reveal.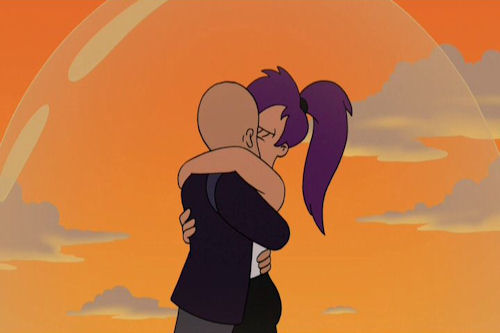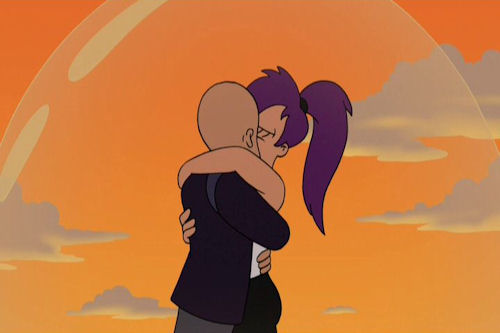 The now rich scammers suddenly care if the universe is destroyed and set out to kill Fry and eradicate the time code from his butt, along with blanking Bender's memory, so it can no longer be used. Fry runs and, using a mirror, uses the time code to go back to the year 2000. Bender is sent back to kill Fry and this is where the complicated but important and very funny part starts and where I stop.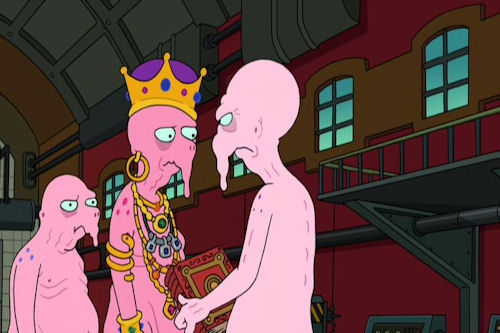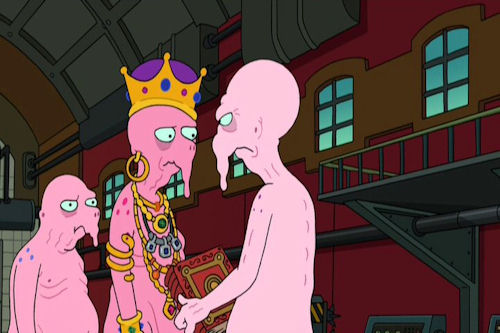 Will the scammers be defeated? Will the overuse of the time code end the universe? Will Bender really kill Fry? Will Leela stay with Lars? Who the heck is Lars anyway and why does he seem so familiar? How did the time code end up on Fry's butt in the first place? So many questions with so many great answers! It's definitely worth the watch to find out. I grin uncontrollably for the whole last half hour or more of the movie every time I see it.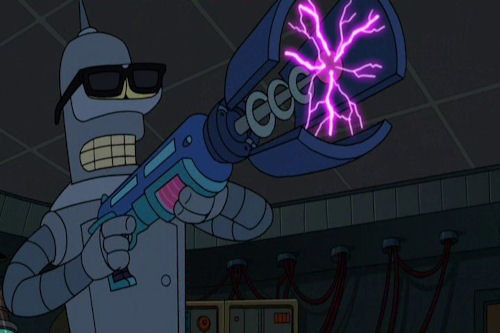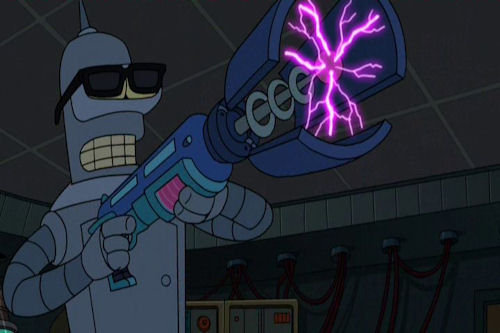 Overall, Bender's Big Score was wonderful. It was so great before Futurama was brought back by Comedy Central to have something new to fill the void. The movie really fit well with all the previous episodes. There are so many things from the series that are explained or pop up for an "Oh" moment, including Fry's dog, his seven-leaf clover, robot Santa, and tons more little things that really give a genuine feel to the whole movie.
Rating: 5 / 5 Stars
Screencaps from Futurama Madhouse