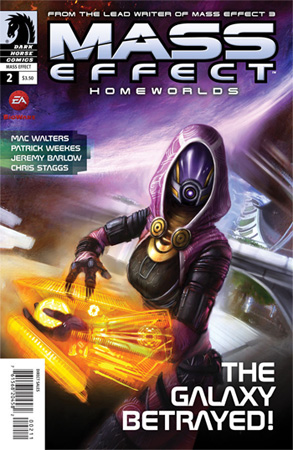 Issue: Mass Effect: Homeworlds #2
Script: Mac Walters
Art: Eduardo Francisco
Colors: Michael Atiyeh
Lettering: Michael Heisler
Cover A: Anthony Palumbo
Cover B: Mike Hawthorne
Publisher: Dark Horse Comics
The second issue of Homeworlds is about Tali'Zorah nar Rayya, most commonly known as Tali. I believe this takes place sometime during or before Mass Effect, as it chronicles how Tali got separated from her people. I could be wrong, however, as I have never played the first Mass Effect game.
Tali is about to go on her pilgrimage and she and her crew encounter the Geth on a distant planet. As she battles them, Tali narrates why the rest of the galaxy hate or dislike the Quarians. They are the ones who created the Geth and made them self-aware and able to rebel against the ones who made them and eventually be a threat to everyone.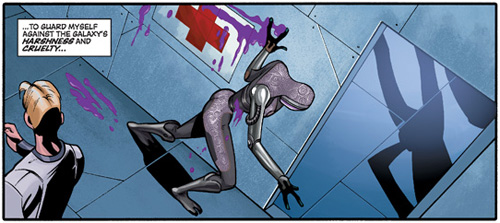 Tali and her people manage to beat the Geth, but are found by Commander Jacobus, who is in charge of a digging operation to find something Prothean. He shoots at Tali and another Quarian, Keenah'Breizh, as no one is to know about his digging operation. More of Tali's back story is told and she and Keenah stowaway on a ship bound for The Citadel.
However, Jacobus finds them there and manages to wound them both. Tali leaves a trap for their pursuers and manages to make her way to a medical bay. There she tells her story to some people who believe her and help her. Thus leading to her meeting Shepard and having many journeys across the galaxy.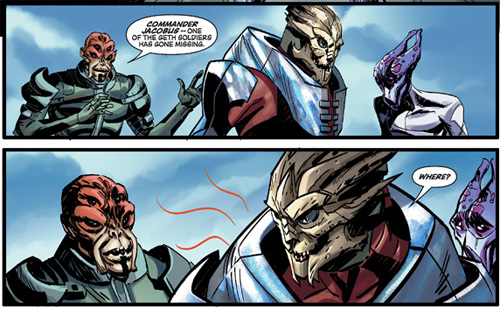 I like how this one was different than issue one — not taking place in Mass Effect 3 and flashing back to past times. However, I was kind of confused. That confusion could come from not having played Mass Effect.  It was interesting to learn more about Tali; I quite liked her in Mass Effect 2 and I find the Quarians very intriguing, so it was great to know more about them. If you like the games, love the lore, and enjoyed the first issue, then you should definitely pick this up, as the comic manages to keep the world of Mass Effect large and detailed, while still adding new things to it.