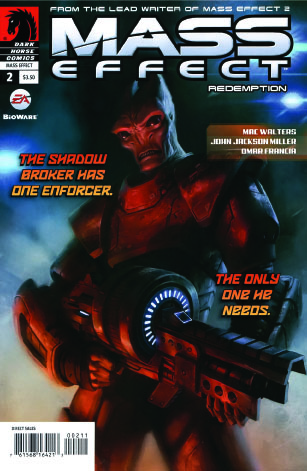 Issue: Mass Effect 2 of 4
Release Date: February 3, 2010
Story: Mac Walters
Script: John Jackson Miller
Artist: Omar Francia
Colorist: Michael Atiyeh
Cover: Daryl Mandryk
Letterer: Michael Heisler
Publisher: Dark Horse Comics
The search for Shepard's body continues for Liara, and she gets so close by the end of this issue. Close but no dead body. There's some fighting, arguing, lying, lots of sexy aliens standing around posing sexy, and a big showdown with the Shadow Broker's right hand man.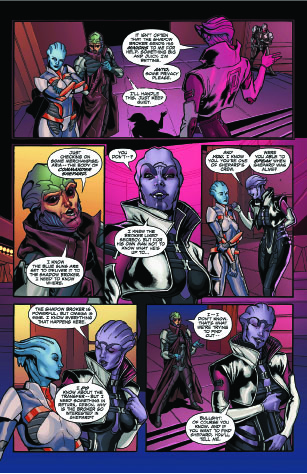 Much like the first issue, so far this isn't blowing my skirt up or anything. That's not to say it isn't a decent read (because it is), it's just not great and not horrible either. There's a definite lack of OMG here, which was surprising since Liara and Feron supposedly found where Shepard's body was being kept. I suppose they could be saving all the "OMGWTF" moments for the last two issues of the series, that's always a possibility. I guess they can't give you everything right up front; have to save something for the rest of the series.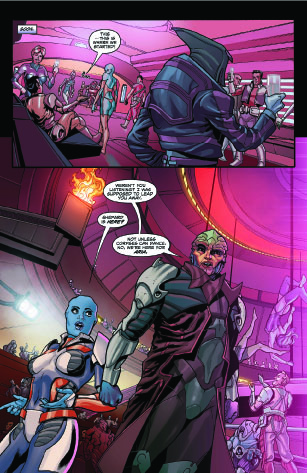 Liara still comes off as someone who's in over their head and not as perceptive or combat ready as some of her dialogue suggests. I know that Omega isn't the shiniest of places, but having a brawl in the middle of everyone and yelling at each other about Commander Shepard and all these other things you probably don't want a bunch of people looking to make an easy dollar to hear probably isn't the best course of action if you want to get the drop on someone. Especially when that someone is the Shadow Broker, right? Feron is easily the more interesting character of the two here. He's more savvy, aware, fast-thinking/acting/talking and doesn't come off as the (and I hate to use this term because it's so overused) male equivalent of a Mary Sue. Which is kind of what Liara feels like to me. Liara is very innocent and earnest sounding in her words and the way she looks a majority of the time. A lot of her poses remind me of that anime, almost cheesecake, "I'm an innocent girl who has no confidence" look. But when there's action, all of the sudden she's tough and badass. Whereas Feron not only has an unusual, complex look about him, you also aren't entirely sure where his interests stand (with the Shadow Broker, Liara, whoever's paying the most).
The art is nice to look at, very slick and pretty detailed in some respects. However, between the cheesecake boob and booty shots and the very dramatic POV angles on the characters, it loses a lot of the appeal it could have for me personally. The conflict I pick up on in what kind of character Liara is supposed to be here might have something to do with that. Like I said in the review for issue 1, I haven't finished the first Mass Effect game yet, so maybe this is exactly how Liara is supposed to be. I'm not sure, but what I do know is that the body language and the dialogue are causing a conflict for me in regards to this character who is the main character.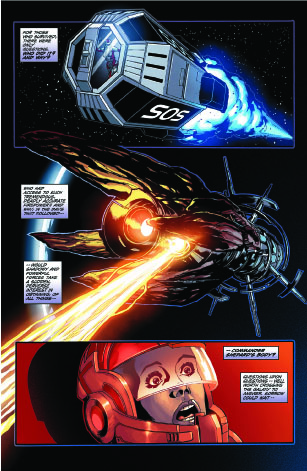 I'm still not sure how interesting this may be for the already established fan of the video game series. I know this is supposed to fill in the blank between ME1 and ME2, but the second video game's been out for weeks now. We all know that you play Shepard in ME2. So the question is, does this miniseries expand on the enjoyment/interest of the trilogy gaming series?
Rating: 3 / 5 stars