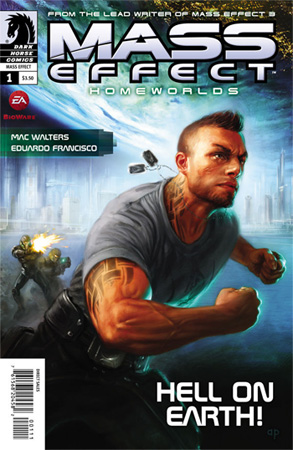 Issue: Mass Effect: Homeworlds #1
Script: Mac Walters
Art: Eduardo Francisco
Colors: Michael Atiyeh
Lettering: Michael Heisler
Cover Art: Anthony Palumbo
Alternate Cover Art: Mike Hawthorne
Publisher: Dark Horse Comics
The first issue of Homeworlds tells the story of James Vega, a new character in Mass Effect 3. It starts during the aftermath of the Reapers invading Earth. Vega is searching for news of his father, Josh Sanders, and his uncle, Emilio Vega, as they had been living on Earth. However, he finds no news of them. The issue then flashes back to before Vega became a Marine.
His uncle had taken him to get enlisted, against the wishes of Vega's father. Josh Sanders is an addict and only wanted to keep his son around so he'd have someone to take care of him. Josh and Emilio don't get along, and it has something to do with Vega's mother. Josh forces Emilio to leave and makes Vega go pick up something for him.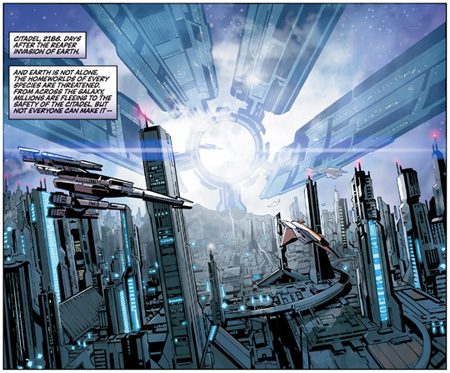 Vega meets a shady fellow and exchanges a chip for the package his father wanted. But things go bad when the police show up and the shady fellow leaves Vega to deal with them on his own. Vega runs into an apartment building and runs to the roof. There he is almost caught, but manages to get away and duck into a restaurant. Once inside, he dons a busboy outfit and tries to call his father and uncle. He only gets through to his uncle. Vega ducks the police once more and makes his way home.
There he confronts his father, saying he is leaving and won't be back. Josh counters that statement saying he would tell the military about Vega picking up a package full of drugs. Vega is despondent, but later that morning, Emilio tells him the truth. Josh can't just tell the police or military that he sent his son to pick up his drugs. Josh would get into more trouble than Vega would. The comic flashes back to the present with Vega talking with Liara as they head back to the Normandy. He tells her he was looking for information on his family, but hadn't found out anything yet.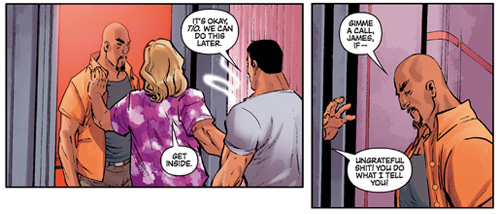 I really liked this comic. It fit really well into the storyline of all the games. The art even has the same aesthetic feel as the Mass Effect video games, which makes the universe feel more alive and complete. It was interesting to learn about the background of one of the squad members. Once you know the background of James Vega, it makes his character more fleshed out and more relatable. The only thing that threw me off was the quick transition from present day Vega to past Vega. It could have used something to make it just a tad smoother. Other than that, it was a great read. If you like the Mass Effect video games, then you will certainly enjoy this comic.