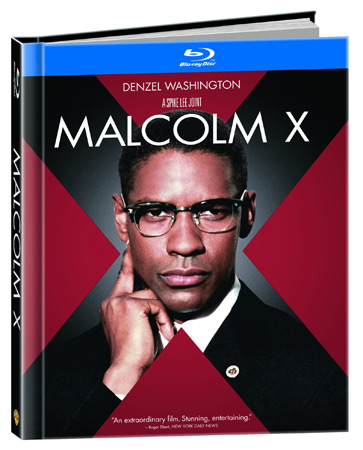 Spike Lee's 1992 adaptation of Malcolm X's autobiography stands as one of the director's most significant films, as well as one of Denzel Washington's most powerful performances. Now, twenty years after the movie's release, Warner Bros brings Malcolm X to Blu-ray in a deluxe digibook edition.
Any student of American and civil rights history will know the name Malcolm X. Less familiar might be the details of his life, his struggles, and his campaign against the racial injustices he fought. Perhaps that's because Malcolm X was a more incendiary figure than was Martin Luther King, Jr, a historical person whose contributions to civil rights are taught more widely and more frequently. Whatever the reason, Spike Lee's filmic memorial brought popular awareness in the '90s to the man who was Malcolm Little.
Suitably long at nearly three and a half hours in length, the movie opens with Denzel Washington's iconic delivery of Malcolm X's famous speech about America's victimization of the black man and woman. As he speaks, we see footage of the vicious beating of Rodney King from 1991, just one year before this movie originally released. That is powerful imagery today, but it would have hit especially hard just a few months after the King beating and the subsequent police acquittals sparked the Los Angeles riots. The visuals then change to show an American flag filling the screen. As the speech concludes, the flag bursts into flames, burning down to leave only a star spangled "X."
Following the literally inflammatory opening, the movie travels back to the early life of Malcolm Little in wartime Boston. Malcolm and his friend Shorty (Spike Lee) try numerous shady schemes to make money, all meeting with degrees of failure. Eventually Malcolm lands in prison, where he meets Baines (Albert Hall), a fellow inmate who will be Malcolm's mentor and the man who changes the direction of the troubled youth's life. While imprisoned and under Baines's tutelage, Malcolm learns about both the history of black oppression and the religion of Islam. He eventually converts to Islam before his release and becomes a prominent leader in the Muslim community. That is when he sheds his surname and adopts the name Malcolm X. From there, the man becomes the legend as he refuses to bend and amasses a huge following, both through his involvement with the Nation of Islam and through his own efforts in the movement for civil rights.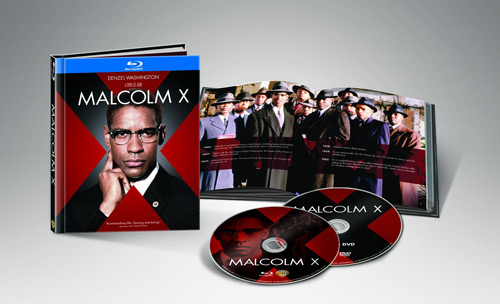 Denzel Washington earned a Best Actor Oscar nomination for his role in Malcolm X, and the film itself garnered numerous accolades and awards. Spike Lee is no stranger to creating powerful movies that directly address race relations and the related controversies and conflicts, but this biopic is his first big project completely devoted to a real historical figure. As much a telling of the life of Malcolm X as it is an examination of the lengths to which Malcolm was willing to go, Malcolm X is an undeniably essential movie. This new Blu-ray release comes in the special digibook packaging, encasing the two discs in a hardback-like folder than includes a forty page book full of photos and production notes. A number of on-disc features are included as well:
The 1972 feature-length Malcolm X documentary is included on a bonus DVD.
An audio commentary with Spike Lee and other members of the production crew is included on the Blu-ray.
By Any Means Necessary: The Making of Malcolm X – A half-hour featurette showcasing the production of the movie
Deleted Scenes – Around twenty minutes of deleted scenes with introductions by Spike Lee.
Theatrical Trailer
Whether you're already familiar with Malcolm X's life and story or you know of the man only in passing references, Malcolm X is an important film, both for its recounting of history and for the quality of its filmmaking. On its twentieth anniversary, this new Blu-ray release is the perfect way to add the movie to your collection, as well as to celebrate February as Black History Month.