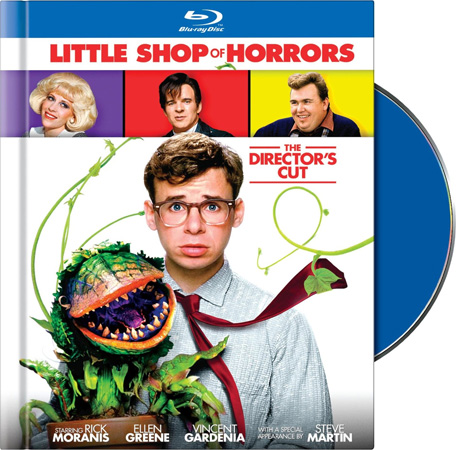 I had not watched Little Shop of Horrors since sometime in the late '80s, shortly after its theatrical release in 1986. I was but a wee lad at the time, and the movie didn't stick with me as I got older. Through the years, however, it's been coming back to me in bits and pieces. I've been unable to get the opening theme song out of my head since I heard it included in a revue a few years back. I was dumbstruck when I realized Aunt Vivian on Pushing Daisies was Audrey. And I had the worst kind of terrifying flashback to the blood devouring Audrey II plant when I first played Plants Vs Zombies a couple of years ago and unlocked the Chomper pod. Little Shop of Horrors had become a patchwork of weird and disjointed memories, and when the brand new Director's Cut edition Blu-ray released, it seemed like the perfect time to reacquaint myself with this bizarre musical.
As it turns out, Little Shop of Horrors is a much more mature movie than I ever was aware, and it also is a fantastically constructed send-up of everything from B-monster movies to sadomasochism. Given the movie's origins, its spoofing of low budget horror becomes especially endearing. Roger Corman, king of the B-movies, produced the original film version of Little Shop of Horrors over a two day period in 1960 as a cheap way to reuse sets created for his 1959 movie A Bucket of Blood. Aside from featuring an early performance from Jack Nicholson, the original movie was mostly unremarkable. It wasn't until Alan Menken and Howard Ashman adapted the film into an off-Broadway stage show in 1982 that the production was turned into a musical. Director Frank Oz eventually used Ashman's script to create the 1986 feature produced by David Geffen.
Set in 1960, the action centers around a flower shop in the low-end Skid Row section of New York City. Seymour Krelborn (Rick Moranis), a clumsy but earnest nerd, works in the shop under the watchful eye of the crabby owner, Mr. Mushnik (Vincent Gardenia). In his free time, Seymour experiments with unusual plants in the basement of the shop, but his heart belongs to Audrey (Ellen Greene), the ditzy shopgirl who also pines for Seymour but is oblivious to his affections for her. Audrey is entangled in an abusive relationship with a sadistic dentist, Orin Scrivello, DDS (Steve Martin), and doesn't know how to get herself out of the bad situation. The flower shop is on the brink of closing until Seymour happens upon an especially strange plant that seems to magically appear in a roadside vendor's display after a sudden solar eclipse. The plant looks like a flytrap variant, and Seymour brings it back to the shop, where he calls it Audrey II.
After putting Audrey II in Mushnik's shop window, the store's luck turns around, and customers pour in to get a look at the botanical oddity. Tasked with nurturing Audrey II in order to keep the clientele coming, Seymour realizes his new plant thrives not on soil, water, and sunlight, but on human blood. As he carefully feeds Audrey II with his own blood, the plant quickly grows tremendously and becomes sentient, talkative, and ever more demanding. Seymour soon finds himself in a Faustian deal with his plant project. Audrey II promises to bring him fortune, fame, and, most importantly, the love of the original Audrey, if he will continue providing the plant with more and larger quantities of human blood. This unsavory deal leads to all sorts of mayhem, murder, and music before the final curtain falls. John Candy, Bill Murray, and Jim Belushi all make memorable cameo appearances, solidifying Little Shop of Horrors as a comedy staple of the '80s.
This is the first time the 1986 musical version of Little Shop of Horrors has been on Blu-ray, and the presentation is fantastic. The single disc comes housed in Blu-ray book packaging that includes 36 pages full of photos and information about the film. Inserted into the packaging in front of the disc is a letter from Frank Oz about the Director's Cut version of the movie. It's an enlightening read, but it does give away the endings of both the originally intended and theatrical cuts of the movie, so it's advisable to avoid that letter unless you've already watched the film and both endings at least once. The new footage that qualifies this release as a Director's Cut is contained entirely in the newly added ending, which concludes the film in a manner more similar to the way the stage musical ends. Test audiences in 1986 reportedly hated that ending, so it was swapped out for something more digestible for the average moviegoer. Now we have a chance to see the movie as Oz originally intended it, and the new-old ending is pretty impressive, especially when you consider the amount of effects work that went into it, only to be discarded for more than twenty-five years.
In addition to both versions of the film, the Blu-ray packs in plenty of special features, many of which were previously included on a DVD release of the movie.
Director's audio commentary by Frank Oz on the theatrical cut, as well as on the Director's Cut ending
Director's Cut introduction – A ten minute discussion about the original ending, featuring Frank Oz and effects artist Richard Conway
A Story of Little Shop of Horrors – A documentary about the history and production of Little Shop of Horrors. This feature was produced in 1987 and includes footage with the creator of the original film, Roger Corman, along with Frank Oz and the crew behind the remake.
Gag Reel – A nine minute outtakes reel with optional commentary from Frank Oz
Two theatrical trailers
Returning to Little Shop of Horrors presented the movie to me in a brand new light, and it's become a welcome addition to my own Blu-ray collection. With all the additional material, documentaries, and commentary, this really is the definitive way to own the movie, and I absolutely recommend it as a piece of timeless musical horror comedy that has aged with perfection. Little Shop of Horrors released on Blu-ray on October 9, 2012, and is in stores now.