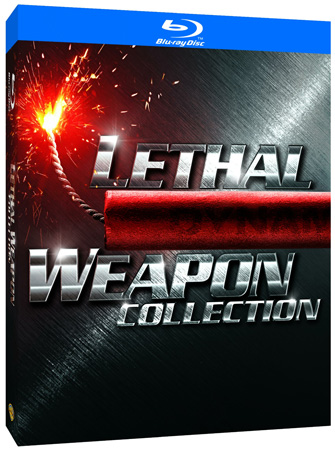 As a child of the '80s, I grew up around a lot of movie releases that would become pop culture classics, whether by actual filmic quality or just through nostalgia. Richard Donner's 1987 buddy cop flick Lethal Weapon is one such movie, and its three sequels would keep fans coming back for more than a decade. Now, twenty-five years after the original movie released in theaters, Warner Bros has collected the entire series in high definition as the Lethal Weapon Collection on Blu-ray.
Saying that the years haven't been kind to Mel Gibson's image is an understatement. He's become a punchline and widely reviled for behaving like a lunatic. Prior to his recent shenanigans, Gibson was a beloved leading man, but it's entirely possible that Lethal Weapon was an early hint of things to come. Here he's unhinged and completely off his rocker, but in an understandable and even enjoyable way. As the titular character, Gibson's Martin Riggs is a loose cannon working in the LAPD Narcotics division. Riggs's sanity has slipped after his wife died in a car crash, and he is left a broken and suicidal cop who is prone to flying into psychotic rages. After Riggs nearly kills an unarmed suspect, the brass transfer him to Homicide and pair him up with Roger Murtaugh (Danny Glover), an aging and low-key officer who is Riggs's polar opposite.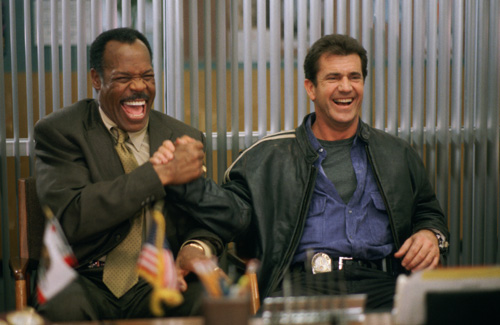 The newly paired partners have to learn to work together when the daughter of one of Murtaugh's old Vietnam buddies apparently commits suicide. The investigation leads the duo into a conspiracy of drugs, pornography, and prostitution, and eventually introduces Gary Busey's Mr. Joshua, one of the most memorable villainous enforcers in the past half century of film. Of course Riggs and Murtaugh gradually develop a bond that will carry them through Lethal Weapon 2, 3, and 4, as they grow older, become a part of each other's families, and investigate everything from South African drug dealers to a Chinese slave smuggling ring.
The tone of the Lethal Weapon series shifts as it ages and as Riggs changes as a character. The first installment is the darkest, reflecting Riggs's own darkness and loss. By the time we hit Lethal Weapon 4, the franchise is full of goofy comedy relief from the likes of Joe Pesci and Chris Rock while maintaining its high level of unforgettable action and one-liners. Rene Russo rounds out the ever growing cast, along with appearances from Jet Li (in his first American movie) and Patsy Kensit. The final movie in the series is arguably the weakest, but that doesn't diminish the enjoyment of this overall franchise that redefined and molded Hollywood's buddy cop genre, both for better and for worse.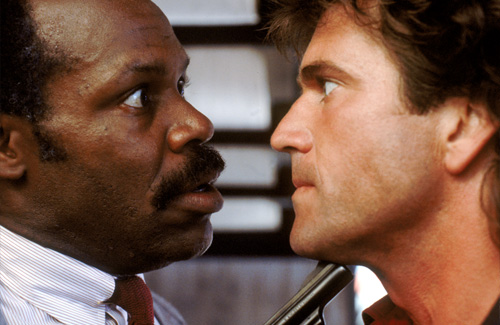 This new Blu-ray collection assembles all four movies alongside an additional fifth Blu-ray disc that contains several newly produced featurettes. All four movies come with audio commentaries that feature director Richard Donner, as well as outtake and deleted scene segments. The outtakes from the first and fourth movies run around half an hour each, making them more extensive than the quick five-minute segments included for Lethal Weapon 2 and 3. Lethal Weapon 1 and 3 also include music video features, the first from Honeymoon Suite and the second from Sting with Eric Clapton. A brief and mostly unnecessary featurette about stunts accompanies Lethal Weapon 2, while a half-hour feature that encompasses the whole series is on the Lethal Weapon 4 disc.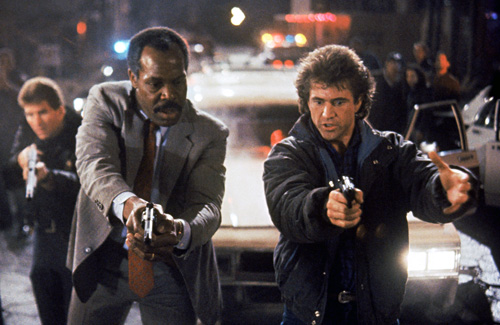 The fifth disc is where all the newly produced bonus content shows up. There are four documentaries, each clocking in between 20 and 30 minutes in length and all starring the cast and crew of the whole series. "Psycho Pension" presents a look at Hollywood of the 1980s, in the time when Lethal Weapon was conceived. The second documentary, "A Family Affair," focuses on the creation of the actual movies and on the on-set atmosphere of the productions. "Pulling the Trigger" examines the sequels and how the Lethal Weapon universe expanded with each new installment. Finally, "Maximum Impact" takes a look at the legacy of the Lethal Weapon series, nearly fifteen years after the last movie released.
Whether you've never seen Lethal Weapon or are a longtime fan, Warner's new collection is the definitive way to see the series. The video and audio transfer to high definition awesomely, and the resulting Blu-rays surpass the earlier and lackluster Lethal Weapon HD release. The Lethal Weapon Collection released on Blu-ray on May 22, 2012, and is in stores now.