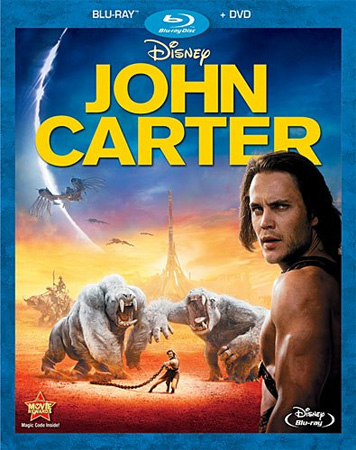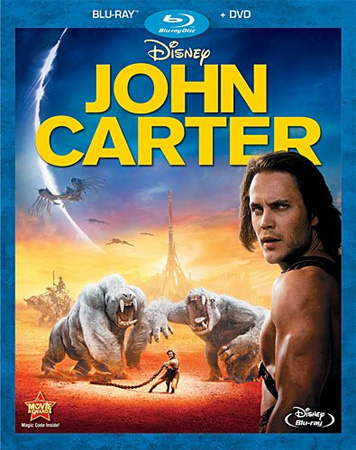 Despite its straightforward pulp adventure roots, John Carter took a very roundabout path in reaching the big screen. The character John Carter first appeared in Edgar Rice Burroughs' pre-Tarzan serial fiction in 1911. Carter's initial adventure on Mars was republished in its entirety in 1917 as A Princess of Mars after Burroughs gained fame through the Tarzan books. Since then, Carter has been adapted into comic books and small scale productions, but a big budget film adaptation has been a long awaited but much thwarted quest. The stars finally aligned when Disney produced their $250 million dollar version of John Carter in 2012, and Burroughs' pulp hero made his mass theatrical debut. Sadly, the movie failed to be a box office success, likely stopping any plans for a sequel, much less a movie franchise. Another example of box office money not being a reflection of quality, John Carter arrived on Blu-ray and DVD last week, hopefully to spur the fanfare of sales it very much deserves.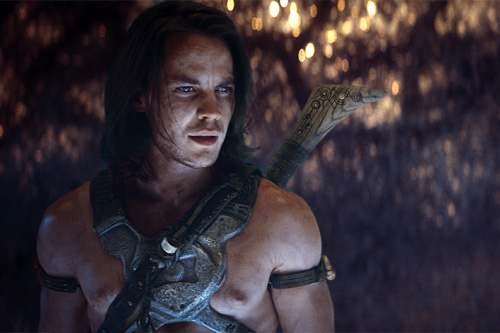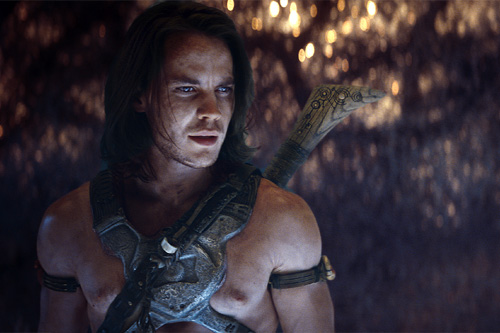 Andrew Stanton, a name well known to Pixar fans, directs Disney's John Carter, placing Friday Night Lights' Taylor Kitsch in the title role. Carter is a Virginian Civil War veteran on the run from a mysterious pursuer at the start of the film. After dispatching a summons to his nephew Ned, Carter suddenly dies under strange and inexplicable circumstances. Ned (short for Edgar Rice Burroughs, and played by Daryl Sabara) arrives at his uncle's estate to find that he is the inheritor of John Carter's fortune, as well as his journal. Stunned by both his uncle's death and his own sudden inheritance, Ned begins to read Carter's journal, which begins its far flung tale in the Arizona territory, where a Union Colonel named Powell (played by Breaking Bad's Bryan Cranston) attempts to wrangle a reluctant Carter into helping fight against the Apache. Many gunshots, several arrows, and one twist of fate later, Carter finds himself in a hidden cave and face to face with an otherworldly bald man in possession of a seemingly mystical amulet.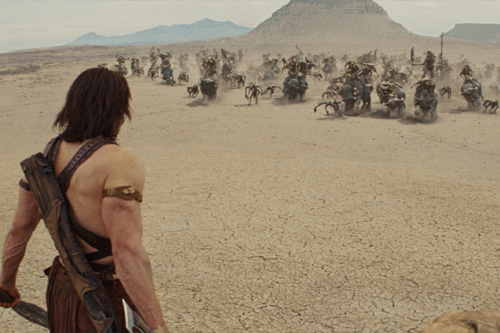 It is that amulet that transports John Carter from Arizona to Mars, known to its natives as the planet Barsoom. Now capable of superhuman feats of strength and agility thanks to Barsoom's smaller gravitational forces, Carter quite literally lands in the middle of a three sided conflict. Red skinned humanoid Martians and green skinned, four armed Tharks make up the dominant species on the surface of Barsoom. The Red Martian cities of Helium and Zodanga are locked in a war that has been raging for hundreds of years, and the Tharks await the outcome in the hopes of overcoming the winners and becoming the overall lords of Barsoom. Shortly after arriving on Barsoom, Carter meets and awkwardly befriends Tars Tarkas (voiced by Willem Dafoe), a leader among the Tharks. He then rescues Dejah Thoris (Lynn Collins) from a heated battle among the Red Martians, securing his own place in the center of the strife. With Barsoom at war and his own lot cast between the Tharks and the Red Martians of Helium, John Carter must figure out his place on this alien world even as he searches for a way home to Earth.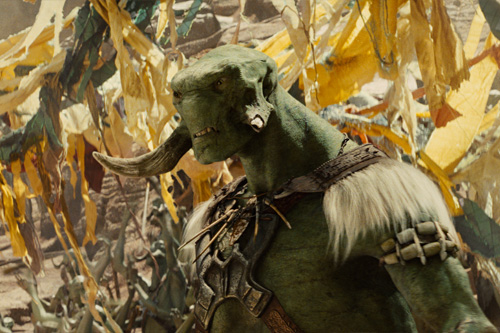 John Carter is a full blown adventure spectacle that spares no expense on visual effects. From the alien creatures to the quasi-Steampunk inspired flying vehicles to the Martian landscapes, it really is a gorgeous movie that showcases the awesome capabilities of today's top effect houses. The script is a fairly straightforward adventure, and it's easy to see much of the story and dialogue as clichéd. Looking back at the source material, however, it becomes obvious that A Princess of Mars was the origin for so much science fiction that followed. All this desert planet swashbuckling was the prototype that inspired the tropes that would define a genre, but we only now are able to see these origins as a big Hollywood film. That's the curse of adapting a groundbreaking novel a hundred years later, after everyone else already has repurposed all of its components.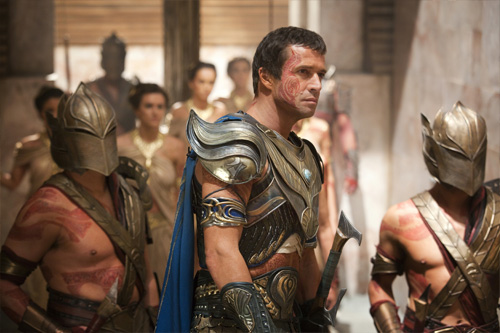 Even a century after its original publication, however, John Carter still delivers a fun and imaginative action story that is good viewing for young and old. The combo pack that released last week includes the Blu-ray and DVD versions of the film, along with a code for a downloadable digital copy. Besides the movie itself, there's also a bunch of supplementary material included:
Audio Commentary with Andrew Stanton (director), Jim Morris, and Lindsey Collins (producers)
Disney Second Screen – a secondary visual commentary app that can run on your iPad or computer alongside the film
360 Degrees of John Carter – a behind the scenes featurette that runs just over a half hour in length
Deleted Scenes – 10 deleted scenes from the movie, accompanied by optional director commentary
Barsoom Bloopers – a brief throwaway bloopers segment
100 Years in the Making – a 10 minute featurette about Edgar Rice Burroughs and John Carter's century-long journey from page to screen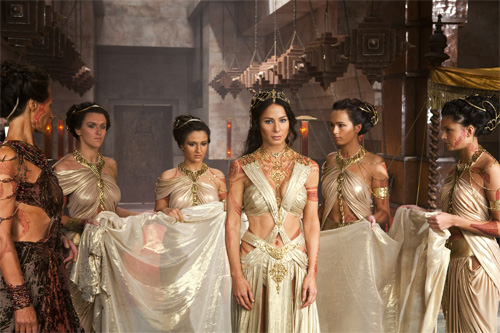 If you (like far too many others) missed John Carter on the big screen, you should check out this home video release. It's a big, explosive adventure spectacle, but it also is a modern interpretation of one of the key seminal works of 20th century pulp science fiction. John Carter released on Blu-ray and DVD on June 5, 2012, and is in stores now.