As many of you may recall, I had the opportunity to interview author Robert Buettner at Dragon*Con 2008.  At that time we discussed the current state of the Jason Wander series and its future.  With the series wrapping up with the June 2nd, 2009 release of Orphan's Triumph, I found I had a new set of questions for Mr. Buettner.  Fortunately not only for me, but for my fellow fans at Fandomania, Mr. Buettner took the time to answer them for us.
Kelly Melcher: First, let me congratulate you on completing the Jason Wander series. What were your first thoughts and feelings upon completing the series?
Robert Buettner: Thanks, Kelly. Great to be visiting with you and Fandomania again.
What did I feel? Satisfaction. Book Five wrapped up the series, in particular Jason Wander's growth, in ways I hadn't expected when I wrote Book One. But when I looked back, the story arc seemed inevitable.
KM: In our first interview, you mentioned that you perhaps wouldn't write another series from a first person perspective. Do you still feel that way?
RB: You mean my comment that writing a forty-year space opera in the first person was like painting the Death Star with a manual toothbrush?
Yes, I would still discourage any first novelist from setting out to pen a five-volume series in first person. But it is that very characteristic that makes the Jason Wander series different, and more entertaining.
First-person viewpoint limits the reader's vicarious experience to what the viewpoint character sees and feels. That makes it difficult to lay out sweeping concepts and action. But first person bonds readers to the viewpoint character. And it's easier to keep suspenseful secrets about what lies just beyond the viewpoint character's view.
Epics that aren't presented through one set of eyes can cover years and worlds and cultures and ecosystems easily. Chapter two can just jump cut from, say, Vader's cruiser to Luke Skywalker's farm: "Meanwhile, one hundred thousand miles below…"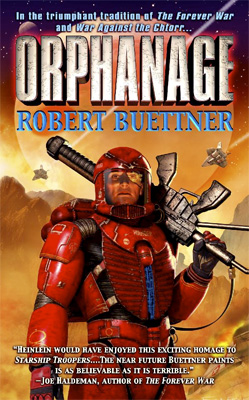 I didn't plan it that way, though. Orphanage began unsold as a one-volume first novel driven by my need to set the record straight about what America, and the children she was sending to war, were going to face after 9/11. I chose to say it through the story of a young man coming of age because young men were mostly going to fight, and forever be changed by, what was about to happen. Coming of age stories, like Huckleberry Finn and Catcher in the Rye, succeed because the viewpoint character's voice rings fresh and strong.
Time Warner Aspect knew that. So Aspect's contract to buy Orphanage expressly required me to write a second book featuring "Jason… growing to be a leader." Okay, I can do that. Then came a contract for three more books, to concern Jason in "conflict on alien soil." Jason's viewpoint had to broaden, and pretty soon Jason's story grew into military-based Space Opera. But readers were hooked on visiting with Jason, not hearing about Jason's exploits from some intergalactic Uncle Remus.
The point of all of the above is that what distinguishes the Jason Wander series from much military SF and Space Opera is that Jason's voice and growth, not the ebb and flow of empires, have driven this series from line one.
KM: Is there anything else, looking back, that you would change about the series?
RB: Timing. Not Bob-Hope "what makes comedy funny" timing. Fans find Jason Wander a plenty-funny guy to spend time with. Commercial timing.
Book One debuted in November 2004, made Barnes & Noble's paperback Top 50 in its first couple weeks, various additional best-seller lists, got strong reviews, and earned a nomination for the Quill Award as best SF/Fantasy/Horror novel of 2004. My editor said her co-workers had to make her stop dancing around the office and screaming.
But Book Two debuted in September 2005. Just then AOL Time Warner announced it was putting its book group on the auction block. The Aspect imprint got axed; new title buying froze. There was talk in the biz that whoever bought the group was exiting the SF biz permanently. Orphan books, pun intended, get no love from booksellers who might get stuck with them. Despite lame-duck worries, Book Two also sold great, and the critics liked it.
Readers like their series fixes at six-to-nine month intervals. Instead, while the merger-and-acquisition rubble bounced, Jason Wander hung in free fall from September 2005 until April 2008. When Book Three finally came out, from the same publisher, but renamed as a brand new imprint, Orbit, the cover had a new look that was also backloaded to the first two books. Both the covers and the Orbit team are outstanding, but I've lost track of the number of fans who write, or stop me at conventions, to tell me that they had no idea there were more (or earlier) Jason Wander books.
KM: We've seen Jason grow from an impudent teen to a seasoned general. Other than writing in first person, what was the hardest part in writing the series?
RB: Leaving things out. The Jason Wander books read lean and fast, on purpose. Lean and fast means I may skip an info dump about why the Army chose to name its revamped plastic 2040-vintage machine gun the M-60. I omitted that because it would slow the story for most readers.
But some detail oriented readers wanted to know (and emailed the author to complain that they weren't told) that as adversary body armor became more impenetrable, the army a few years from now scrapped the .556 (smaller-bullet) SAW (Squad Automatic Weapon) in use at the turn of this century in favor of a 7.62 (bigger bullet) design, like the Vietnam-era M-60, and revived the name from nostalgia.
Sometimes what is left out goes beyond trivial. Book Four, as turned in to my editor, left Jason genuinely suicidal after he suffered traumatic losses, something that seemed true to me based on life experience and my knowledge of him. My editor, whose sense of these things is brilliant, felt Jason's extreme reaction to the trauma would put readers off. So, Book Four left out some of the Jason's darkest thoughts. But about the time Book Four released, the high incidence of suicide among soldiers made headlines. Maybe we shouldn't have pulled that punch.
KM: What was the most rewarding?
RB: Fan reaction. The veterans, and the young soldiers serving in Afghanistan and Iraq, who thank me for telling their story make me cry. So do the kids who say Jason's transformation from feckless teen changed their life, and the parents who thank me because their child never could or would read a book until they found the Jason Wander series. During my legal career, plenty of clients thanked me for winning them money or justice. This means more.
KM: Jason has a unique voice — how much of Jason is you and how much is just the character?
RB: The parts where Jason fumbles, especially in the romance department, are way too me. When he's strong and decisive, that's fiction.
KM: By the end of the series, is there a message you want the readers to take away, or is it really just about Slug shootouts and life or death situations?
RB: I think the totality of Jason's life over five books is the message. Like I said above, I try to leave out what's non-essential. But I like a few Jasonisms:
"Expect the worst from the gods of war, and they will seldom disappoint you."
"Everybody was somebody else before the war."
"Television's like a holo, only flat. You get used to it."
The epigrams that begin each of the five books are thematic, too.
KM: Being a constant reader, I usually feel like I can predict an ending; however, you managed to throw a surprisingly satisfying curveball. I have to ask: did you always know you wanted to end the series the way you did?
RB: Honestly, no. Between writing Book One and writing Book Five, two things changed.
One, I got older. I noticed that I was no longer stomping bugs that had the audacity to scurry across my basement floor. I was taking time to slip them onto a piece of paper, then chucking them outside, alive. I figured older Jason would, too.
Two, I read for the first time Orson Scott Card's Ender's Game, because some onliners were comparing it to my (in my mind dissimilar) story. I found Ender's Game brilliant on so many levels, but dissatisfying on one.
Ender is a kid military genius who exterminates an alien race without knowing it, because he is led to believe he is playing a game. Then he feels real bad about it for a long time.
It seemed to me that after we have watched a boy become a soldier, we deserve to see what the brutality and sentimentality of a soldier's life has taught him. So Jason had to knowingly confront himself and his adversaries as a person of free will. The penultimate and ultimate confrontations in Orphan's Triumph force Jason to face the ultimate decision, to kill or not to kill. He faces those decisions stripped of mentors, and stripped of the moral shield that society offers soldiers. And he doesn't reach the same decision each time. I think that's a true rendering for this character. Others' mileage may vary.
KM: At this point it seems like Jason's story is over, he's riding off into the sunset, and it's well deserved. Do you plan on writing in this universe you've created again, or is it on to new and different worlds? What can we look forward from you in the future?
RB: This universe or new and different? Both, actually. I have two projects in progress.
I had hoped to have shareable specifics for you about the project in the Jason Wander series's universe, because it's going to be exciting for me, and I hope for fans. But at the moment that I write this, arrangements are not final enough to pull that rabbit out of the hat.
The other project is still speculative fiction, but targeted for a broader audience. I can tell you what it isn't, better than what it is. No vampires. No elves.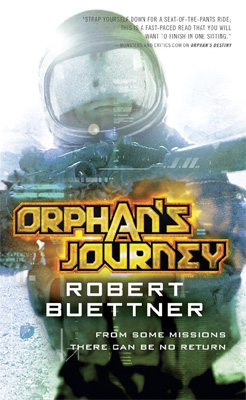 KM: Would you be interested in seeing the Jason Wander series portrayed in some other form of media? If so, which one(s)?
RB: Sure. Plenty of them. Fans seem most stoked that the other medium be film, to the point of offering up candidates to play Jason Wander. Shia LaBeouf leads their volunteered voting. My agent insists that only "a young Bruce Willis," whoever that may be, can do justice to the wisecracks. Speculative casting's a hoot, but very cart-before-horse. Jason has plenty of fans in Hollywood, and there has been serious and continued interest. But the odds of any literary property making it to the screen are far more astronomical than most fans realize.
The Jason Wander books would look and read very cool as a graphic novel. Probably easier to adapt, in fact, than Joe Haldeman's The Forever War, which was made up into a nifty graph nov trilogy in 1988.
Orphan's Journey, and its progeny especially, would make one wicked first-person shooter game. Multiple levels of hardware and human allies and enemies, dinosaurs, carnivorous scorpions and lungfish the size of SUVs, a vast intergalactic war against a relentless non-human enemy, first-person viewpoint, and the ever-popular body armor. Those little GATr snow sleds, Scorpion fighters outturning Slug Firewitch megafighters, hand-to-pseudopod combat. The adolescent mind reels. Astute observers will note that the figure on Orphan's Journey's cover bears more than a passing resemblance to the Master Chief character in Halo.
Or maybe the entire five volumes could be condensed into a Tweet. (Emoticon of face smiling wryly)
KM: Whose decision was it to release the books first (at least with Orbit) in mass market paperback editions?
RB: Unless the author is an established superstar, format, marketing, print runs, and such are exclusively publisher-decided. Appropriately so, because the publisher is risking its money on the book. Also, the publisher knows where the book fits into its, and its booksellers, lines.
Orphanage, being a first novel, was initially released in mass-market paperback when it came out in 2004. First novels often go straight to paper. Readers will risk seven bucks on an author they don't know. But they will only drop the price of dinner at Chili's on a hardcover for an author they already know. Orphanage has been through, I dunno, ten printings or so in various English language versions (including a hardcover from Science Fiction Book Club), and has been translated into four languages to date, so the publisher got it right.
KM: Will the series ever come out in a hardcover or a collectors edition?
RB: Collector's edition? Cool. I could finally write a supplemental memo explaining all that stuff that got left out.
KM: On behalf of myself and Fandomania I would really like to thank Robert for taking the time to answer my questions.