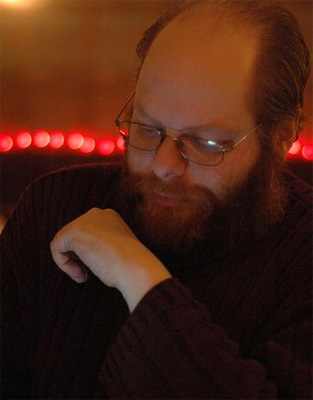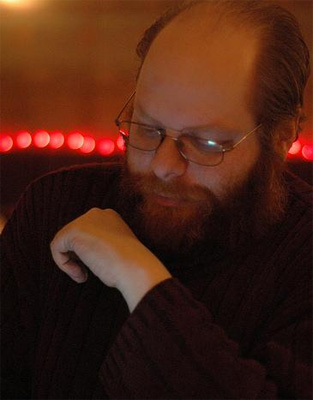 Adam P. Knave is a freelance writer and editor and is the author of several books and collections of short fiction, including Crazy Little Things, Strange Angel, I Slept With Your Imaginary Friend, and Stays Crunchy in Milk. He is also involved in writing the webcomics Legend of the Burrito Blade and Things Wrong With Me, as well as columns for numerous websites like thefoonote, TwoHeadedCat, and PopCultureShock. In addition to being exceptionally creative, Adam P. Knave is also nice enough to take some time away from his busy schedule to answer our questions about writing, publishing, the creative process, and even his favorite childhood cartoons.
Paige MacGregor: For those of our readers unfamiliar with your stories, can you briefly describe your work and how you became involved in writing?
Adam P. Knave: I write a little bit of everything. Really, instead of being smart and focusing on a genre or type of writing I take on projects that interest the hell out of me. Both my parents wrote and edited professionally. So I've been writing in one shape or another since I was six. Because of that I don't think I ever felt the need to focus on what I wrote so much as simply telling stories, regardless of their tone, purpose or medium. I've published horror, comedy, pop culture stuff, comics, webcomics, SF, fantasy… there's something for everyone if people want to take the time to look.
Of course that time is precious so I understand if people shy away some. I know it hurts my overall readership but it's too much damn fun just going where the stories take me.
PM: What was the first thing you ever had published? How did it feel when you saw your work in print (or on the screen, if it was online) for the first time?
APK: The first thing I ever got published in print was an article in Too Much Coffee Magazine. Which was partly in Klingon — no lie (please note I don't speak it, I had to find a translator). Before that it was probably a review or article somewhere on the Internet, about 1993 or so. It was a thrill then and every time something new is released.
PM: How does it affect your writing to be a male author writing from the perspective of a female character like Susie in Strange Angel versus that of a male character like some of your short story protagonists?
APK: I don't think it changes anything. Writing means stepping into someone else's shoes and inhabiting them so that the character is a real breathing person, as much as possible. That means no matter what I'm doing, I'm writing someone who isn't me. Once you get past that hurdle and learn to do the legwork so you can sound and feel authentic, it doesn't matter who you write so long as you get it right. Writing a male character, a female character or a fairy assassin from the future is all the same — they have wants and needs and problems that are based both in their personal lives and their society. That colors and shapes their reactions. It's my job to get that right and bring it home so that someone who understands their issues and relates to them can feel a truth to what I did, and someone who isn't familiar with them can understand and not get bogged down so it takes them out of the story.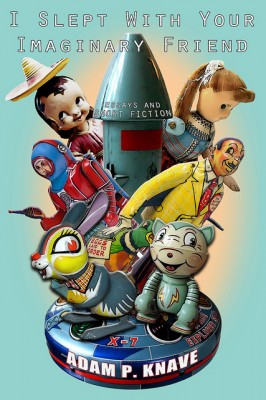 PM: Some writers find it easier to write from one perspective or the other (i.e., male or female), but you tend to use both male and female protagonists in your work, at times even switching from the female perspective to the male perspective, as in the final portion of Strange Angel. Can you comment on the role of gender in writing for our readers?
APK: I think writers need to get out of writing easy. It takes more research to write characters vastly different from yourself in terms of sexuality, religion, gender and race. But it is also vastly important to not only have authors of every type imaginable but to stretch and use every type of character you can. If it doesn't matter whether a character is black or white, male or female, why not mix it up? You don't lose anything but (if you do it honestly and smartly) you have everything to gain.
Everyone wants to read books about people they can relate to. So why not give them a bit more of that? It doesn't change my story, except in the ways it does (as silly as that sounds what I mean is it won't change the larger beats but the smaller moments certainly do), and might allow a reader to find something they weren't expecting but enjoy.
Publishing, as a whole, needs more diversity. There are a number of people dedicated to this in far better ways than I am. There are organizations, people, and awards even for this sort of thing. I think it is dreadfully important for that spread of different viewpoints and experiences to happen.
PM: For the most part you write short works of fiction (with the exception of Stays Crunchy in Milk, of course) — even the novel-length story Strange Angel is a collection of five different "books" that were previously published separately. Is there something in particular about writing short pieces that you enjoy? Do you think you would ever attempt another full-length "traditional" novel?
APK: At first I wrote very short stories — under two thousand words in length. Then I did some four thousand word ones and then eight and fifteen. Strange Angel started as the intro story to an anthology (the publisher wanted a two thousand word story to set tone for the whole book) and then became a series of three novellas. When it came time to collect then I added a short story to the end of it to glimpse of where things could keep heading and explore the characters more.
So, really, I just stretched what I could write further and further as I went. I didn't sell, or even try to sell, everything in the order it was written though, so you can't necessarily see the chain forming, but it was there. I had to get comfortable writing longer, each time.
PM: Arguably writing is a very personal practice, and each author has his or her own writing process that helps him or her to be creative and, at times, productive. Can you describe your writing process or practices for our readers? Do you have any special rituals involving your writing process (i.e., forcing yourself to write every day, etc.)?
APK: My writing process really does boil down to "try to write every day." Creativity is a muscle and you need to work out if you want to lift bigger weights. The hardest part is sitting down every day and producing new words. Past that I try to take breaks every hour or so and stretch and pace a bit just because otherwise I'm in a chair too long and would eventually merge with it, becoming a shapeless lump of goo that could only weakly mutter for help. Once that happens my cat would give in and kill me.
So really I guess my writing practice is: Write a lot, but write while keeping an eye on the cat.
PM: With regard to your story Strange Angel, several reviewers have likened the protagonist, Susie Sparrow, to Joss Whedon's Buffy (the vampire slayer). What are your thoughts on that comparison? Was Buffy a source of inspiration for you?
APK: Both stories feature a teenaged female protagonist who has to deal with monsters and a real life at the same time. I just saw an opening to add some different realism to the horror of what that would look like, both on the literal monster sense and the toll that sort of pressure takes on your friends and family sense.
Buffy is a very popular and well-loved series, and for a lot of good reasons. When writing Strange Angel, though, I approached it in a vacuum as much as possible, not worried with matching or stepping on toes. I just told the story in my head as I found it.
PM: Your writing encompasses such a wide range of fantastic, mythic, and humorous elements and characters that I have to ask the cliché question: where do you get your ideas from?
APK: Sleep deprivation, caffeine and everything in the universe. I own hundreds upon hundreds of books and read and read all of them. I also own almost as many movies, comics and music. All of it is grist for the mill. So is my entire life.
I might see two kids play fighting on the street and use the way one of the kids flinches to spot something about how we react to different pressures and run with that. I might see someone fall down and do the same. Really, inspiration is another muscle like creativity. The more you think and find stories the more stories you WILL find.
Nailing ideas down and working out where they go is a function of experience. You jeep at it and suddenly everything you read, hear, do and say becomes a potential story to be told.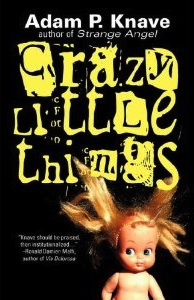 PM: Going back again to Strange Angel, the characters of Tucker and Stover, two partnered detectives investigating the strange events that take place throughout the story, seem to be based on a long tradition of partnered detective portrayals. Are these two based on or inspired by any detective pair in particular? Can you speak to the partners' dynamic throughout the story?
APK: Originally they were planned to be on camera for maybe a scene. Except I realized that I didn't want to write dumb cops. Which meant they had to be good at their job, and that forced them to stay involved with the story. I didn't mean it, I just ran with it when I realized what I had done.
So as I went I let the bits I had written establish their dynamic. They needed to be a good pairing, and a lot of partnerships work best when the two members have differences that let one partner's weakness work to the other's strengths. Any long partnership is like a marriage, the partners grow over time and fall into patterns that, solo, they might never have found.
So, since they needed to be good, strong, partners, I wanted to have them feel like old friends who were so used to each other's bull**** they glossed over it. But then you put these people in a situation that shouldn't, by their experience, even exist, and see if they can stand up to it. In my head they were vastly different before the events of the book and forever changed after. I've been tempted to write something else with them, if I ever find the right story.
PM: When it comes to writing, what is your ultimate goal with regard both to yourself and to your readers?
APK: I just want to entertain people. Give them a bit of story they can enjoy. That's really it. No other ulterior motives to it. I like sharing stories and having them land with the people they're told to. If people want to find other messages in something, and take other things away from my work they are welcome to and I will almost always tell them they are right because experiencing a story is an intensely personal thing for everyone and everyone gets something different out of any given story. That's theirs forever. My job is just to tell stories that people want to experience in the first place.
PM: In addition to writing, you are also involved in at least one ongoing web comic series. Can you talk about the other creative outlets you have besides writing short fiction?
APK: I actually don't do almost any short fiction anymore. I've been focused on novels, comics (both print and web) and humor essays for a year or two now. That isn't to say I won't ever do shorts again, just for now I'm playing somewhere else. I write the twice-weekly Things Wrong With Me webcomic, have written short print comics that have appeared in Image's Popgun anthology and other places, blog daily at adampknave.com and then some. I'm all over the map. It's a bit… crazy over here.
PM: I must admit that I was sold on I Slept With Your Imaginary Friend as soon as I saw the title of the second selection, "Thundercats, Ho". Were you a Thundercats fan growing up? What were some of your favorite childhood television shows or movies?
APK: I was a huge fan of Thundercats when I was a kid. They made no sense to me then, and less so now. Somehow that worked for me. Then again I watched too many cartoons as a child. I'll always have a soft spot for Thundarr the Barbarian, G.I. Joe, Silverhawks and Transformers, and Jem despite any personal wishes to the contrary. You can't escape your youth.
The darker Thundercats revamp in the works is interesting to me. They can't ruin Thundercats because it was so insane to begin with. So all they can do is find a great story and tell it. Michael Jelenic and Ethan Spaulding are producing it and they have some great work between them, so I think it's in good hands.
PM: Personally, I find the sense of humor your writing displays in I Slept With Your Imaginary Friend, selections from Crazy Little Things, and even parts of the dialogue in Strange Angel similar to that of writers like Christopher Moore (The Stupidest Angel, L.A.M.B.: The Gospel According to Biff, Christ's Childhood Pal). What are some of your favorite authors and which writers, if any, have inspired or informed your writing over the years?
APK: I'm a huge fan of Chris Moore's. I got to meet him at a convention and spend some time with him and he is exactly as funny and gracious as you might think he would be. Wonderful guy, wonderful author. Twain is a personal favorite of mine as well, as are Spillane, Delany, Nick Hornby, Grant Morrison, and Mark Waid. I have learned important lessons from each of them that I keep in my toolbox and use often.
PM: What is your favorite book, or if that's too specific then who is your favorite author and why?
APK: I have five books I re-read more often than any others. I probably read each of these books at least once a year, if not twice. So let me get away with five favorite books: Dhalgren, Illuminatus!, Cryptonomicon, Lonesome Dove, and Infinite Jest. I love a good, long, sprawling novel. Something so meaty that it can really breathe and give you time to know the character in scenes and moments that are only there to be character moments and not plot.
PM: I Slept With Your Imaginary Friend is your most recent release. What are you working on now, if anything? What are your plans for the future?
APK: Right now I have several comic pitches out and about that I've co-written with my frequent co-writer D.J. Kirkbride. We write a bunch of comic things together. He's a joy to work with. We're also writing our first co-written bit of prose which will be a completely inaccurate history of the United States. That should hopefully be out around Summer 2011. There's also a science fiction novel I am about halfway through writing and plans for another book of essays in the coming year. So, hopefully, lots more to come!
---
For more information on Adam P. Knave's books, short stories, and other work, visit the author's official website at
adampknave.com
. In addition to current blog entries and links to Adam's webcomics, you will also find selections of Adam's work available to read for free on the site. You can follow Adam on Twitter at
@adampknave
, and contact him directly at
adampknave@gmail.com
.