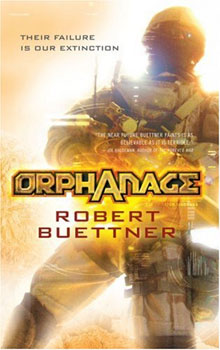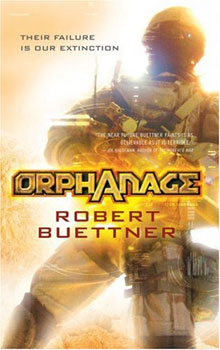 Orphanage by Robert Buettner
Jason Wander is perhaps the most unlucky human being not only in the world, but possibly in all of science fiction as well. Robert Buettner's Orphanage has been heralded as the next Starship Troopers, and while there are several similarities, where they are different is very interesting.  Sure, both have young protagonists who enter military service for less than altruistic motives.  I'll concede that both follow the coming of age in the military story arc that so many in the military science fiction genre share.  I'll even allow for serious parallels to be drawn between the choice of first person narrative and non-humanoid ultimate evils. However Buettner weaves a fast paced story that is his own.
Jason, who became a war orphan when an alien projectile killed his mother and the rest of Indianapolis, starts his unexpected journey after sucker punching a teacher.  Even after being given a second chance, he again finds himself before the judge who gives him an ultimatum: join the military or go to jail.  Wander picks the Space Corps Infantry.  If he thinks that this was as bad as bad luck could get, he does not realize he is only at the tip of a mammoth iceberg, and basic training is nothing compared to what he would have to survive.  After all, there's a hostile alien force out there that wants nothing more than to annihilate the human race and make Earth home.
Orphanage is important because it has a post 9-11 stance on war, making it not only an enjoyable read but also relevant to the reader.  The human race is fighting against what Jason dubs the "Slugs", a homogeneous alien life form as dissimilar to us in psychology as it is in appearance.  They are the ultimate enemy, a thing we cannot possibly understand.  Whether in literature, movies, or in real life, what we cannot fathom is always the most terrifying thing of all.  This is an interesting parallel to current events. Even if it is not blatant, we will always fear what is different from us.
An important theme in military science fiction is "Why do we fight?"  Jason has to grapple with this question just as every new recruit before him.  Do you fight for Mom, Country, and apple pie?  Are you fighting to gain citizenship and for a vote?  Or are you fighting for the men and women who are standing next to you in the line of battle?  When you are a war orphan your only family and the only reason to fight is for the man or woman next to you.  Ultimately Orphanage isn't about the politics of war.  It's about survival against a species that wants nothing more than your death and the death of everyone you know.
At no time is this more clear than after the two year long trip that the "Orphan's Crusade" takes to reach Ganymede, one of Jupiter's moons where the Slugs have set up a stronghold.  When tragedy strikes even as the 10,000 orphans land, the reader is left with the suspense of not knowing how any of them could possibly make it out of this alive.  The remainder of the book focuses on the battle on Ganymede, and even though it seems hopeless, each person is fighting for–not just with–the person to his or her left and right.
The viewpoint is first person, and it reads almost more like a journal than an internal narrative, although it certainly has that as well.  Interwoven with sarcasm and a no nonsense writing style, it is a fun read.  There were more than a few times that my reactions, both happy and sad, were probably a little annoying to the folks around me at the coffee shop where I do most of my reading, but I genuinely enjoy a book that I can react to.  Jason is a person that I think a lot of people can relate to.  He talks the way most folks would, and it was not hard to empathize with his character. I found that I was really rooting for him to somehow get out of the whole mess in one piece.
My one serious and personal (feminist) complaint is the treatment of women in the narrative.  Here too there are some similarities and differences between Troopers and Orphanage.  Heinlein, who does tend to be stuck with some of the stereotypical gender roles, depicts the few and far between women pilots as faster, smarter, and of course more attractive military counter parts of the men.  In Orphanage, the two women that have significant face time are Pooh and Munchkin, (Priscilla Olivia Hart and Sharia Munshara-Metzger respectively).
Pooh might be an ace pilot, even THE ace pilot, but it's hard to believe in her as a character with the attributes she's supposed to have with a nickname inspired by a forgetful bear.  The allusion isn't flattering.  Sharia Munshara started out as a Lieutenant in the Egyptian military, despite her diminutive size.  She's a sharpshooter and a strong woman, and I'll admit she's pretty well fleshed out considering she's a character in a military science fiction novel. But with a name like Munchkin it's hard to take her seriously.  I will say, however, that I did not let it detract from my enjoyment of the work as a whole.
My initial interest was when I saw several excerpts on Robert Buettner's website comparing his work to that of Robert Heinlein.  To many this would be a weighty comparison, but I was immediately intriqued.  I make no effort to hide that Robert Heinlein is one of my favorite authors, and I have read the vast majority of his work.  While both share some typical cliches of the Military Science Fiction genre, I do not want to compare them.  You can make up your own mind as to whether they are similar.  I will say that it has been an incredibly long time since I have read a book like Orphanage. It is relevant to our times, compelling, and since no one here is avoiding certain cliches, a real page turner.
"Strip away politics, and, wherever or whenever, war is an orphanage."
(Orphan's Alliance
, book four in the Jason Wander series comes out today, October 28.  I know I will be picking up my copy)