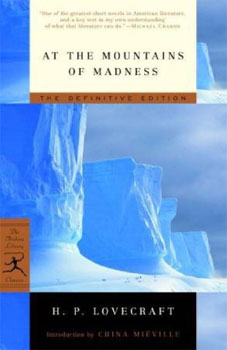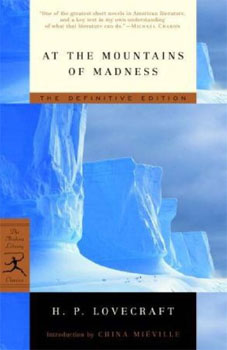 There are some things that human beings are meant to see and know, and then there are the things that H.P. Lovecraft writes about. Up until recently I had only heard of this horror author, thinking that horror, even if it has some sci fi in it, isn't for me. My mind was irrevocably changed after reading this suspenseful novella. H.P. Lovecraft's brand of horror is best described as that feeling when you know you've reached the edge of a cliff and you tell yourself not to look down, and then you look down. It's thrilling and memorable.
When a group of explorers decides to tackle the wintry continent of Antarctica, some of the members of the expedition get way more than they bargained for.  While some got off lucky with a premature death, two men, William Dyer and Danforth, saw more than any human was ever meant to see.  They may have made it over the mysterious mountain range in Antarctica and back with their lives, but Danforth left his sanity behind with a forbidden glimpse of something from before the time of man.
Unless one remembers the that the story was written in the 1920's and published in the 1930's, one may have a difficult time reading At the Mountains of Madness, but it is certainly worth visiting your dictionary for.  While the language is a bit archaic, the abject horror is as poignant now as it was when the the story was originally published.  If you can get past some of the language issues and are willing to look up a few things, it will be very worth your time.
Parts of this story are tales as old as time–a dominant culture being rebelled against by a subordinate, exploration of "final frontiers", and horror beyond human imagining–but even today the ideas are fresh.  While I normally get distracted by first person narrative, William Dyer's hesitance to tell his story only adds to the suspense and the overall fear that the story evokes.  Lovecraft describes in terrifying detail the places and creatures in a way that almost feels like he has seen them himself rather than just pulling them from his imagination.  I could not help but read with a sense of wonder and awe.
Others may have been introduced to Lovecraft through other stories, and if you have not read any of his other works I recommend At the Mountains of Madness as an excellent place to start. After all, it was my first exposure to Lovecraft as well.  From here I have started reading more and more of his works, which truly stand the test of time and play to the horrific fantasies of everyone's late night nightmares.  While normally I write up a bit of a review with my comments, I really feel that this is a book best discovered for oneself.