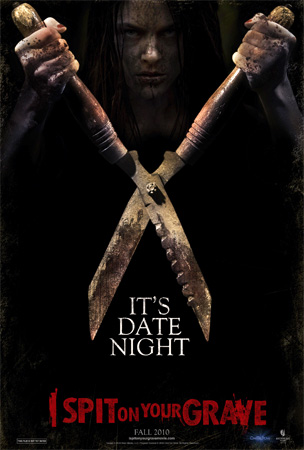 The horror remakes just keep coming and coming. This time around, we get an all-time underground classic remade. Anchor Bay acquired the rights a while back to remake I Spit on Your Grave, a 1978 classic that gained a reputation over the years as an extremely graphic and violent film, as well as the most controversial film to hit the world! Now I'm not sure how this remake will hold up to the horror nowadays (Last House on the Left remake, anyone?), but you can experience it for yourself this weekend at the Weekend of Horror's convention in LA!
DATE: Saturday, May 22nd
TIME:
11:30am to 12:20pm PT – Panel in Main Theater, with clips and Q&A
Poster signing immediately after panel
WHERE:
Creation Entertainment's "Weekend Of Horrors" Convention
Marriott Los Angeles Airport
5855 West Century Boulevard
Los Angeles, CA 90045
WHO:
Director Steven R. Monroe
Producer Lisa Hansen
Executive Producer Meir Zarchi, creator of the 1978 original film
Special Effects Makeup Artist Jason Collins
Stars Sarah Butler, Jeff Branson, Rodney Eastman and Daniel Franzese
Moderator: Steve "Uncle Creepy" Barton, DreadCentral.com
DETAILS:
Horror fans in Los Angeles will have the opportunity to see the first official West Coast preview of CineTel Films's and Anchor Bay Entertainment's highly anticipated remake of the 1978 cult classic I SPIT ON YOUR GRAVE, when members of the cast and crew gather for a panel discussion at Creation Entertainment's "Weekend of Horrors" convention this Saturday, May 22nd.
Not only will the panel feature the director, producer, special effects make-up artist and the four lead stars of the film, but also appearing on-stage FOR THE FIRST TIME AT ANY CONVENTION will be Meir Zarchi, creator of the 1978 original horror classic and executive producer on the remake. Moderating the panel will be none other than Steve "Uncle Creepy" Barton, renowned horror expert and editor-in-chief of DreadCentral.com.
Clips prepared specially for the show will be shown. Along with the Q&A from the filmmakers and stars, fans will get their first tantalizing glimpse at their new vision of a venerable horror classic. After the panel, attendees are invited to stay to have an authentic I SPIT ON YOUR GRAVE mini teaser poster – specially printed for the show – signed by all the panelists! In addition, several props from the film will be on display during the panel and available for viewing during the signing.
If you get a chance to see it, drop us a line and tell us what you thought. We'd love to hear your feedback!