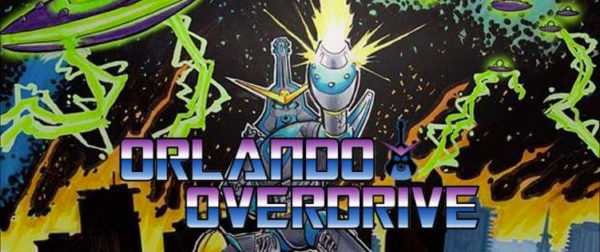 Before I sign off for a while, I wanted to squeeze in a promo for an upcoming concert that I'm super excited about: Orlando Overdrive on April 22, 2017. I've missed having a big geek music concert down here, so it's great that we're getting one this year, even if it's relatively small. And you can help vote for the artists that perform. How cool is that? You have until Feb. 13 to get in your votes, and quite honestly I'd be pretty happy with just about any of the performers there. There are some old favorites as well as new bands I don't know, and that always makes for a great show for me. So help make it a more interesting show by voting for the ones you'd like to see!
Here are more details from the press release, including the bands you can vote for and the URL for the voting:
ORLANDO, Fla., February 1st 2017 — On Saturday, April 22nd 2017, the best of Orlando's nerd music community of video game bands, remixers, chiptune artists, nerdcore emcees, and geek rockers take the stage for the second annual Orlando Overdrive.

Orlando Overdrive, spun off from Ongaku Overdrive to shine the spotlight on Orlando's best and nerdiest musicians, ended up being a remarkable success in its first outing, featuring Random Encounter, Marc with a C, Eye Q, NESkimos, Boy Without Batteries, Quartz Relic, Sci-Fried, and Benjamin Briggs.

This year, the lineup will be chosen by the fans. A poll is open at bit.ly/OrlandoOverdrive2017 until February 13th. There are seventeen acts to vote for and the nine with the most votes will be selected to play at Orlando Overdrive 2017.

The candidates represent a wide range of geek-influenced music, featuring Benjamin Briggs, BFunk20XX, Boy Without Batteries, dj-Jo, EyeQ, Geekapella, Jackson Parodi, Mag.Lo, MagiTek, Marc with a C, Milk Carton Superstars, Quartz Relic, NESkimos, O_Super, Sci-Fried, Shammers, and Under Polaris.

"Being a longtime resident of Orlando and a big fan of our 'nerd' music community, I wanted to put on an event that showcased our city's own performers," said Kent Ward, the organizer of Orlando Overdrive. "I hope this event ends up giving Orlando nerd music a huge boost and opens up doors for our acts to do amazing things in the future."

Orlando Overdrive will take place at BackBooth, located at 37 W. Pine Street, Orlando, FL 32801. The event is all ages and tickets start at $10. For performer announcements and other updates, visit www.ongakuoverdrive.com and follow @OngakuOverdrive on social media.