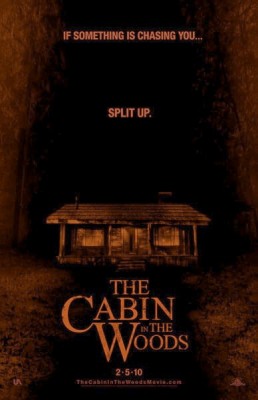 Several movie posters for Joss Whedon's upcoming film, The Cabin in the Woods, began circulating the Web a month or two ago. I'm not quite sure how I missed them, but I wanted to make sure that none of our readers do, either. As you can see, the snarky posters — three so far — promote Whedon's horror thriller using snide commentary on some of the most stereotypical Hollywood horror movie conventions.
The Cabin in the Woods is directed by Drew Goddard, who also co-wrote the script with Whedon (if Goddard's name seems familiar, it's probably because he wrote the contemporary monster movie Cloverfield that was released in 2008). There isn't a ton of information circulating about the film's plot, but what I've gathered from what is out there is that The Cabin in the Woods puts a "new spin" of some sort on the traditional "cabin in the woods" horror story in which unsuspecting couples go to a creepy cabin nestled deep in the woods — or are for some reason stranded with a creepy cabin as their only shelter — and invariably die gruesome and bloody deaths at the hands of a crazy serial killer, vicious monster, or other horror genre staple. The film's cast includes Chris Hemsworth (A Perfect Getaway, Star Trek), Richard Jenkins (Burn After Reading), Bradley Whitford (The West Wing), Kristen Connolly, Anna Hutchison, Jesse Williams, Brian White (Twelve Rounds, The Shield), and Dollhouse regulars Fran Kranz (Topher Brink) and Amy Acker (Dr. Saunders/Whiskey).
Although The Cabin in the Woods is scheduled for a February 2010 release date, February being a sort-of throw-away month for the movie industry as everyone prepares for the Academy Awards, I wouldn't necessarily take it as an indication of the movie's quality. In fact, it's possible that The Cabin in the Woods was relegated to a February release either in an effort to drum up some box office revenue uncharacteristic of this time of the year (a major plus for MGM, who is set to produce, given our country's current economic downturn), or simply because The Cabin in the Woods isn't expected to break any box office records regardless of when it is released (though unwaveringly loyal, Joss Whedon fans won't generate the same kind of revenue at the box office that movies like Transformers or Cloudy With a Chance of Meatballs do). Nevertheless, Whedon fans (myself and many members of the Fandomania staff included) are looking forward to The Cabin in the Woods and to seeing what Whedon and Goddard's collaboration yields.
Visit Screamstress to see all three posters released by MGM in July.