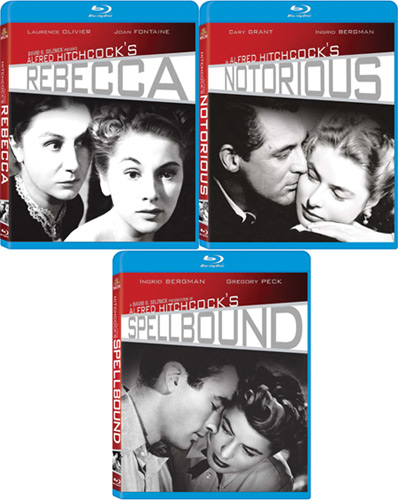 No cinephile's Blu-ray collection would be complete without representation from Alfred Hitchcock. MGM is helping that cause by releasing three of Hitchcock's romantic suspense classics in high definition, just in time for Valentine's Day. Spellbound, Rebecca, and Notorious arrived in stores in January.
The earliest of this fantastic trio is Rebecca, originally released in 1940 as a David O. Selznick production. The year prior to Rebecca's release, Selznick produced the film adaptation of Gone with the Wind, which garnered him an Oscar. He would continue the streak with another win for Rebecca, based on the 1938 gothic romance novel by Daphne du Maurier. The film is Alfred Hitchcock's first foray into American cinema and would earn Academy Award nominations for all three of its stars. Laurence Olivier plays Maxim de Winter, a wealthy widower who marries an unnamed second wife (Joan Fontaine) and brings her back to live at Manderley, the mansion he shared with his late first wife. Judith Anderson also stars as Mrs. Danvers, the housekeeper. Although De Winter has remarried, his memories—and possibly the spirit—of his first wife lingers in the walls of Manderley, setting the stage for an unsettling and dark tale of love and loss.
Spellbound is the second movie Hitchcock made with Selznick, and it hit theaters in 1945. Ingrid Bergman plays Dr. Constance Peterson, a psychoanalyst working at a hospital in Vermont. She immediately finds herself drawn to the newly arrived head of staff, Dr. Anthony Edwardes (Gregory Peck), who has come to replace the outgoing director. Only a few days after he takes his post at the facility, it becomes clear that not all about Dr. Edwardes is as it seems. He may, in fact, be an impostor or even a murderer. Unable to accept that her new love could be a villain, Constance fights to defend and understand the truth about the mysterious man. Spellbound features a dream sequence designed by Salvador Dali and presents some puzzles that would be as at home in a David Lynch production as in a Hitchcock.
The third new Blu-ray release features Notorious, a 1946 release that has been called a watershed movie in Hitchcock's career. The film stars Hitch favorite Ingrid Bergman as Alicia Huberman, the daughter of a Nazi spy who was caught and convicted. Cary Grant plays T.R. Devlin, an American agent who brings her into an operation to infiltrate a group of Nazis after the end of World War II. Among the Nazis she is tasked with confronting is one Alex Sebastian (Claude Rains), who was a friend of her father during the war. Before she can begin her mission, Alicia falls in love with Devlin, complicating their already covert arrangement.
All three films are presented in full frame 1.33:1 black and white. The movies all have undergone retouching at different times, giving them all good translations into the high definition format. Notorious looks the best of the three, but it's hard to judge film grain and blurriness in movies this old when they are transferred to Blu-ray. All the films look and sound as timeless as ever, and all three come with special features loaded onto the discs, as follows:
Rebecca:
Commentary from film critic Richard Schickel
Isolated music and effects track
The Making of Rebecca
The Gothic World of Daphne Du Maurier
Screen tests
Radio plays
Hitchcock audio interviews
Original trailer
Spellbound:
Commentary from Thomas Schatz and Charles Ramirez Berg
Dreaming with Scissors: Hitchcock, Surrealism, and Salvador Dali
Guilt by Association: Psychoanalyzing Spellbound
A Cinderella Story: Rhonda Fleming
1948 radio play
Hitchcock audio interview
Original trailer
Notorious:
Commentary from film producer Rick Jewell
Commentary from film professor Drew Casper
Isolated music and effects track
The Ultimate Romance: The Making of Notorious
Alfred Hitchcock: The Ultimate Spymaster
The American Film Institute Award: The Key to Hitchcock
1948 radio play starring Joseph Cotton and Ingrid Bergman
Hitchcock audio interviews
Restoration comparison
Original trailer
If you're into movies, you really shouldn't be without these three classics from Hitchcock. With the high quality transfers and all the features on the discs, there's never been a better time to add them into your collection than with these new Blu-ray releases. Rebecca, Spellbound, and Notorious arrived on Blu-ray on January 24, 2012, and are available in stores now.