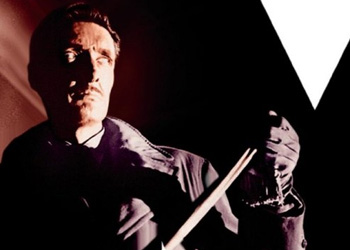 Alfred Hitchcock is seeing a revival in popularity with the upcoming Hitchcock film starring Anthony Hopkins and the recent HBO production about the famously infamous director. His collection of films has been making the journey to Blu-ray bit by bit, and October saw the arrival of both Strangers on a Train and Dial M for Murder. Both are worthy additions to the Hitchcock high definition library, and here's a look at what you can expect from each.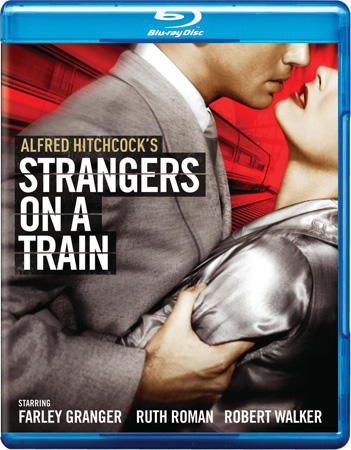 Most of Alfred Hitchcock's most famous productions are adaptations of earlier stage productions, short stories, and novels. Strangers on a Train is no exception, being the first novel written by Patricia Highsmith, the author who likely is most famous for her five Tom Ripley novels that inspired the 1999 Matt Damon film The Talented Mr. Ripley. Widely regarded as one of the female pioneers of twentieth century suspense fiction, Highsmith regularly addressed the topics of morality and homosexuality in her fiction, something that raised more than a few eyebrows during her early career. Alfred Hitchcock discovered Highsmith early, bringing her first book to theaters only a year after publication.
The story of Strangers on a Train is a familiar one these days, thanks in large part to the many TV shows and movies who either readapted or outright copied its central premise, most memorably the 1987 dark comedy Throw Momma From the Train. In Hitchcock's original adaptation, Farley Granger and Robert Walker play the titular strangers who cross paths while traveling by rail. Guy Haines (Granger) is trying to find his way out of an unhappy marriage, and Bruno Anthony (Walker) wants for his own father to die. The two men strike up a conversation, and Bruno proposes that they murder each other's targets, thereby committing unconnected killings with no way to tie each man to his victim. Guy, understandably rattled by the proposition, leaves the train car but not before Bruno mistakenly believes they have reached an agreement in the double murder plot. The film takes a number of twists as the plot winds its way to its eminently Hitchcockian conclusion.
Strangers on a Train is one of Hitchcock's best works, and it's a welcome addition to Blu-ray. Alongside the film itself, there's a great array of bonus features to pore through. Chief among them is an audio commentary loaded with informative and knowledgeable luminaries, surprisingly including some portions from Alfred Hitchcock himself. A "Preview Cut" of the movie also is included, running just a couple minutes longer than the final film and featuring some alternate versions of scenes. A three-part Behind the Story documentary runs about an hour in length and includes a segment with M. Night Shyamalan discussing his appreciation for Hitchcock's work. Alfred Hitchcock's daughter and granddaughter host another bonus featurette that shows off some home videos, and the final featurette is a strange and brief clip in which Hitchcock meets with actors dressed up as historical people.
Dial M for Murder is another Hitchcock adaptation, this time coming from a stage play by Frederick Knott. Originating from a stage production, the film maintains the atmosphere of a play by taking place primarily in one apartment set with just a few excursions to other locations. Tightening the focus to the one apartment helps establish the familiarly claustrophobic feel of many of Hitchcock's landmark works. One of the director's most successful adaptations, Dial M for Murder garnered the #9 spot on the American Film Institute's list of the best mystery films of all time.
The story follows three protagonists, each of whom has wronged the other in some way. Ray Milland plays Tony Wendice, a London tennis pro who has learned that his wife Margot (Grace Kelly) has been cheating on him. The object of her secret affections is Mark Halliday (Robert Cummings), an American crime writer. Jealous, hurt, and greedy for his wife's wealth, Tony hatches a plot to murder Margot in a twisting scheme that will leave him with a perfect alibi. As these things typically go, especially in Hitchcock films, Tony's plan does not go off without a hitch, and the murderous husband is left with dangling threads and potentially damning evidence. John Williams arrives on the scene in his memorable role as Chief Inspector Hubbard, the police detective in charge of the case, and the movie becomes a clever and tense game of trickery and deduction as each of the principal characters scrambles in the wake of a murder.
Hitchcock produced Dial M for Murder in 1954, right in the middle of the 3D craze of the '50s. Reminiscent of the more recent but equally ridiculous lust for 3D movies that has gripped theaters, studios regularly churned out 3D movies that had no reason to be presented in 3D beyond the gimmicky attraction for moviegoers. Such is the case with Dial M for Murder, a remarkably well constructed crime tale that needs no third dimension to convey its suspense. Similarly to the recent rise of 3D, the public of the 1950s lost interest in the gimmick after a few years, and studios switched back to 2D movies. Dial M for Murder was caught in the middle of that shift, and even though it was produced with 3D technology, it screened for the majority of audiences in 2D. A couple of revivals over the years have brought the 3D version to theaters, but this is the first time it has been available in 3D on home video. All of that to say that the 3D in Dial M for Murder is unnecessary and distracting, and thankfully it's an option and not a mandate on this Blu-ray release.
The Dial M for Murder 3D Blu-ray release does not include an audio commentary, but it does have a 20-minute featurette about the movie with input from Peter Bogdanovich, M. Night Shyamalan, and others. The only other bonus feature included is the film's theatrical trailer. While sparse in the extras, Dial M for Murder is a movie worth watching as much for its place in cinema history as it is for its excellence, which still works after nearly 60 years. The addition of 3D is a neat bonus for a lark and for completion's sake, but this is a movie that really should be watched in 2D. Don't let the 3D and my negativity about it put you off from this release. Dial M for Murder is essential viewing on its own merits and deserves a spot in your Blu-ray collection.
Both Strangers on a Train and Dial M for Murder 3D released on Blu-ray on October 9, 2012, and are in stores now.