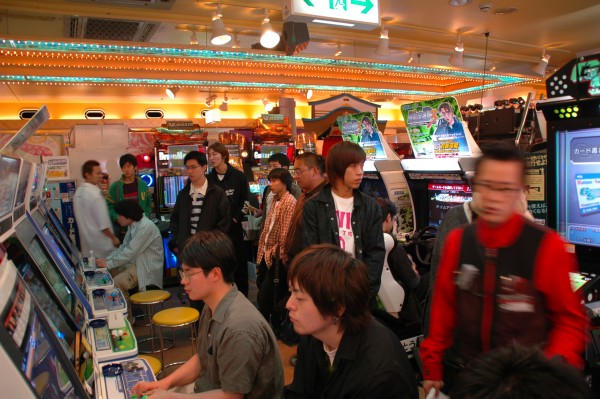 Hey there, fans! I've just got out of this year's Nekocon in Hampton Roads, VA, and boy am I TIRED! So, this week, instead of a full article, I bring you this interesting little project I found about one of Japan's more popular pasttimes: arcade gaming!
100 YEN: The Japanese Arcade Experience from Brad Crawford on Vimeo
100 Yen: The Japanese Arcade Experience is an hour long documentary focusing on the thriving, exciting, vibrant world of the arcades in Japan.

Imagine a world where video games reign supreme. Five stories of arcade cabinets, new and old, dominate the streets of downtown Tokyo. Welcome to Japan. A place where the arcades of the 80s and 90s not only still exist, but thrive and have evolved into elaborate environments of pleasure for any gamer. Our 8-bit childhood has come a long way. A complete sensory overload is brought on by the multitudes of arcade games, they call out to you as you wander the vast expanses of these game havens. What was once a table top amusement has become an escape from your mundane existence. If you have a couple hundred Yen in your pocket, be prepared for The Ultimate Arcade Experience™.

This project began in Summer 2010, I (Brad Crawford) flew out to Japan and spent the entire month of July chasing leads and filming all over the country. I went from Tokyo to Osaka, all the way to Fukuoka on my own dime. However, I was unable to complete all the necessary interviews and capture the entire story. This trip allowed me to make certain contacts and discover the overall arc that this film will follow.

What I want to do is go back with a small crew and proper equipment to round-out the documentary with interviews from key subjects such as Daigo Umehara, Satoshi Numata and communicate with the Japanese public about gaming and arcades in general. EVO 2011, the worlds biggest fighting game tournament, is taking place for the first time in Japan in the spring of 2011. Our goal is to attend and film this event as part of the documentary.
A documentary about the arcade gaming culture of Japan that involves mucking about in tower arcade complexes, interviewing people who muck about arcades particularly well and the people who made the games people muck about with, and all the while having the experience immortalized on a documentary? Sounds like a plan to me!
They are accepting donations that range from the change from your back pocket to an entire paycheck's worth of funding, with varying degrees of thanks and prizes that accompany them. So support your fellow nerds! And tune in next week for another edition of Happy Fun Thursdays!
(Via Japanprobe)