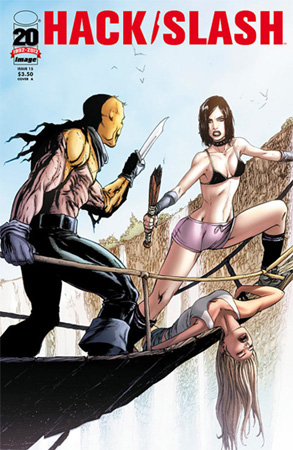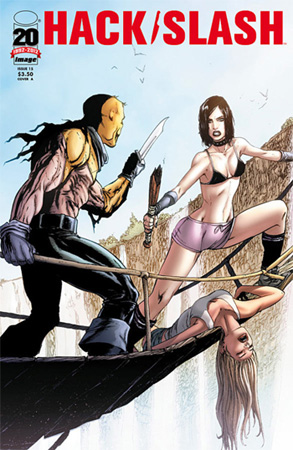 Issue: Hack/Slash #15
Writer: Tim Seeley
Artist: Daniel Leister
Colors: Mark Englert
Letters: Crank!
Editor: James Lowder
Cover A: Tim Seeley, Rachelle Rosenberg
Cover B: Anders Eid
Publisher: Image Comics
If you haven't been keeping up with Hack/Slash since its transition from Devil's Due to Image Comics in January 2011, you probably shouldn't start with issue #15. I know that sounds negative, but it isn't — I just don't want any other Cassie fans to feel as lost and confused as I did when I started to read this issue. Despite the fact that I've read the series religiously (generally in trade paperback volumes, not on an issue-by-issue basis unless I'm reviewing one) since the second printing of the first volume of the TPB was published in 2007, I was completely lost when I jumped into Hack/Slash #15. In the interest of full disclosure, reading Hack/Slash #15 without reading issues #12-14 (the other three parts of this story arc, which is called "Monster Baiting") first is highly inadvisable and might, in some cases, lead long-time readers to wonder if the series has jumped the proverbial shark.
Before you get too concerned, however, let me assure you that Hack/Slash, though it looks like a very different beast than what we remember from the early days of the series, is still the same bloody, sexy, and slightly campy comic book series that we've come to know and love over the past eight years. Where Cassie and Vlad once spent most of their time driving around in a beat-up van tracking and exterminating "slashers" (evil things that go bump in the night, ranging from mad scientist Herbert West of the Reanimator franchise to the homicidal child's toy named Chucky), they now globe-trot after their prey, which is why Hack/Slash #15 finds our protagonists in South America surrounded by monsters straight out of the B-horror films on which the series is modeled (one word: Gorrillaconda). The change is drastic, but not necessarily a bad one.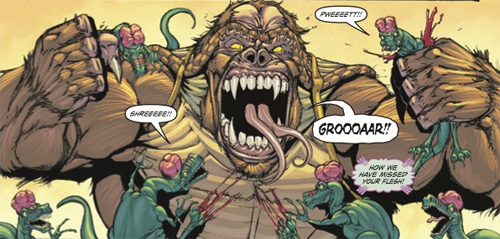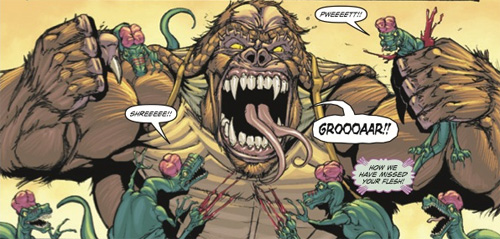 Even with Tim Seeley still at the helm, eight years and a change in publisher almost guarantees major changes in a comic book series, and I'm glad to see that Tim is keeping things fun and hasn't fallen victim to the monotony that can accompany comic series that rely too heavily on formulaic plotlines. Daniel Leister, a former Zenescope Entertainment artist who has worked on Hack/Slash since it moved to Image last year, gives the series a less dark and gritty look than we see in the original one-shots penned and inked for Devil's Due, but with the appearance of giant monsters and slasher-on-slasher violence the brighter take on Cassie and her pals works quite well.
Sadly, Cassie's loveable, hulking sidekick Vlad plays only a minor role in Hack/Slash #15 (although his appearance does seem to foreshadow an upcoming story arc—one that is likely to prove extremely interesting), so fans of the big guy should keep their fingers crossed that we'll see more of him in the next issue. Overall, the phrase "willing suspension of disbelief" is key when you're reading Hack/Slash #15, but I don't think that's anything that will surprise longtime fans of the series. And really, please take the time to read the previous three issues of Hack/Slash before picking up a copy of issue #15; the series is too good to jump in at a point when you won't fully appreciate what's going on!
Rating: 4 / 5 Stars