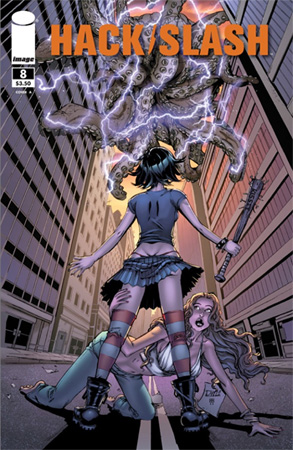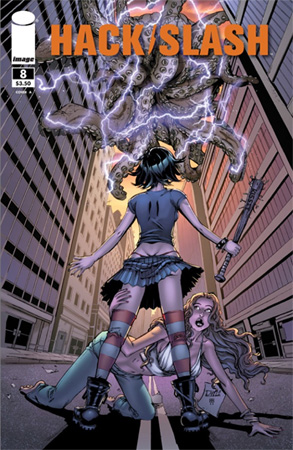 Issue: Hack/Slash #8
Release Date: September 28, 2011
Writers: Tim Seeley
Artist: Daniel Leister
Colors: Mark Englert
Letterer: Crank!
Cover A: Daniel Leister & Rachelle Rosenberg
Cover B: Erik Jones
Publisher: Image Comics
Hack/Slash #8 presents readers with the conclusion of Tim Seeley's three-part "Fame Monster" story arc and the eighth issue of the ongoing comic book series since the title switched from Devil's Due Publishing to Image Comics.
Readers find Cassie and Vlad separated: Cassie lying prostrate on a bed, paralyzed by her own addiction to the "fame monster", while Vlad tirelessly stalks what his cuter counterpart calls the "very rapey giant jellyfish" — also known as Neflords — that plan to open a portal between Earth and the realm of Nef (read: not a good thing).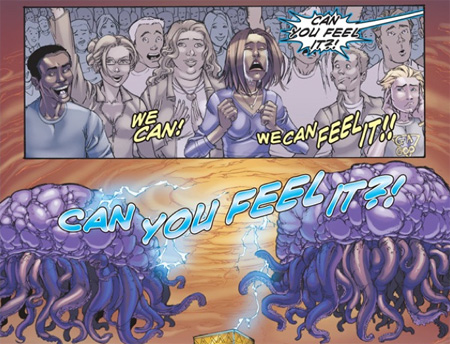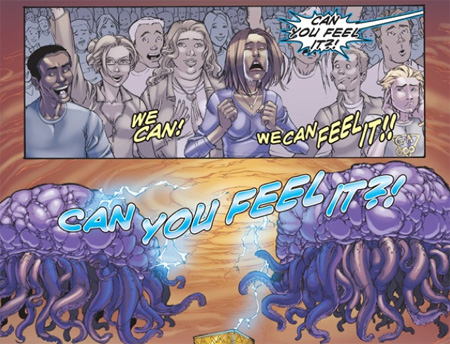 The setting of Hack/Slash #8 is the first inaugural Fetch News "Celebs-4-Celebs" concert, an event that stars the Pouperhaus sisters, Anna and Amelia, as well as the talentless pop singer Kendall Schipp. For those unfamiliar with the series, Hack/Slash details the adventures of Cassie Hack, a determined young woman whose mission in life is to track down and kill the murderous "slashers" and other evil things that are reincarnated by intense unfinished business or otherwise bent on the destruction of the human race. Although she acquires many acquaintances during her exploits, Cassie's best friend and "sidekick" is Vlad, a simple-yet-clever mountain of muscle with both the sense of humor and the libido of a 17-year-old boy.
The setting of Hack/Slash #8, specifically the Celebs-4-Celebs concert, provides readers not only with a storyline that we all can relate to (after all, who among us hasn't wondered what a particular celebrity might've worn to an event, hummed along with a popular song, or daydreamed about meeting their favorite movie star?), but does so in such a way as to critique contemporary culture's obsession with fame and celebrity. In what I can only imagine to be a deliberate decision, Seeley has Cassie, whose character is long established as an outsider among her peers and in society at large and who serves as the main vehicle for reader identification, admit that "somewhere, deep inside" she worships fame just as the rest of us do. Cassie's admission makes it easier for the reader to recognize that he or she also has become a victim of the "fame monster" without making him or her feel as though they are being asked to answer for doing so.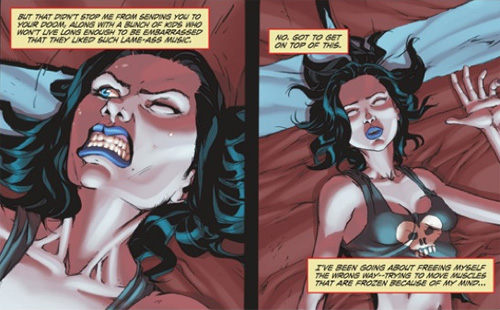 As a longtime fan of the Hack/Slash series my only complaint about issue #8 of the Image run is that a better explanation for how Cassie manages to free herself from mentally induced paralysis isn't offered. I can take giant squid-like creatures from a parallel universe any day, but it bothers me that the only explanation as to how Cassie manages to escape is that she "walks through the door" of her enemy's mind the same way that he "walked into" hers and paralyzed her. Personally, I can't help feeling like this is a cop-out intended to accelerate the plot while hoping that readers are only paying enough attention to absorb the story while glossing over little omissions like this one.
Overall I thoroughly enjoyed Hack/Slash #8, Cassie's escape cop-out not withstanding, and I highly recommend the series to all comic book enthusiasts. Longtime fans of the series will be happy to know that Hack/Slash continues to thrive in its new home at Image; the fact that Tim Seeley is still on board both writing and continues to help guide the talented artists and colorists that work on the series, in the case of issue #8 Daniel Leister and Mark Englert, lends an air of continuity and consistency to the series that mustn't be taken for granted.
Rating: 4 / 5 Stars