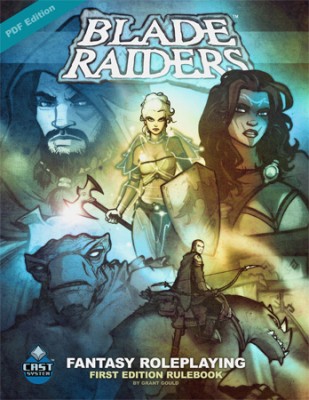 Artist and all around creative dude Grant Gould is a longtime friend of Fandomania, and it's always great to be able to write about projects put together by our buddies. Well, it usually is great, but it's not great when the projects end up being terrible, because that causes all kinds of awkwardness around here. That's anything but the case with Grant's new tabletop RPG, Blade Raiders, which is an awesome gaming system he's been working on for quite some time. I have no reservations in telling you this is a cool game that's worth checking out.
Grant has talked to us in the past about his other projects, and his love for '80s era fantasy and settings inspired by Viking lore always have been evident. He's harnessed his own fandom into the first proper book release for his new game, the Blade Raiders First Edition Rulebook. Blade Raiders first surfaced as a Kickstarter project last summer that quickly passed its funding goal and generated some excitement among gamers who were looking forward to some new and unique settings and rulesets. Now that the book is completed and a copy has made its way into my hands, I'm happy to report that the game handily delivers on its promises.
Blade Raiders is the first game released under the CAST system. CAST stands for Chance, Advantage, Skill, and Talent, and is a unique D10 system, setting it apart from the D20 games that have become the norm in a big portion of the world of fantasy roleplaying. The rulebook does a good job of breaking down the specifics of the CAST system and applying them to the Blade Raiders setting, which also gets a lot of intriguing detail. Character creation is very customizable, based on lists of talents instead of cramming every character into a predefined and rigid class. Magic similarly gets a complete working over here. Magical powers in Blade Raiders surround runestones and allow for spellcasting that relies on geographical position within the world. It's a really cool twist on magic that I haven't seen prior to this game.
Prior to delving into game design, Grant has worked for a long time as a professional artist, and his art chops show in the rulebook's presentation. Grant's signature art style permeates the pages, and the book is full of loads of his illustrations. If you're a fan of Grant Gould's art, you really should grab this book even if you're not a tabletop gamer and have no intention of playing the game. His stuff is just that good.
The Blade Raiders rulebook is available for purchase now through BladeRaiders.com, and you can get it as a physical paperback or as a PDF digital copy. For a limited time, if you buy the paperback you'll get free shipping, as well as a free digital copy as well. Check out the game, and tell 'em Fandomania sent you!