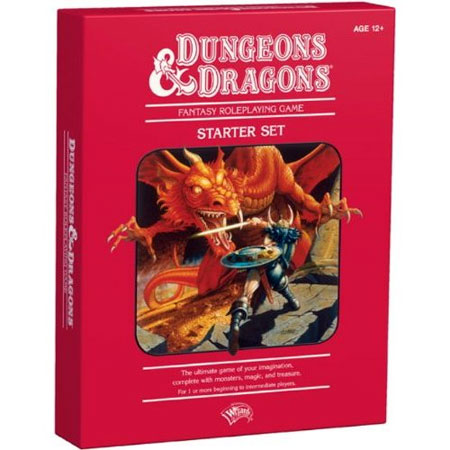 I had an early introduction to roleplaying games via Dungeons & Dragons way back when many parents still thought letting their kids play RPGs with their friends inevitably would lead to horn-growing and spontaneously forked tails. Fortunately my parents were more rational about the whole thing and saw my interest in fantasy roleplaying as a good way for me to embrace my imagination and to exercise my developing social skills. I remember my first D&D purchase being a fairly slim cardboard box with a guy fighting a dragon on the lid. My dad got it for me at Bookland (one of the many smaller book chains that later was swallowed by the likes of Amazon and Books-a-Million), and it was the Dungeons & Dragons Basic Rules Set 1. My interest in roleplaying grew and evolved from then until now, but I've been without a gaming group for the past several years and have been somewhat unplugged from the D&D circle. Imagine my wonder, then, when I opened a FedEx package from Wizards of the Coast last week to gaze upon that very same dragon art from my first introduction to D&D, now emblazoned upon a shiny new (and thicker) cardboard-boxed Starter Set!
Packaged in a red box just like that original Basic Rules set from the early 1980s, this new Starter Set is a perfect introduction for anyone who has yet to delve into the world of Dungeons & Dragons. It's a great jumping on point for me as well, as things have changed a lot in the time I've been away from the game. The box comes with an assortment of goodies and books to get you started playing right away:
Player's Book
Dungeon Master's Book
A set of 6 dice: 1D4, 1D6, 1D8, 1D10, 1D12, and 1D20
A double-sided battle map
Several blank character sheets
An assortment of power and spell cards (which you punch out from sheets)
Plenty of cardboard tokens to represent the players, as well as the monsters (also punched out from sheets)
The Player's Book is a brilliant introduction to the game, as well as to roleplaying in general, and I don't know why I haven't seen this kind of thing done before now. Structured very much like a Choose Your Own Adventure book, this slim paperback is entirely comprised of a solo adventure designed to hold new players' hands as they take their first steps into character creation, adventuring, and combat. It starts you on a quest right away and has you making choices and turning to particular pages and passages based on your choices and decisions. You'll begin with a blank character sheet that gradually will fill with your character's stats, class, race, and equipment as you proceed. Even better, the presentation of all the stats and how they work in the context of the adventure are presented clearly and concisely. All too often I've seen "newbie" RPG books throw way too much information at beginners all at once. This book avoids that problem by meting out the details only as you need them and can apply them.
After not having played D&D for years, I was able to build a new Elf rogue with ease. The solo adventure led me through my first combat encounter with some marauding goblins and then sent me chasing after them to their lair, at which point it introduced me to the battle map and tokens. The early pages of the Player's Book are very attentive to every detail of character creation and adventuring, but the tutor lifts away a little towards the end, letting the player experience a cave raid against some more goblins in a truly solo manner.
The Dungeon Master's Book picks up the adventure at the end of the Player's Book and continues the story. The goal is for the new player to go through the Player's Book and build a character on their own but to group up with their friends to continue the quest as they go through the Dungeon Master's Book. Just as the Player's Book introduces all the concepts necessary to play through a D&D adventure, the Dungeon Master's Book is a great introduction for new game masters. It's a thicker volume that delves more deeply into the basic rules of Dungeons & Dragons, and it also lends plenty of good advice for anyone just dipping their toes into running a RPG group.
Seasoned gamers who have been playing Dungeons & Dragons for a long time might not find a lot of enlightenment here, but I can't recommend this Starter Set highly enough for D&D neophytes or even for lapsed players like myself. It is a true tutorial that lets players hit the ground running, and it's a fantastic introductory set for anyone wanting to delve into the granddaddy of fantasy roleplaying games.
The Dungeons & Dragons Starter Set releases in stores on September 7, 2010, with a suggested retail price of $19.99.