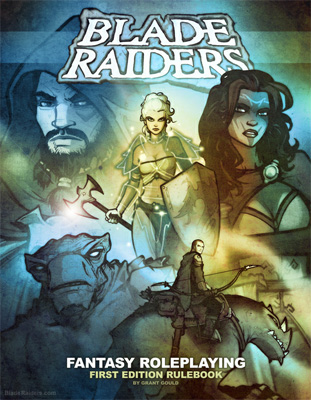 Lucasfilm illustrator and friend of Fandomania Grant Gould is designing a fantasy tabletop roleplaying game called Blade Raiders, and he needs your help! He's set up a Kickstarter to fund the project, which he's writing, illustrating, and assembling himself. His original goal of $5000 has already been met, but there's a new stretch goal of $9000, with added incentives to donate. Rewards for donating range from a thank you in the printed rulebook to an original drawing from the project to appearing as a character in the game!
Blade Raiders isn't just a clone of other tabletop RPGs. Grant has built a rich and exciting fantasy world in which magic is summoned using runestones, characters ride lizard mounts, and you aren't bound to a particular character class or list of talents from the beginning. This makes the game more dynamic and yet easy for anyone to open the book and learn how to play.
Fundraising ends June 14, so to be a part of this new RPG make sure you check out the site soon!