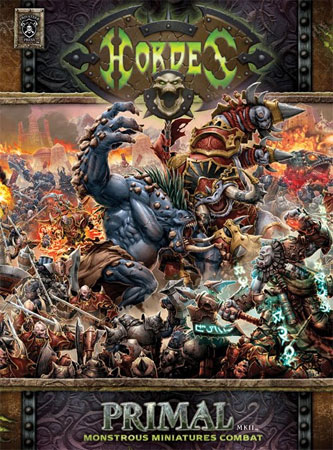 Privateer Press released their first version of the Hordes 30mm tabletop game in April of 2006, and now the monstrous miniatures are back for a second helping of slaughter with Hordes: Primal Mk II. The newest version of the game released last month, and here's a look at the core book, now available in both hardcover and softcover editions.
At its core, Hordes is all about throwing a bunch of huge creatures at each other, letting them tear each other limb from limb, and seeing who walks away victoriously. The original Hordes was released as a companion to Privateer Press's other big miniatures game, Warmachine. Where Warmachine pits players against each other through mechanical armor and steam-powered technology, Hordes is a spectacle of flesh and bone colliding. Hordes was designed from the ground up to be compatible with Warmachine, allowing for awesome tests of monsters versus mechs.
Each Hordes player directs a Warlock, a powerful sorcerer who draws upon and uses Fury to fuel savage Warbeasts under his or her occasionally tenuous control. Warlocks control and turn the tides of battle to the extent that losing your Warlock will lose you the game. The troops under the Warlocks' command range from individual beasts of varying strengths and sizes down to groups of infantry units to augment the armies (or, more frequently, to charge ahead as a distracting appetizer for the opponents' beasts). The miniatures are sold separately from the rulebook, but Primal Mk II does a great job of introducing new players to the components and aspects of the armies they'll soon command.
In addition to teaching the basics of unit anatomy, the book also has a section toward the back that covers painting miniatures, as well as designing and detailing terrain. Combine that with the clear and comprehensive introduction and tour through the game's rules and world, and Primal Mk II becomes a perfect jumping on point, not only for players new to Hordes but also for folks who are new to tabletop miniatures in general. The book acknowledges Hordes's place in the Iron Kingdoms universe that it shares with Warmachine, and references are made to the differences and similarities between the original Hordes release and this one, but there is no assumption of prior knowledge about those games or even about playing tabletop games. Even if you've never played with miniatures before, you'll be able to grasp the Hordes game pretty easily.
The bulk of Hordes: Primal Mk II is an extensive primer about the Hordes world. The book opens with new fiction set in the Hordes universe, and the book goes on to introduce each of the game's factions with special attention to notable Warlocks, famous battles, and the history of the realm. All the art is spectacular, and there's even a gorgeous map of Immoren included, showing all the cities, battle sites, and landmarks. Plenty of gorgeous photos of in-progress miniature battles round out an awesome presentation. This is a fantastic compendium of information that would be a great read even for fantasy fans who have no intention of playing the game. But really, why wouldn't you play?
Hordes is a brutal game that favors aggressive playstyles, and the rule book's traditional Page 5 list of guiding principles mandates guidelines such as "Thou shalt not whine," "Give as good as you get," and "Come heavy or don't come at all." If you're looking to get into a good and visceral 30mm combat game, you can't go wrong with Privateer Press's game of monstrous miniatures.