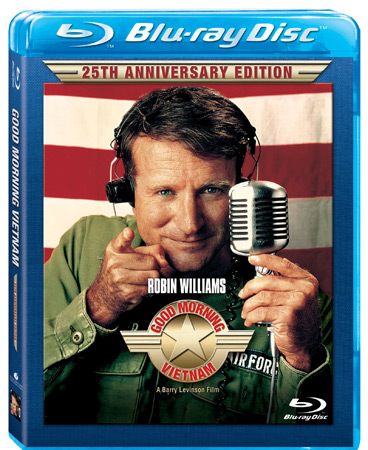 General William Tecumseh Sherman is largely credited with the phrase "War is Hell." Given that he set fire to whole cities on his way through the American South in the 1860s, he's probably as good an authority on that topic as anyone could be. It's indisputable that war is an ugly, deadly business, and it doesn't seem like the most obvious place where you'd find any sort of humor other than that of the whistling in the graveyard variety. Nevertheless, armed conflicts have provided the settings for some fantastic comedies. A prime example of laughter during wartime, Good Morning, Vietnam turns twenty-five this year and received a special anniversary release on Blu-ray this month.
Good Morning, Vietnam originally released in late 1987 with a mid-thirties Robin Williams just a few years out of Mork and Mindy and only two years shy of Dead Poets Society. Barry Levinson directed the film, which began as a biographical piece about real-life military DJ Adrian Cronauer. In the end the movie is one hundred percent Robin Williams. This is Robin Williams unchained and at the height of his manic improv. Whether you love him or hate him when he's in full-on machine gun mouth mode, there's something astounding and infectious about Williams' ability to voraciously devour scenes. He does slow down enough for us to see the brilliant and deep acting that lurks inside the body of this hairy madman, but much of this movie is rapid fire Robin with nonstop jokes and impressions, most of which actually are hilarious and quotable.
Williams as Cronauer arrives in Saigon in 1965 to voice a program on the Armed Forces Radio Service. The military's traditional programming is dry, regulated, and unbearably boring, a status quo that will not stand when Cronauer takes the mic. He immediately launches into satire, vulgarity, and honesty, punctuated with rock and roll music that instantly gains a following among the stationed soldiers. While his fellow DJs and his audience love him, Cronauer's superiors are infuriated. Robin Williams has a knack for playing a person in a position of mild authority who bucks the system to inspire his fellows to the chagrin of his bosses, and this role is no different. Chief among his detractors are Sgt. Major Dickerson (J.T. Walsh) and an especially memorable Bruno Kirby as Lt. Hauk.
Cronauer's conflict with his superiors and developing admiration from and relationship with his fellow DJs (including early appearances by Forest Whitaker and Robert Wuhl) is only half the DJ's story. He ventures out into Saigon and gets to know the people who populate this foreign country he believes his military is trying to help. The interactions with the Vietnamese natives delivers equal parts humor and heartbreak, matching the overall movie's ability to swing from comedy to tragedy. Robin Williams matches and drives the emotion, and beneath the zaniness there is a powerful performance that absolutely succeeds.
The music of Good Morning, Vietnam places the movie in its time and leads us up and down the plot's rises and falls. The soundtrack sports the likes of the Beach Boys, James Brown, and Martha and the Vandellas as Cronauer's progressive rock selections, while the military brass forces more sedate tunes from acts like Lawrence Welk and Perry Como. The songs are an essential component of a film that's all about radio in a very specific era.
Good Morning, Vietnam's 25th Anniversary Edition Blu-ray presents touched up video that looks surprisingly crisp and sharp, and the movie sounds great with its 5.1 surround sound. In addition to the movie itself, there are a few bonus features added in. There isn't an audio commentary on this one, but there is a multi-part Production Diary featurette that details the origins of the movie, along with a bunch of behind the scenes spotlights. The Diary runs just over a half hour altogether. Aside from the original trailers for the movie, the only other bonus feature included is a Raw Monologues segment that is basically thirteen minutes of Robin Williams running through his verbal improv.
Whether you've never seen Good Morning, Vietnam or are a longtime fan, this anniversary edition is a great version to add to your collection. The Blu-ray released on January 17, 2012, and is in stores now.