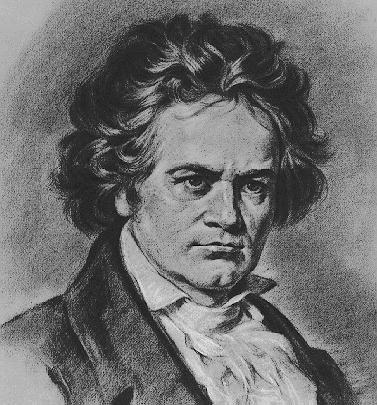 Welcome to another installment of the Geek's Guide to Classical Music! Today we are featuring one of the greatest composers of all time, Ludvig van Beethoven. Beethoven was born in 1770 in Bonn, Germany. His father was a musician as well, and young Ludwig received training from an early age, along with abuse, unfortunately. His first fame came as a concert pianist, but his performing career eventually ended as he began to lose his hearing. By the time he was in his mid-40s he had become completely deaf, but part of his genius was in the fact that he had extraordinary inner hearing and he continued to compose despite his disability. In fact, some argue that his best works were written after he had lost all of his hearing. Beethoven was known for his temper and for tumultuous personal relationships, but when he died in 1827 at the age of 56, his status as a celebrity was confirmed by the crowd of 20,000 people who lined the streets of Vienna to witness his funeral procession. He was a pivotal figure in the history of classical music and he left us some of the most-recognized and most-loved works of all time.
Although he wrote a wide variety of music, Beethoven's most recognized works today are probably his symphonies and his piano works. Who doesn't hear the iconic "da da da DUUUUUUM" opening of the Fifth Symphony on a regular basis? And it is rare to find someone who took piano lessons as a child and never learned to play "Fur Elise." I won't give you a whole boring run-down of every piece he ever wrote, though, don't worry. What follows are just a few highlights of other well-known Beethoven works that you might have heard in science fiction movies. All of the pieces mentioned in this article and much more can be found on YouTube if you want to hear more samples of Beethoven's music.
After the Fifth Symphony, probably the next best-known is the Ninth Symphony, Beethoven's last. It was and continues to be unique in the fact that it calls for four soloists and a chorus to join the orchestra in the fourth movement of the work. This last movement is the most familiar part, containing the famous "Ode to Joy" music. Although familiar to the church-going set as the tune for the hymn "Joyful, Joyful We Adore Thee," Beethoven wrote it as a setting of German poet Friedrich Schiller's poem "An die Freude." In 1971, Stanley Kubrick gave us a whole new perspective on it in A Clockwork Orange. In both the film and the book on which it is based, Alex, the main character, loves Beethoven ("Ludwig Van," as he calls him) and ultra-violence. His attitude towards both is turned upside down in the scene below, which shows part of Alex's "treatment" after he is given a life sentence for rape and murder. It features an electronic version of the "Turkish March" section of the fourth movement, which occurs about halfway through that section of the symphony.
To put the music in a better light, here's a clip of the Vienna Philharmonic playing the Ninth Symphony, beginning with the same part of the fourth movement and continuing on several minutes more so that you hear the famous "Ode to Joy" melody that follows. I have had the privilege to be a part of the chorus for performances of this work twice, and it is one of my most favorite of all time. Following forty-five minutes of glorious orchestral music, you get to stand up and belt out very high notes very loudly — awesome. I almost can't help but sing along any time I hear it!
Although not nearly as popular as the Fifth and Ninth Symphonies, the Sixth Symphony still enjoys more fame than Beethoven's other symphonies. It is also known as the "Pastoral" symphony, and people like it in part because it is programmatic — that is, the music was written with a specific story in mind. In this case, the music describes a day in the country, including a scene by a brook, country dancing, and a thunderstorm. It was famously illustrated by Walt Disney in the original Fantasia and it also finds its way into science fiction as one of the "Light Classical" selections that plays during Sol's death scene in Soylent Green:
Beethoven wrote 38 piano sonatas, and at least one of them has made it into the world of science fiction — Sonata No. 8, the "Pathetique" Sonata. It's slow, grave first movement is heard as the Enterprise crew receives the Evora in Star Trek: Insurrection. It's flowing, reflective second movement is featured in The Lost World: Jurassic Park. Unfortunately, I was unable to find a video clip from either film that contained the Beethoven sonata. A plethora of renditions of this sonata can be found on the Internet, however, so I would suggest you listen, then watch the movies and play "find the Beethoven music." Speaking of Star Trek, Beethoven is one of Captain Picard's favorite composers, and the Memory Alpha Star Trek wiki has an entire entry devoted to Beethoven here that names this and other instances of Beethoven's music in the Star Trek universe.
Thank you for joining me for the Beethoven Edition of the Geek's Guide to Classical Music! Tune in later this month for a Cryptozoology Month-themed Geek's Guide article. And just for fun (as well as one more Beethoven-sci fi connection), enjoy Richard Grayson's amazing improvisation of John Williams's "Imperial March" from Star Wars played in the style of a Beethoven sonata.