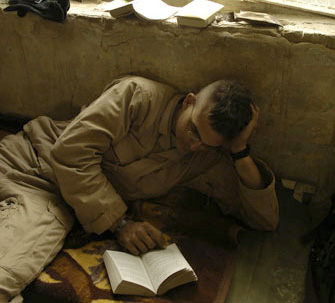 We are coming up on the time of year where people talk about how it is better to give than to receive and emphasis is made on the hottest new toy we all need to own. Our economic times can make it more difficult than usual to balance out these two opposing ideals. At Fandomania, we've looked at this and come to the conclusion that while the next video game is great, there are still ways to help out others around the world, and still be a bit geeky about it — and what's more, giving doesn't have to happen just around the holidays.
Books for Soldiers is one such organization. Whatever your political leanings are, I think everyone can agree that no matter the time of year, it is important to support our troops overseas. While you might be aware that there are organizations out there that help care packages and those who want to put them together get to soldiers in need, these can often leave out something just as essential as new socks to some. Personally, I am an avid reader, and I know I would feel lost without a book to help me escape, at least momentarily, from real life. For our soldiers overseas, real life is so different than we could ever imagine which means an escape may be even more welcome.
When I found Books for Soldiers, it inspired me to start an article series to share with you, our readerships, different ways that geeks can give back. Do you really need all of the books sitting on your bookshelf? I know I do not. Often the questions is, what to do with these books I will never read again, or in some cases never read. Storm Williams has come up with an excellent use for those books, and I hope after you read the interview you will consider donating a few books to some of our soldiers overseas.
Kelly Melcher: Would you first start by introducing yourself and telling us a bit about your background?
Storm Williams: My name is Storm Williams and I was born and raised in North Carolina. My day job is serving as the CEO of The Nimbus Agency — a social media strategy consultancy.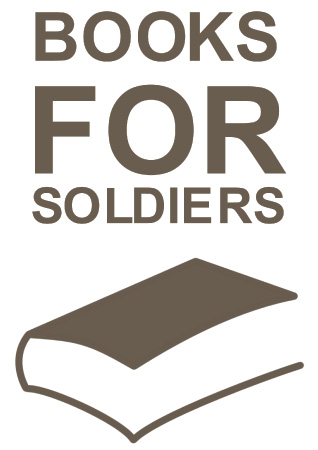 KM: What is Books For Soldiers and how did it start?
SW: BFS is a web site that connects soldiers serving overseas with people back home who want to send them books, DVDs and other care package items.
During the first Gulf War, several of my friends from school were in the reserves and were activated to fight the Iraqis. CNN reported that once the soldiers were deployed, they were faced with massive downtime and were restricted to their base due to the travel limitations set by the Saudi government.
I am a voracious reader and at the beginning of the Gulf War, I had a closet full of paperback books. Books that were not being used. So instead of selling them at the used book store, I packed them up in small care packages and sent them out to all the soldiers, sailors, marines and airmen I had addresses for.
Within a few weeks, I ran out of books before I ran out of addresses. Friends and family members began donating their paperback books and in the end, over 1,000 books were sent to the Gulf.
After the war, we received many thank-you notes from soldiers who got one of our books. Unless it was time for them to fly back home, mail-call days were one of the most anticipated events of deployment. Regardless of why the military is deployed, the men and women of our armed services are there for us. They deserve our support and if we can make their deployment easier, then all the better.
For this war, I wanted to do the same, but I knew I couldn't do it by myself so I started BooksForSoldiers.com. BFS is a self service site where volunteers with books can send the books or other care package items directly to the soldier. We discourage people from sending books directly to us, send them to the soldier instead. That way postage is not paid twice.
KM: How can soldiers request books? Is it open to all branches of the military?
SW: BFS is open to members of Air Force, Army, Marines, Navy, National Guard, and Coast Guard who are deployed overseas. All they need to do is go to BooksForSoldiers.com and fill out the form on the front page. Once a request is submitted, it goes into our database and is matched up with a volunteer who has that title on their bookshelf.
KM: How can people participate, donate, or help with Books for Soldiers?
SW: If someone wants to be a BFS volunteer, just follow the instructions on the home page and send us a notarized application that is completely filled out. Once they are approved they will have access to our soldier requests. They can search through the requests and match up soldiers to books that are laying around their house.
If they want to help BFS stay in operation, they can donate funds to pay for our rent, bandwidth, etc, they can donate via our donation page. If they do not want to donate online, they can send a check or money order to:
Books For Soldiers
116 Lowes Foods Drive #123
Lewisville, NC 27023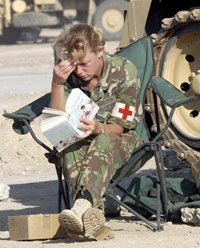 KM: What is it you hope to accomplish with Books for Soldiers?
SW: My primary goal is to raise the morale of our soldiers serving abroad. Their job is hard enough; the least we can do is try to make it a little easier.
KM: Can people donate more than just books? What can't they donate?
SW: Soldiers request mostly books, but a large number also request magazines, DVDs, CDs, and video games. Our volunteers will also include candy, powdered drink mix, sunblock — all sorts of items. Pornography is the thing you can't send. We also recommend that camera film not be sent because it usually ends up damaged by the mail scanners and the same goes for video and audio tape.
KM: I'd also be interested to know if you keep track of what gets requested, do you know if one genre gets requested more than the rest?
SW: Just scanning the requests for today, the favs seem to be sci-fi, fantasy, and crime novels. Stephen King and Tom Clancy are the most requested fiction authors. Robert Jordan and J.K. Rowling are frequent requests from troops. From our sister site BiblesForSoldiers.org, The Purpose Driven Life is the number one request other than the Bible. Our other site CollegeForSoldiers.com sees mostly requests for IT training books and nursing school textbooks.
KM: At Fandomania we like to ask: what are you a fan of?
SW: My favorite writer is J.R.R. Tolkien but I also can't get enough of Kim Stanley Robinson.
I would like to thank Storm Williams on behalf of myself and my associates here at Fandomania for taking the time to talk to me about Books for Soldiers, and again I hope that you will consider donating to this organization.